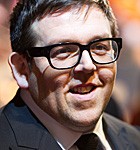 Right now, you might say that Nick Frost and Simon Pegg are living every sci-fi movie fan's dream. The irrepressible British comedy duo, who came to attention via cult TV series Spaced and scored big-screen hits with Shaun of the Dead and Hot Fuzz, are currently enjoying the success of their third movie collaboration, Paul, which finds them as road-tripping nerds inadvertently harbouring an intergalactic fugitive with an attitude (Paul, voiced by Seth Rogen). Directed with freewheeling brio by Greg Mottola (Superbad, Adventureland), bursting with pop references and some heavyweight genre cameos, it's a film that manages to be satiric and self-referential while retaining its own brand of wayward road movie lunacy.
On top of that, Frost and Pegg have been filming Steven Spielberg's forthcoming The Adventures of Tintin: The Secret of the Unicorn, in which they portray the all-but-identical detective buffoons Thomson and Thompson.
Frost is also soon to appear in what looks to be one of the year's breakout hits, the aliens-invade-inner-city-London adventure Attack the Block, directed by his friend (and Tintin co-writer) Joe Cornish.
With Paul landing in Australian cinemas this week, we got a chance to talk with Nick Frost about the film, what it's been like working with Spielberg, and what to expect from Attack the Block. Read on for the full interview, but first, as always, we asked him his Five Favourite Films. "Alright — as of today," Frost notes of his choices.
---
Close Encounters of the Third Kind (1977, 95% Tomatometer)
 

Close Encounters of the Third Kind is my favourite film of all time. That will always be number one. I can watch it today and it's like a time machine; it completely takes me back to the way I felt when I first watched it as a kid. For me it never dates, it never ages, and it's just perfect.
Dead Man's Shoes (2004, 55% Tomatometer)
 

I've also got on there Dead Man's Shoes, the Shane Meadows/Paddy Considine classic. I think Paddy Considine is the finest actor and I loved working with him on Hot Fuzz and stuff. I think I'd like to be as good an actor as Paddy Considine one day, when I grow up. [laughs] He is amazing.
Bottle Rocket (1996, 79% Tomatometer)
 

Bottle Rocket: I love Wes Anderson and that's one of my favourites. I mean, it's my favourite today with this interview. I love his staging of detail and specificity, you know; I think if the devil is in the details, Wes Anderson just nails it.
Raiders of the Lost Ark (1981, 94% Tomatometer)
 

Raiders of the Lost Ark, again, very similar to me with Close Encounters. If I'm sick, or I've had a wisdom tooth out or I'm lying in bed in the afternoon and not very well, I will often put Raiders of the Lost Ark on. Again, it's like a timeless gem for me and it just never gets tired. When my son becomes old enough to watch films I am gonna show him Raiders.

How old is that?

Well, like, three. [laughs]
The Shining (1980, 88% Tomatometer)
 

Finally, just for today, I am gonna say The Shining. Just a great film. It's a great horror film and it's incredibly creepy; fantastic performances and just that sense of threat that is prevalent throughout the whole movie. I just love it.
Next, Frost talks Paul, working with Spielberg on Tintin, and more aliens in his upcoming Attack the Block.
RT: This is yours and Simon's biggest film yet — are you happy with how Paul's been doing at the box office so far?
Nick Frost: I think you have to look at your place in the food chain, you know. We're British filmmakers. Americans like American films; they like American actors and writers — and that's fair enough. Yes, Paul is a bigger film in itself, because it was a bigger budget, but we're aware that we are foreign filmmakers in America, so I think Paul has been very successful.
You've definitely got another big cult hit on your hands.
Well that's enough — that's fine for me. In terms of British people who go to America to make films, I think we've done great.
How did you come to enlist Greg Mottola as director, given his background in more indie-style comedies?
We picked Greg, and he picked us. We knew Edgar [Wright] wasn't available because he was off doing Scott Pilgrim, which was great, and it was Simon and I's idea anyway; it was something that we've always had in mind and that we've wanted to do. We were big films of Greg's first film, Daytrippers, and then I saw Superbad at Comic-Con about three or four years ago, and just flipped out for it. I met Greg there and I spoke to Simon about Greg, and Greg and Simon had a meeting. We had Superbad screened over in London and we just realised that this was exactly who we wanted to do Paul. We wanted it to be like an independent road movie set in America — like Little Miss Sunshine but with Paul instead of Alan Arkin.
At what point did you both say, "Let's write an alien road trip movie"?
Well it started out as a bit of flippancy in the rain. We were shooting Shaun of the Dead and it was f**king raining tons during the scene where we were throwing the records at the Hulk and Mary, and Nira our producer just kinda said, "Maybe we should shoot a film somewhere where it doesn't rain." That started us spitballing this idea about the desert, because obviously it doesn't rain in the desert — but it does, which is the irony — and then that became Nevada which became Area 51, and then, because of the frame of reference that Simon Pegg and I use, it is not a big jump to go to "two comic book nerds find alien in crashed Crown Vic."
There are scores of pop references in the script, which is of course part of the fun; but was there a point where you and Simon had to say, "Okay, that's enough"?
Well we don't have a list, you know. We get asked this question a lot: "You've done zombies, you've done aliens — what's next?" It's not like we set out with a list of genres or a list of references we need to hit and then start it from there. I think Paul is character-driven and the reason there are so many references is that that's where Graham [Simon Pegg] and Clive [Nick Frost] come from. The only time we did think about the references and pared some of them down was when Simon got the Star Trek gig. I think in original drafts there were more Star Trek references and stuff, and then as soon as he got the gig it seemed we should get rid of them, because it seemed a bit self-referential then.
Well not many films manage to work in references to both Capturing the Friedmans and Mac and Me, so my hat is off to you there…
[laughs] I don't think people try, to be honest.
Was there a defining moment in your life in which you realised you were a sci-fi fan?
Close Encounters. The first time I ever saw that, that's the first time I remember becoming aware of cinema, and the power of it; and being aware of a film. It's a love, certainly for Close Encounters, that has endured for the last 30 years of my life. Also for me, for my friends and my cousins and my younger family, it was all about Star Wars. My whole life growing up was all about Star Wars.
Speaking of Spielberg, what's it like having seen his films as a kid and now to be working with him on Tintin?
Yeah, absolutely fantastic, you know. He's a hero of mine. I mean, I don't remember much about going to school, but I certainly remember where I was the first time I saw E.T. and Close Encounters. Once you start working with him it's very nerve-wracking, you know, because he's Steven Spielberg for God's sake; it's terrifying. But once you're on set, in quite a short space of time you realise and understand that he's an absolute genius and a gentleman, and he's a filmmaker — he's not in it for the money or the celebrity, he's in it because he loves making films. He's happy to talk about Close Encounters and E.T. and stuff, and he's a great storyteller. Just watching him shoot a film, you see his enthusiasm and his verve for making films, and it is very infectious. You wanna work around that, and perform inside that.
Has he seen Paul?
[MINOR SPOILER]
Well he's in Paul.
Ah, I didn't wanna spoil it for anyone who hasn't seen it.
Oh I see. He has, yes. He loved it. He really liked it. His only criticism was that he didn't like the guy who played Steven Spielberg.
[laughs] Again with the aliens — you've got Attack the Block, Joe Cornish's film, coming up. Can you tell us about your role?
Aha, yeah I play Ron — I'm like an area drug dealer and I have lots of street kids kind of doing the dirty work for me. I think Joe and I both talked about Ron being like Bruce Dern in Silent Running, you know — he's just this kind of very peaceful guy who happens to be a grower and a cultivator of marijuana and herbal medicines; he just sits in his council flat cultivating away. I was so happy to do that film and so happy to work with Joe; he's been a best mate of ours for years, so to see someone have what I think is going to be a massive success with Attack the Block, which he's written and directed, I'm just proud as f**king punch, you know. And working with those kids — well they're not kids, they're young men and women — 99 per cent of those people had never acted before, and Joe and a lady called Lucy Pardee spent months and months street casting those kids. So they bring a tremendous energy and a talent to the set. Again, it's just one of those jobs that you look forward to getting up and going to work in the mornings.
---
Paul opens across Australian cinemas this week.