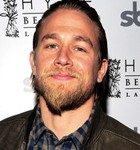 It's a big, busy year ahead for Charlie Hunnam. Besides his ongoing role in TV hit Sons of Anarchy, the actor is starring in Guillermo del Toro's massively anticipated sci-fi throwdown Pacific Rim, which marks the director's first film in five years and looks set to be one of 2013's summer smashes. In the meantime, Hunnam is appearing opposite Eric Bana and Olivia Wilde in this week's snowbound neo-noir thriller Deadfall, in which he plays an ex-con boxer tangled up in a deadly game of survival.
"I'd always been interested in telling the classic hero's journey," Hunnam says of Deadfall. "You know, told with the contemporary narrative of a man being released from prison. I felt like the psychology of that character resonated very deeply. Through this I had the experience of being a boxer. So I put myself through a boxing academy and completely gave myself over to boxing. I did that seven days a week for five weeks."
The rigors of such training paled in comparison to the Guillermo del Toro regime, however; which perhaps goes with the territory when you sign on for a role piloting a giant robot. "It was pretty torturous, I must say," Hunnam laughs. "Guillermo likes practical effects. So do I, but the reality is that it's incredibly difficult. It was the most demanding experience I've had in my life — partly because the nature of what I was doing was very difficult, and partly because Guillermo's completely a slave driver."
He laughs again. "I say that absolutely adoring the man and everything about him, but boy, he will work you til you're on the verge of death."
Well, Hunnam has survived to tell the tale. You can see him in Deadfall in theaters and on demand this week, and here now he talks us through five of his favorite films.
---
Deadfall opens theatrically this week and is available to watch on demand.
---