In June 2019, Disney's Pixar will head to infinity and beyond, once again, with the release of Toy Story 4. Although it will be nine years since the last film in the franchise, bringing back the family favorite characters voiced by Tom Hanks, Tim Allen, and others will no doubt result in a box office smash that – if history repeats – will warm even the coldest critic's heart (all three of the first Toy Story  have perfect or near-perfect Tomatometers, and Toy Story 3 was even nominated for the Best Picture Oscar). But surefire revenue and review predictions aside, what do we actually know about the new film? Let's explore what's already been revealed.
---
HEY HOWDY HEY! SAY HI TO THE RETURNING CAST MEMBERS
(Photo by © Walt Disney Pictures)
Hanks and Allen are returning to rekindle the on-again/off-again bromance between their respective cowboy Woody and astronaut Buzz Lightyear, and the fourth Toy Story also welcomes back Joan Cusack as cowgirl Jessie, Wallace Shawn as Rex the dinosaur, John Ratzenberger as Hamm the piggy bank, Annie Potts as Woody's main squeeze Bo Peep, Estelle Harris as Mrs. Potato Head, and more franchise favorites.
Don Rickles, who played Mr. Potato Head in the first three films, passed away in April 2017 before he recorded any work for the new film. However, the character was seen in a teaser video released in November, suggesting that he is a part of the project in some way. A replacement voice actor has yet to be announced – if, in fact, someone is needed and the filmmakers won't rely on Rickles' unused dialogue from previous projects – but that hasn't stopped the fan speculation.
---
NEW CHARACTERS! NEW PLOT?
That teaser also introduced a new character: Forky, a spork voiced by Veep's Tony Hale. Although he started out as kitchenware, Forky's found new life as a toy, thanks to the meddling hands of the young Bonnie (a.k.a. the little girl who inherited some of the toys from the now college-age Andy at the end of Toy Story 3). Needless to say, Forky's not handling this life change well – especially when Woody and Buzz make him an unwitting participant in a road trip dedicated to the awesomeness of being a toy.
Said adventure may also have something to do with tracking down Potts' Bo Peep, who was absent from Toy Story 3. However, that plot detail was shared in 2015, and there have been some shifts at Pixar since then (see below for more on that).
Another teaser trailer showcased the voices of Keegan-Michael Key and Jordan Peele as carnival toys Ducky and Bunny and who are pretty much plush versions of the valet characters the actors played in their Comedy Central sketch series, Key & Peele. Perhaps Woody and Buzz's joy ride includes a stop at a fair?
During an appearance on NBC's The Tonight Show, Allen told host Jimmy Fallon that Keanu Reeves also has a tiny part in the film.
There's also a viral fan theory that puts a rather … adult … spin on the definition of which toys are allowed to have stories. There are slim chances any of that will make it into the movie.
---
TOY STORY 4 HAS GONE THROUGH DRAFTS LIKE SID GOES THROUGH MATCHES
(Photo by @ Walt Disney Pictures)
While promoting Toy Story 3, director Lee Unkrich – who also worked on the first and second film – said that, although he was flattered by the suggestion, there were no plans for a Toy Story 4 and that he always considered the third film to be "the conclusion to one big story." Continuing that thought, Pixar president Jim Morris has stressed that the fourth film will be a "separate story."
But writing that story? That's been its own saga. Andrew Stanton, who co-wrote the previous Toy Story films, among countless other projects, wrote a treatment for the film with then-Pixar chief creative officer John Lasseter, Unkrich, and fellow Pixar regular Pete Docter.
Rashida Jones and Will McCormack were also attached as writers but departed the project. When Lasseter left his post last year in the wake of sexual misconduct allegations, the duo stressed to The New York Times that they respect Pixar's films but "it is also a culture where women and people of color do not have an equal creative voice."
In June of 2018, Potts told Radio Times that Pixar "threw out three-quarters of [the script] and rewrote" it, thus resulting in the film being pushed a year from its original June 15, 2018 premiere date. Stephany Folsom, who previously worked on Thor: Ragnarok and is now penning the Michelle Williams abortion drama This is Jane, stepped in to write the screenplay.
---
PIXAR FAV JOSH COOLEY LANDS HIS FIRST FEATURE DIRECTOR CREDIT
Lasseter's departure also means that he is no longer co-directing Toy Story 4 with Josh Cooley, as originally planned. Cooley, whose credits also include serving as story supervisor on Pixar's Inside Out and directing the short Riley's First Date?, which included some of that film's characters, is now the sole director on the film. It's also his first credit as a feature film director.
---
TOY STORY STILL HAS A FRIEND IN RANDY NEWMAN
(Photo by @ Walt Disney Pictures)
Musician Newman has an Oscar for writing the original song "We Belong Together" for Toy Story 3 and has nominations for writing the songs "You've Got a Friend in Me" for Toy Story and "When She Loved Me" for Toy Story 2. So it's a no-brainer that he's back with more original music for this film.
---
Toy Story 4 is in theaters June 21, 2019.
#1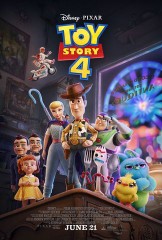 Critics Consensus:
Heartwarming, funny, and beautifully animated,
Toy Story 4
manages the unlikely feat of extending -- and perhaps concluding -- a practically perfect animated saga.
Synopsis:
Woody, Buzz Lightyear and the rest of the gang embark on a road trip with Bonnie and a new toy...
[More]