Anyone who's seen the third season of Marvel's Daredevil, now streaming on Netflix, will have one key question in mind after finishing the finale: Why sausage and broccoli pizza?
"Broccoli pizza's a crime and should never be eaten by anybody," joked new cast member Wilson Bethel when Rotten Tomatoes spoke with him, star Charlie Cox, and showrunner Erik Oleson just before the season premiered.
Bethel and Oleson spoke about broccoli pizza, but the duo (and star Cox) also discussed much more serious topics, including the backstory for Bethel's character, the season's single-take hallway fight, Matt Murdock's will to live, and more.
---
WARNING: THIS ARTICLE CONTAINS SPOILERS ABOUT THE THIRD SEASON OF NETFLIX'S DAREDEVIL (AND WE'RE NOT JUST TALKING PIZZA TOPPINGS).
---
But first, the pizza: Bethel's character, Benjamin "Dex" Poindexter (a.k.a. Bullseye), eats slice after slice of the strange pizza while watching the object of his affection, a server named Julie (Holly Cinnamon), do the same thing at a New York pizza joint. Of course, he sits in his car while she sits in the pizza place responsible for the unusual topping.
"We actually shot that scene on location at what I consider to be the best pizza place in all of New York: in Midwood, Brooklyn, called Di Fara," Bethel said. "Which is just out-of-this-world, lights-out, good pizza, so you can imagine my horror when you're at the best pizza place in New York, and they're supplying you with hot pizza, and its broccoli pizza. I mean that's just — it's criminal."
Culinary crimes aside, the pizza plays a key role in an early scene featuring Dex. Oleson told RT, "I was very hungry when I wrote that line." The unusual choice of topping originates from the showrunner's personal history: "I was remembering, back at NYU I would do a broccoli and sausage pizza. There was a place on University Place just north of Washington Square, and it was was my go-to-slice. It was a weird, great slice."
---
(Photo by Nicole Rivelli/Netflix)
The memory provided a key detail in the scene, which Oleson called "this warped stalker date." Daredevil begins a story which could easily be known as "Bullseye: Born Again." The backstory of Bethel's character "was never really set in stone in the comics," Oleson explained, and indeed, the character's origins in Marvel Comics lore are obscure. The name "Benjamin Poindexter" is more likely a cover persona than a clue to his true past. But as viewers of Daredevil learned over the weekend,Wilson Fisk (Vincent D'Onofrio) discovers the intimate details of Dex's difficult upbringing in an innovative flashback scene set in the middle of episode 4.
Oleson told Rotten Tomatoes that the flashback sequence was a result of his desire to expand the visual vocabulary of the show, including the moment that the color drains out of the frame, and various parts of Fisk's hotel suite become key locations in Dex's life. A brick wall represents a spot where a younger Dex developed his throwing strength and accuracy. Another part of the suite becomes the office of Dex's cancer-ridden therapist.
"I wanted to do something that was elevated beyond a traditional flashback," Oleson said. "I don't remember whether it was my idea or another writer, we started talking about this conceit, this kind of magical realism. I'm a big fan of magical realism. I loved it in Six Feet Under and some other places. A lot of great television shows use it. The Sopranos did as well at times."
---
---
For Bethel, it was just "exciting" to understand his character better. As he explored Dex's backstory, he saw the character as both a victim of circumstance and a man with a heart of darkness in his chest.
"Clearly, there is a guy who had a deeply troubled childhood and came up in some really adverse circumstances, but I also think that there is also a part of Dex's mind that does not work like [most people's]," the actor said, adding, "This guy had some serious pathology. For the majority of Dex's life, he has figured out ways to keep that pathology at bay from usurping his better nature."
Fisk discovers this truth about the FBI agent during the episode, which leads to him breaking Dex down in a fashion similar to the one his comic-book counterpart uses on Matt Murdoch at the beginning of the classic Daredevil tale "Born Again." Fisk also begins to seduce the character in order to fit him into his plan of making Daredevil a public menace.
---
(Photo by David Lee/Netflix)
In episode 6, Dex takes possession of a Daredevil costume and becomes a counterfeit Daredevil. For star Charlie Cox, the sensation of seeing someone else in the suit was strange and even frightening.
"It would be scary as hell if you walked into a room and that guy was standing there," Cox said. At the same time, while "there's a part of me that loves the red costume," he admitted to a certain relief in returning to the season 1 black costume. "It's a lot more comfy."
But beyond the shared costume, Cox thought something else united Matt with Dex: their shared history with abandonment. It is even something they have in common with Fisk, even if Cox believes Matt is "loathe to admit it." It leads to a truth the Devil of Hell's Kitchen may not want to face.
"One of the things that is most uncomfortable to Matt Murdoch, particularly in season 3, is that he does recognize himself in these other people," Cox said. "And probably his biggest fear is that he is deluding himself, and he is actually as much of a menace, if not more, than these so-called bad guys. I think what keeps him up at night [is] this perpetual fear, this question of is he doing the right thing? Is he himself a hero or a villain?"
---
(Photo by David Lee/Netflix)
Of course, questions like that may be the furthest thing from Matt's mind when he finds himself in the annual hallway fight. This time around, the brawl is a 10-minute-long take, featuring several complete fights, a key plot reveal, and a prison riot — without a single cut, though Oleson mentioned he and his crew built in ways to cover cuts if the scene did not work in rehearsals. After shutting down filming for an entire day to work through the scene on set, they managed to shoot it in real time.
"It was insane what Charlie and the stunt double and the stunts team and the guest director pulled off," Oleson said. "I'm glad that we were able to do the whole version of the hallway fight." He also called it something both he and Cox hold up as "proud experiences of our careers."
Though proud of it, Cox admitted he was unsure about the sequence when he first read the script.
"I felt like it was gonna be too much of ask," he said. "So it's an amazing testament to all of us, the stunt team particularly, that we were able to pull it off."
One interesting wrinkle in the scene is Matt's lack of readiness for the fight. In preparing to look unprepared, Cox said it becomes a matter of showing the character's instincts.
"You can't plan anything. You can't plan how you're going to take someone down, really," he said. "You have to just prepare yourself to be as quick and as powerful as you can be."
While all the fight scenes on television come down to learning the choreography, special attention was paid to making Matt look like he was off his game.
"The great thing about doing a one-take scene is you don't have to act tired," he added. Where a more traditional fight allows for breaks to set up new camera angles, the 10-minute one-take presents every moment live – from Matt taking on orderlies to getting into a cab outside the prison – with no stopping. By the point Matt reaches the back seat and speeds off, Cox was "literally that tired."
To Oleson, the tension of producing a full 10-minute action scene in real time underscores the meaning of the fight: "He is exposing himself to Fisk beyond any doubt that he is Daredevil."
That moment of revelation makes the risk of the hallway fight less physical and more wide-reaching.
"It's kind of like the worst case scenario for Matt Murdock," he explained. "I also was just stoked to see him fight as Matt Murdock. I totally geeked out on that."
---
---
Before the hallway fight, however, was an even tougher crisis for the Catholic superhero to handle: contemplating suicide. Oleson felt it was the natural extension of Matt's experience during The Defenders and the darkest place for the character to start the season. Even as his body healed, his spirit continued to grapple with the question in the first several episodes. When asked if Fisk presents Matt with a distraction from his darker thoughts, Oleson noted the timely way Matt's hearing returned as word of Fisk's release from prison went out over the police radio.
"Is there perhaps some spiritual level to that?" Oleson asked. "Is it the voices of the angels that are coming through on those radios, giving Matt what he thinks is bad news, that Fisk is getting out, or is it God reaching into him and saying, 'Don't give up hope Matt, there is a purpose for you yet?'"
While Oleson made the case for divine intervention, Cox felt Matt's struggle with faith is "always gonna be ongoing."
As Cox explained, "When you have a religious superhero, it's a great conflict to embrace. I don't know that he's ever going to completely make peace with that."
And even if Matt decides to keep on living, how he lives will be the greatest question Matt needs to answer.
"He either needs to stop doing what he's doing and live a normal life, or he needs to be engaged with Daredevil, be the superhero he wants to be, and stop questioning it," Cox said. But as season 3 illustrated for the actor, the distinction between Matt and Daredevil is "always going to be a blurry line for him."
---
Daredevil season 3 is now streaming on Netflix.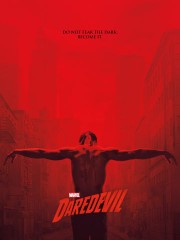 Critics Consensus:
The Man with No Fear returns to top form with a third season that begins tediously slow but gradually generates comic book thrills, immeasurably helped by the welcome return of Vincent D'Onofrio's menacing Kingpin.