Alice Eve is a portrait of a lady playing with fire as married Susan Trenchard flirting with duplicitous bachelor John Bellasis (Adam James) in this exclusive look at the third episode of Belgravia. Julian Fellowes' TV follow-up to Downton Abbey is based on his book of the same name about 19th century London society confronting the upward mobility of the nouveau riche.
In episode 3, Reverend Stephen Bellasis (James Fleet) is forced to reveal the depths of his financial problems, causing his son John to set his manipulative sights on Charles Pope (newcomer Jack Bardoe) and Caroline, , Countess of Brockenhurst (Harriet Walter) as a way to make money; meanwhile, Susan isn't shy about exploiting the Trenchards' new social circle.
About the show: 
Belgravia is a story of secrets and scandals amongst the upper echelon of London society in the 19th century. When the Trenchards accept an invitation to the now legendary ball hosted by the Duchess of Richmond on the fateful eve of the Battle of Waterloo, it sets in motion a series of events that will have consequences for decades to come as secrets unravel behind the porticoed doors of London's grandest neighborhoods.
The limited series reunites Downton Abbey's award-winning creative team; with Fellowes adapting his bestselling novel for the screen and Carnival's Gareth Neame and Nigel Marchant executive producing alongside Liz Trubridge and Fellowes. John Alexander (Sense & Sensibility, Trust Me) will direct all episodes with Colin Wratten (Killing Eve) producing.
In addition to Eve (She's Out Of My League), Walter (The Crown), Fleet (Four Weddings and a Funeral), James (Band of Brothers), and Bardoe (in his television debut), Belgravia's cast includes Tamsin Greig (Episodes), Philip Glenister (Mad Dogs), Tara Fitzgerald (Game of Thrones), Ella Purnell (Miss Peregrine's Home For Peculiar Children), Richard Goulding (The Windsors),  Tom Wilkinson (Michael Clayton), Diana Hardcastle (Best Exotic Marigold Hotel), Paul Ritter (Chernobyl), and Saskia Reeves (Luther).
Belgravia airs Sundays at 9/8c on Epix.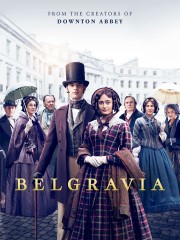 Critics Consensus:
Delightfully soapy, if the slightest bit silly,
Belgravia
will satiate fans looking for a new period melodrama to sip their tea to.
---