When you look up the numbers for James Cameron's Avatar, they are impressive: fastest film to cross the $1 billion mark (after just the 19th day of its international release), highest opening weekend for a non-franchise movie ($242 million), $2.789 billion at the global box office.
When you look at the fanbase: crickets.
How is that possible? How can a movie — not just any movie, but a science fiction movie — be this huge and have no discernible fanbase? No visible, active, enthusiastic devotees who dissect it and repurpose it and build stories around it like almost all genre fans do. The word "Ewok" is never spoken in Return of the Jedi, but if you stop anyone on the street and ask them to name the cuddly Star Wars teddy bears, everyone knows what they are, even if they aren't an avowed fan. If pressed, it's doubtful anyone could even name a single Avatar character.
Mind you, we're not talking about Avatar's industry impact here. As a delivery system for the next evolution in 3D technology, it was truly groundbreaking, and it sparked an obsession with 3D movies that still hasn't quite abated (although audiences have seemingly caught on to the idea that not everything needs to be seen this way — remember Baz Luhrmann's disastrous The Great Gatsby?). No, what we're talking about here are fans. Rabid, canon-obsessed fans, who pick apart every detail, cosplay in meticulous costumes, cover their desks and computers with figures and collectibles, and perhaps most importantly, keep the story alive on their own through fanfic, home made movies, and artwork. It's here that Avatar's impact is barely felt at all.
(Photo by )
Sci-fi fans don't need a ton of fodder to latch on to a property, either. Joss Whedon's Firefly didn't even air a full season and fans rallied around it so passionately that they willed a movie into existence, kept spin-off comic books on the shelves, and still show up at conventions and fests proudly displaying their browncoat allegiance. Star Trek was a ratings flop when it first aired, but planted enough fan seeds that it eventually went from cult series to movie franchise to extended, multi-timeline, multi-format colossus. Akira was a single, standalone anime film from 1988 and you still see its iconic poster repurposed for everything from Batman to Seinfeld. Blade Runner was a bomb but still got comic book spinoffs and unofficial merch. When was the last time you saw someone wearing an Avatar shirt? A quick Google search for "Avatar fan films" brings up a lot of results… for the Avatar: The Last Airbender anime series.
In honor of the movie's 10th anniversary, let's consider some of the factors that may contribute to Avatar's struggle to gain a fandom foothold, and whether or not the planned sequels can help.
---
Avatar Was An Experience, Not A Story
(Photo by ©20th Century Fox. All rights reserved courtesy Everett Collection)
It's kind of fitting that Avatar got a recent boost from the announcement of a Disney World theme park based on the planet Pandora (albeit a short-lived boost; interest waned the minute the ribbon was cut on Star Wars: Galaxy's Edge), because Avatar has always been about an immersive experience more than a gripping story. Soon after the film's release, you began to see stories about "Avatar Depression" – people who loved virtually sailing through Pandora so much that they were sad they couldn't actually live there (America being neck-deep in a throttling recession didn't help). The idyllic jungle world was so detailed and beautiful – especially in 3D – that people just wanted to exist inside it. The characters and plot, neither of which were especially well crafted, seemed to just get in the way. Cameron himself even hinted at this during the press tour, saying to the Los Angeles Times:
"You've got to compete head on with these other epic works of fantasy and fiction, the Tolkiens and the Star Wars and the Star Treks. People want a persistent alternate reality to invest themselves in and they want the detail that makes it rich and worth their time. They want to live somewhere else. Like Pandora."
Avatar the film had become like one of those videos they show while you wait in line for a theme park ride. You sort of half pay attention – yeah, yeah, blah blah blah – while you anticipate strapping in and blasting off. People didn't see themselves in the characters the way Trekkies saw their own scientific curiosity reflected in the crew of the Enterprise, or leave the theater wanting to be any of them the way every young boy left Star Wars believing Han Solo was the coolest person in any star system. Which brings us to…
---
It Was Populated by Bland, Forgettable Characters
(Photo by ©20th Century Fox. All rights reserved courtesy Everett Collection)
Who left Avatar wanting to be Jake Sully? (And again, raise your hand if you actually remembered that Jake Sully was the name of Sam Worthington's main character.) Part of it can be blamed on Worthington's thoroughly charisma-free performance, but it's not like bad acting in sci-fi has ever been a hindrance (take a bow, Mr. Shatner). It's more that the characters seemed stock and, again, like an afterthought. A fanbase grows when you capture the audience's collective imagination, but that has to go beyond visuals. No one wants to necessarily live on Tatooine, but you want to imagine more adventures for Luke. The crew of the Serenity is made up of scoundrels and misfits scouring the intergalactic old west – they can literally go anywhere and run into anyone. You like them, so you want to see them in new adventures, even if it means writing them yourself.
Between the generic scientists, the stoic, one-note Na'vi, and the bland corporate villain, Avatar just provides no grist for the fan mill. Who's writing the further adventures of Norm Spellman (Joel David Moore)?
---
It's All In the Timing, Maybe?
(Photo by Mark Fellman TM & Copyright ©20th Century Fox. All rights reserved/Courtesy Everett Collection)
Some argue that Avatar, being an original standalone movie without any pre-existing source material, faced a steeper hill to climb than some others. But a lot of sci-fi films could claim that very same thing at the time of their release and still have fanbases to show for it. Of course, the intense labor involved in making one of these films made it impossible for Cameron to strike while the iron was hot. In fact, he just recently announced completion of principle photography on Avatar 2 (which was received with very little fanfare) and that movie still won't be done until December 2021. Without fans keeping the flame lit through fanfic and cosplay and general enthusiasm, it just feels like an anti-climactic, "Oh yeah, Avatar. I remember that." For a movie that made $1 billion in 19 days, this is an incredibly unlikely place for it be.
Cameron is also no George Lucas, in the sense that Lucas never had qualms about selling Star Wars, and in fact devised new ways to sell and re-sell it over the years to keep that enthusiasm firing away. There were new theatrical versions, new toys, new games, and new fashion brand tie-ins seemingly every year. Cameron doesn't have that kind of hucksterism in him, and is content to let the movie speak for itself. Which may be why it's lost some steam over the past decade.
But for better or worse, the sequels (plural, as Cameron has teased at least three more installments) will really be the test of whether or not Avatar can develop anything close to a rabid fandom. He has promised to go deeper into the mythology and ecosystem of Pandora, which may help stoke some of the dormant wanderlust people experienced in 2009. But it's a gamble — a big, unwieldy, expensive gamble. Not only do the films have to reignite interest in the story after 12 years, they have to overcome the fact that the franchise may not have the wow factor it once did, now that bloom is off the 3D rose. It'll be a challenge, and so far, Avatar has found an enthusiastic core of fans to be mostly unobtanium.
---
Avatar was released on December 18, 2009.
#1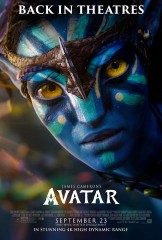 Critics Consensus:
It might be more impressive on a technical level than as a piece of storytelling, but
Avatar
reaffirms James Cameron's singular gift for imaginative, absorbing filmmaking.
Synopsis:
James Cameron's Academy Award®-winning 2009 epic adventure "Avatar", returns to theaters September 23 in stunning 4K High Dynamic Range. On...
[More]
Like this? Subscribe to our newsletter and get more features, news, and guides in your inbox every week.