(Photo by (c) Touchstone courtesy Everett Collection)
On November 19th, 2004, the world was introduced to National Treasure, a PG-rated yarn about a guy named Benjamin Franklin Gates (Nicolas Cage), his "man in a van" Riley (Justin Bartha), and a sorta-kidnapped archivist named Abigail (Diane Kruger) hunting down a fabled Templar treasure. The 131-minute movie was a wonderful breath of fresh throwback air that was unapologetically dorky, stuffed with earnest "aha" moments, and totally cool with readily available bowls of lemons.
The Jon Turtletaub (Cool Runnings, While You Were Sleeping, The Meg)-directed movie made $173 million domestically and $347 million at the worldwide box office ($240 and $482 million when accounting for inflation), and in 2007 was followed up by the $571 million dollar-grossing National Treasure: Book of Secrets. Sadly, there was no Ottendorf cipher that led to an intricate map that helped conclude the trilogy when lemon juice was squirted on it. Because of this, we're left with only two big-budget original movies that countless history teachers undoubtedly show their students when they need a nap.
Fifteen years later, National Treasure is still a delight that we'll watch whenever it's on (and it's on all the time), and in honor of its anniversary we're providing five reasons why it's so unforgettable.
---
1. IT TELLS AN ORIGINAL, PG-RATED STORY THE WHOLE FAMILY CAN ENJOY
(Photo by (c) Touchstone courtesy Everett Collection)
When National Treasure was released in late 2004, it pulled in an impressive $35 million in its opening weekend and quickly became Nicolas Cage's highest domestic-grossing live-action film (until the 2007 sequel). It also received an A- CinemaScore and earned a 76% Audience Score on RT, and it was regarded as a "four quadrant" film that brought in adults, families, couples, and the all-important 18- to 24-year-olds who were drawn in by the treasure hunt plot. Produced by Jerry Bruckheimer (Pirates of the Carribbean: The Curse of the Black Pearl, Con Air), National Treasure went on to lead the box office for three weekends and was the highest-grossing movie for 20 straight days.
The fact that a PG-rated Disney movie that wasn't a sequel, a remake, an animated film, or a theme park ride made $173 million domestically is super impressive. In the 21st century, only a select group of original PG-rated movies, like Night at the Museum, The Greatest Showman, and My Big Fat Greek Wedding, managed to clear the $170 million mark.
Critics may not have appreciated it at the time (it's at 46% on the Tomatometer), but parents, teenagers, Nicolas Cage fans, and history buffs showed up in droves to watch a movie that never stopped long enough to get boring, dropped "Weird Al" Yankovic references, and featured characters using smarts and deductive logic to defeat a small army of well-armed but not-too-bright thugs. National Treasure must have seemed like an early Christmas gift for people who wanted to avoid cynical holiday movies like Surviving Christmas and Christmas With the Kranks.
---
2. IT'S UNABASHEDLY DORKY AND LOTS OF FUN BECAUSE OF IT
(Photo by (c) Touchstone courtesy Everett Collection)
National Treasure may not be historically accurate, but its earnest tone and unabashed dorkery made it lots of fun. When Gates says, "I'm going to steal the declaration of independence," he kicks off a rip-roaring treasure hunt that embraces absurdity and probably made a lot of people think twice about touching certain numbers on keypads (you know the moment). Benjamin Gates is nowhere as cool as Indiana Jones or Lara Croft, and he doesn't care. He simply wants to fulfill his family legacy, prevent bad guys from getting their hands on ancient treasure, and go on a spending spree at an expensive clothing retailer with money he stole from his father Patrick (an immensely likable Jon Voight).
The big thrills don't come during the chase scenes that feature speeding food trucks, they happen during the goofy mental gymnastics the characters undertake to move from one plot point to the next. One of the best moments occurs when Riley (the ostensible sidekick) recognizes the key to a clue before Gates does; hearing him say "I know something about history that you don't know. Hold on one second; let me just take in this moment," never ceases to make us smile.
And in the end, how do Gates and crew get rid of the baddie Ian Howe (Sean Bean) and his henchmen? They spin a yarn and send them off after a red herring while they locate the real treasure. No punches are thrown, no stuffed bunnies are harmed, and most importantly, there are zero crystal skulls. The nice guys win, the bad guys are eventually arrested, and the gang live happily ever after as millionaires after they share their multi-billion-dollar discovery with the world.
---
3. NICOLAS CAGE'S ENTHUSIASM IS CONTAGIOUS
(Photo by (c) Touchstone courtesy Everett Collection)
National Treasure and its sequel work because of Nicolas Cage's enthusiastic portrayal of a treasure hunter who is smarter than everyone else and knows way too much about the security systems at the Library of Congress — and its preservation room. In the beginning of the film, when he finds the Charlotte, a legendary boat in the middle of the arctic (it's explained brilliantly by Riley), he is momentarily stymied. However, after an intense moment spent talking to himself, he comes to the correct answer (it was iron, it was firm, it was resolved, it is the Declaration of Independence!). Sure, the moment is silly, and yes, those "aha" moments continue to come fast and heavy thereafter. However, with Cage at the forefront, you don't mind. He makes you feel like the meerschaum pipe he finds inside the Charlotte, for example, is the coolest thing ever, and you legitimately appreciate "the intricacy of the scrollwork on the stem."
Cage still loves the character, and recently on his press tour for Primal, he said he'd love to revisit Ben Gates and engage in more historical nonsense. Let's hope Disney forks over another $100 million so he can finish the trilogy, whether that happens in theaters or on Disney+.
---
4. SEAN BEAN LIVES!
(Photo by (c) Touchstone courtesy Everett Collection)
We've been programmed to accept that Sean Bean always dies in a spectacular fashion (e.g., Goldeneye – ouch), and when his Ian Howe doesn't fall prey to a Templar trap or an ancient catapult in National Treasure, it's beautifully unexpected. While it would have been appropriate for Gates to let loose a one-liner — something like "I'll treasure this moment" or "Prepare to meet your forefathers" — as he sent Howe to an elaborate death, it doesn't happen. In the end, Howe is simply arrested, which leaves him on the chessboard for future installments.
After watching Bean die in (spoilers ahead!) Game of Thrones, Black Death, Equilibrium, Don't Say a Word, The Island, Patriot Games, and The Lord of the Rings: The Fellowship of the Ring, just to name a few, it's nice to know one of his fictional characters is still alive. Early scenes between Ben and Ian show us that the two genuinely like each other, and Ian isn't happy about his sudden heel turn. As the film progresses, Ian turns out to be a suitable antagonist who is always one step behind, but never far. Plus, the more you watch the the movie, the more you begin to like Howe's henchmen, namely Phil, Shaw, Powell, and Shippen, if only because they seem friendly with Ben, and they aren't completely terrible at being henchmen.
---
5. IT HELPED FILL THE INDIANA JONES VOID
(Photo by (c) Touchstone courtesy Everett Collection)
Smack dab in between The Mummy Returns and The Mummy: Tomb of the Dragon Emperor, and four years before Indiana Jones helped coin the term "nuking the fridge" in Indiana Jones and the Kingdom of the Crystal Skull, National Treasure filled a much needed void. The constant travel, puzzle solving, justified thievery, and ancient treasures satiated our thirst for globetrotting adventure; from grounded ships in the Arctic to the reflecting pool in Washington D.C., the frantic pace and constant clues made the most of a proven crowd-pleasing formula.
Throw in the fact that Benjamin Franklin Gates, Patrick Gates, and John Adams Gates (Christopher Plummer) are named after American forefathers, and you have a movie that embraces history and isn't subtle about it. Plus, the $100 million budget, the use of actual landmark locations, and the wonderful production design by Norris Spencer ensured the film would age surprisingly well over time. These types of films don't really exist anymore, and that's one of the reasons why we still love it now. Also, we think Indy himself would approve of the way Gates and his crew made sure the treasure was shared with the world, because "it belongs in a museum!"
---
National Treasure was released on November 19, 2004.
#1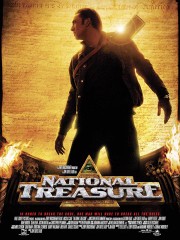 Critics Consensus:
National Treasure
is no treasure, but it's a fun ride for those who can forgive its highly improbable plot.
Synopsis:
Historian and code-breaker Ben Gates (Nicolas Cage) has been searching his whole life for a rumored treasure dating back to...
[More]
Like this? Subscribe to our newsletter and get more features, news, and guides in your inbox every week.