It's time for our weekly countdown of the Winter TV premieres! Here are the best new shows for the week of Friday, March 4th. See how this week's shows, Hap and Leonard, The Family, House of Cards, and The Real O'Neals stack up against each other on the Tomatometer!
This week at the movies, we've got an urban jungle (Zootopia, with voice performances by Ginnifer Goodwin and Jason Bateman), a city under siege (London Has Fallen, starring Gerard Butler and Aaron Eckhart), and a reporter under fire (Whiskey Tango Foxtrot, starring Tina Fey and Margot Robbie). What do the critics have to say?
---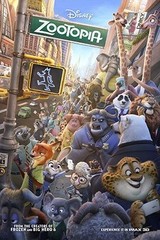 "Talking animals learning how to accept one another's differences and get along" might sound like a storyline for the worst kind of lowest-common-denominator family-friendly fare, but for Disney's Zootopia, it's the springboard into one of the best-reviewed movies of the year — animated or otherwise. Ginnifer Goodwin stars as Judy Hopps, a bunny (don't call her cute) whose dreams of a fulfilling career on the police force are foiled by a narrow-minded chief (Idris Elba) and an aggravating con artist fox (Jason Bateman). Judy finds herself embroiled in a missing-animals case that sends Zootopia bounding into noir territory, all while imparting an inclusive message in an admirably non-didactic way. The pundits say this Certified Fresh film is worlds deeper than your typical family film, and it's sure to delight children and adults alike.
---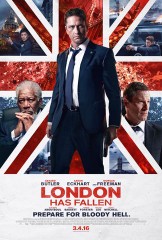 Olympus Has Fallen might not be a masterpiece, but it was a better-than-average president-in-peril action flick with a terrific cast. Well, many of the principal stars — including Gerard Butler, Aaron Eckhart, Angela Bassett, Morgan Freeman, and Melissa Leo — are back for London Has Fallen, but critics say this middling sequel distinguishes itself mostly with absurd plotting and excessive jingoism. This time out, a terrorist group has mounted an attack on Britain's  landmarks, and it's up to Secret Service agent Mike Banning (Butler) to protect an assemblage of world leaders. The pundits say London has Fallen is preposterous, cliched, and excessively brutal, but fans of 1980s grade-B action films might find it passable.
---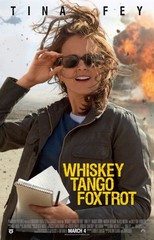 In Whiskey Tango Foxtrot, Tina Fey plays an inexperienced war correspondent embedded in Afghanistan. It's a setup that promises sharp satire, but critics say that despite a hilarious performance from its star, the film is sometimes a bit too glib for its own good. Loosely based upon a memoir by journalist Kim Barker, the film follows Fey's misadventures through a war zone, in which she deals with culture shock, sexism, and ever-present danger. The pundits say Fey's portrait of an intelligent woman dealing with self doubt helps ground a film that too often suffers from tonal uncertainty.
---
What's Hot on TV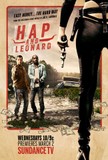 While the plot could be more concise, Hap and Leonard benefits from engaging characters and an absorbing, offbeat atmosphere.
---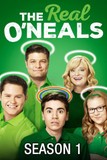 Funny writing and a solid cast save The Real O'Neals from traditional sitcom perils.
---
Also Opening This Week In Limited Release
Here it is: the ever-growing list of mid-season premieres for winter and spring, 2016. Included here are series and season premieres, as well as returns of shows that will have been on hiatus for a couple of months or more. So mark your calendars now. Will "peak TV" continue peaking in 2016? You be the judge.
---
January | February | March | April | TBA 
---
 January
Friday, Jan. 1
Sherlock: The Abominable Bride special event, 9 p.m., PBS
Sunday, Jan. 3
Galavant season two premiere, 8 p.m., ABC
Downton Abbey season six premiere, 8 pm, PBS
Cooper Barrett's Guide to Surviving Life series premiere, FOX
Bordertown series premiere, 9:30 p.m., FOX
Galavant
Monday, Jan. 4
The Bachelor, season 20 premiere, 8 p.m., ABC
The Biggest Loser season 17 premiere, 9 p.m., NBC
Tuesday, Jan. 5
The New Girl season five premiere, 8 p.m., ABC
Teen Wolf season five return, 9 p.m., MTV
The Shannara Chronicles series premiere, 10 p.m., MTV
Wednesday, Jan. 6
American Idol season 15 premiere, 8 p.m., FOX
Mike & Molly season six premiere, 8 p.m., CBS
American Crime season two premiere, 10 p.m., ABC
It's Always Sunny in Philadelphia season 11 premiere, 10 p.m., FXX
Man Seeking Woman season two premiere, 10:30 p.m., FXX
Thursday, Jan. 7
Angel from Hell series premiere, 9:30 p.m., CBS
Beyond the Tank season two premiere, 10 p.m., ABC
Shades of Blue series premiere, 10 p.m., NBC
Todd Margaret season three premiere, 10 p.m., IFC
Sunday, Jan. 10
Shameless season six premiere, 9 p.m., SHO
Tuesday, Jan. 12
Pretty Little Liars season six return, 8 p.m., Freeform
Shadowhunters series premiere, 9 p.m., Freeform
Shadowhunters
Wednesday, Jan. 13
Second Chance series premiere, 9 p.m., FOX
Younger season two premiere, 10 p.m., TV Land
Teachers series premiere, 11 p.m., TV Land
Thursday, Jan. 14
Colony series premiere, 10 p.m., USA
Workaholics season six premiere, 10 p.m., Comedy Central
Idiotsitter series premiere, 10:30 p.m., Comedy Central
Colony
Friday, Jan. 15
Hell's Kitchen season 15 premiere, 9 p.m., FOX
Sunday, Jan. 17
Angie Tribeca series premiere, 9 p.m., TBS
Billions series premiere, 10 p.m., Showtime
Mercy Street series premiere, 10 p.m., PBS
Angie Tribeca
Monday, Jan. 18
War & Peace series premiere, 9 p.m., A&E, Lifetime, History
Almost Royal season two premiere, 10 p.m., BBC America
Hit the Floor season three premiere, 10 p.m., VH1
Tuesday, Jan. 19
Marvel's Agent Carter season two premiere, 9 p.m., ABC
Thursday, Jan. 21
DC's Legends of Tomorrow series premiere, 8 p.m., CW
The 100 season three premiere, 9 p.m., CW
Baskets series premiere, 10 p.m., FX
London Spy series US premiere, 10 p.m., BBC America
Portlandia season six premiere, 10 p.m., IFC
Dark Net series premiere, 11 p.m., Showtime
Friday, Jan. 22
Chelsea Does series premiere, Netflix
Mad Dogs series premiere, Amazon Studios
Children's Hospital season seven premiere, 11 p.m., Comedy Central, Adult Swim
Saturday, Jan. 23
Black Sails season three, 9 p.m., Starz
Beowulf series premiere, 10 p.m., Esquire
Sunday, Jan. 24
The X-Files season 10 premiere, 10 p.m., FOX
The X-Files
Monday, Jan. 25
The Fosters season three return, 8 p.m., Freeform
American Dad! season 12 premiere, 8:30 p.m., TBS
Lucifer series premiere, 9 p.m., FOX
The Magicians series premiere, 9 p.m., SyFy
Recovery Road series premiere, 9 p.m., Freeform
Tuesday, Jan. 26
Outsiders series premiere, 9 p.m., WGN
Wednesday, Jan. 27
Lucha Underground season two premiere, 9 p.m., El Rey
Suits season five return, 10 p.m., USA
Thursday, Jan. 28
You, Me and the Apocalypse series premiere, 8 p.m., NBC
Friday, Jan. 29
The Vampire Diaries season seven return, 8 p.m., CW
The Originals season three return, 9 p.m., CW
Sunday, Jan. 31
The Venture Bros season six premiere, midnight, Cartoon Network/Adult Swim
---
 February
---
Tuesday, Feb. 2
The Muppets season one return, 8 p.m., ABC
American Crime Story: The People v. O.J. Simpson series premiere, 10 p.m., FX
American Crime Story: The People v. O.J. Simpson
Wednesday, Feb. 3
Madoff series premiere, 8 p.m., ABC
Young & Hungry season three premiere, 8 p.m., Freeform
Baby Daddy season five premiere, 8:30 p.m., Freeform
Friday, Feb. 5
Sleepy Hollow season three return, 8 p.m., FOX
Animals series premiere, 11:30 p.m., HBO
Monday, Feb. 8
Castle season eight return, 10 p.m., ABC
Tuesday, Feb. 9
Tosh.0 season eight return, 10 p.m., Comedy Central
Not Safe with Nikki Glaser series premiere, 10:30 p.m., Comedy Central
Thursday, Feb. 11
Grey's Anatomy season 12 return, 8 p.m., ABC
Scandal season five return, 9 p.m., ABC
How to Get Away with Murder season two return, 10 p.m., ABC
Those Who Can't series premiere, 10:30 p.m., TruTV
Friday, Feb. 12
The Amazing Race season 28 return, 8 p.m., CBS
Sunday, Feb. 14
The Walking Dead season six return, 9 p.m., AMC
Vinyl series premiere, 9 p.m., HBO
Monday, Feb. 15
11.22.63 series premiere, Hulu
Major Crimes season four return, 9 p.m., TNT
Better Call Saul season two premiere, 10 p.m., AMC
Bitten season three premiere 11 p.m., Syfy
Major Crimes
Tuesday, Feb. 16
The New Yorker Presents series premiere, Amazon Studios
Rizzoli & Isles season seven premiere, 9 p.m., TNT
Wednesday, Feb. 17
Survivor season 32 premiere, 8 p.m., CBS
Broad City season three premiere, 10 p.m., Comedy Central
Thursday, Feb. 18
Vikings season four premiere, 8 p.m., History
Friday, Feb. 19
Love series premiere, Netflix
Sunday, Feb. 21
Girls season five premiere, 10 p.m., HBO
Togetherness season two premiere, 10:30 p.m., HBO
Thursday, Feb. 25
Prey miniseries premiere, 10 p.m., BBC America
Friday, Feb. 26
Fuller House series premiere, Netflix
Monday, Feb. 29
Gotham season two return, 8 p.m., FOX
The Voice season 10 premiere, 8 p.m., NBC
Blindspot season one return, 10 p.m., NBC
Back to Top
---
 March
---
Wednesday, Mar. 2
Rosewood season one return, 8 p.m., Fox
The Real O'Neals series premiere, 8:30 p.m., ABC
CSI: Cyber season two return, 10 p.m., CBS
Hap and Leonard series premiere 10 p.m., Sundance
Thursday, Mar. 3
The Family series premiere, 9 p.m., ABC
Friday, Mar. 4
House of Cards season four, Netflix
Sunday, Mar. 6
Once Upon a Time season five return, 8 p.m., ABC
I Am Cait season two premiere, 9 p.m., E!
Quantico season one return, 10 p.m., ABC
Monday, Mar. 7
Bates Motel season four premiere, 9 p.m., A&E
Damien series premiere, 10 p.m., A&E
Tuesday, Mar. 8
Marvel's Agents of S.H.I.E.L.D. season three return, 9 p.m., ABC
Of Kings and Prophets series premiere, 10 p.m., ABC
Wednesday, Mar. 9
The Carmichael Show season two preview, 10 p.m., NBC
Underground series premiere, 10 p.m., WGN
Thursday, Mar. 10
60 Days In series premiere, 9 p.m., A&E
Friday, Mar. 11
Bosch season two premiere, Amazon
The Characters series premiere, Netflix
Flaked series premiere, Netflix
Party Over Here series premiere, 11 p.m., FOX
Sunday, Mar. 13
And Then There Were None miniseries US premiere, 8 p.m., Lifetime
The Carmichael Show season two premiere, 9 p.m., NBC
Tuesday, Mar. 15
Crowded series preview episodes, 10:00 p.m., NBC
Faking It season three premiere, 10:30 p.m., MTV
Wednesday, Mar. 16
Happy Valley season two premiere, Netflix
Schitt's Creek season two premiere, 8 p.m., POP
Nashville season four return, 9 p.m., ABC
Criminal Minds: Beyond Borders series premiere, 10 p.m., CBS
The Americans season four premiere, 10 p.m., FX
Nashville
Friday, Mar. 18
Marvel's Daredevil season two premiere, Netflix
Sunday, Mar. 20
Crowded series premiere, 9:30 pm, NBC
Monday, Mar. 21
Dancing with the Stars season 22 premiere, 8 p.m., ABC
Tuesday, Mar. 22
Heartbeat series preview, 9 p.m., NBC
Stitchers season two premiere, 10 p.m., Freeform
Wednesday, Mar. 23
Heartbeat series premiere, 8 p.m., NBC
Rogue season four premiere, 9 p.m., DirecTV
The Carbonaro Effect season two premiere , 10 p.m., TruTV
Sunday, Mar. 27
Grantchester season two premiere, 9 p.m., PBS
Mr. Selfridge season four premiere, 10 p.m., PBS
Thursday, Mar. 24
The Catch series premiere, 10 p.m., ABC
Wednesday, Mar. 30
The Path series premiere, Hulu
Empire season two return, 9 p.m., FOX
Lopez series premiere, 10 p.m., TVLand
The Soul Man season five, 10:30 p.m., TV Land
Empire
Thursday, Mar. 31
Archer season seven premiere, FX
Rush Hour series premiere, 10 p.m., CBS
---
 April
---
Friday, Apr. 1
The Ranch season premiere, Netflix
Banshee season four premiere, Cinemax
Motive season three premiere (US), 10 p.m., USA
Wynonna Earp series premiere, 10 p.m., SyFy
Sunday, Apr. 3
Call the Midwife season five premiere, 8 p.m., PBS
Thursday, Apr. 7
The Odd Couple season two premiere, 8:30 p.m., CBS
The Odd Couple
Friday, Apr. 8
Catastrophe season two premiere, Amazon
Saturday, Apr. 9
Outlander season two premiere, 9 p.m., Starz
Sunday, Apr. 10
The Girlfriend Experience series premiere, 8 p.m., Starz
House of Lies season five premiere, 9 p.m., Showtime
Dice series premiere, 9:30 p.m., Showtime
Fear the Walking Dead season two premiere, 10 p.m., AMC
Monday, Apr. 11
The Detour series premiere, 9 p.m., TBS
Hunters series premiere, 10 p.m., SyFy
Tuesday, Apr. 12
Ajin: Demi-Human series premiere, Netflix
The Mindy Project season four return, Hulu
Game of Silence series premiere, 10:00 p.m., NBC
Wednesday, Apr. 13
The Last Panthers series premiere, 10 p.m., SundanceTV
Thursday, Apr. 14
Bones season 11 return, 8 p.m., FOX
Orphan Black season four premiere, 10 p.m., BBC America
Friday, Apr. 15
Cuckoo season three US premiere, Netflix
Unbreakable Kimmy Schmidt season two premiere, Netflix
Monday, Apr. 18
12 Monkeys season two premiere, 9 p.m., SyFy
Tuesday, Apr. 19
Containment series premiere, 9 p.m., CW
The Night Manager miniseries premiere, AMC
Wednesday, Apr. 20
Deadbeat series 3 premiere, Hulu
Sunday, Apr. 24
Game of Thrones season six premiere, 9 p.m., HBO
Rebellion miniseries premiere, 9 p.m., Sundance
Silicon Valley season three premiere, 10 p.m., HBO
Veep season five premiere, 10:30 p.m., HBO
Monday, Apr. 25
Turn season three premiere, 10 p.m., AMC
---
TBA
---
The Last Man on Earth season two return, FOX