Tickets to Disney's long-awaited The Lion King go on sale today, and fans will want to get in early if they don't want to miss their places in the… ahem… Circle of Life.
The Lion King is one of the most anticipated movies of the year thanks to a stellar pride of talent both in front of and behind the camera.
The voice cast is huge: Donald Glover as Simba; Beyoncé Knowles-Carter as Nala; Chiwetel Ejiofor as Scar; Billy Eichner and Seth Rogen as Timon and Pumbaa; Alfre Woodard as Sarabi; John Oliver as Zazu; and James Earl Jones returns as Mufasa.
The filmmaking talent is just as exciting: Director Jon Favreau, whose The Jungle Book is Certified Fresh at 95%, is a master of melding comedy, spectacle, and heartbreak. (He's not bad with action either, having kicked off the MCU with Iron Man!)
And if the trailers are anything to go by, Favreau and the rest of the filmmaking team have pulled off something spectacular. Audiences are so impressed by what they've glimpsed so far that the movie's first trailer became Disney's most-viewed trailer ever in a 24-hour period upon release.
Bring the tissues, get ready to roar with excitement, and don't be left behind.
To get your tickets right now, head to Fandango.
---
The Lion King is in theaters everywhere July 19 – buy tickets now. 
#1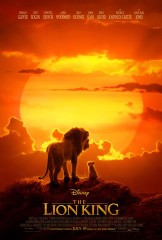 Critics Consensus:
While it can take pride in its visual achievements,
The Lion King
is a by-the-numbers retelling that lacks the energy and heart that made the original so beloved--though for some fans that may just be enough.
Synopsis:
Simba idolizes his father, King Mufasa, and takes to heart his own royal destiny on the plains of Africa. But...
[More]