---
Best-Reviewed Superhero TV Shows 2019
2019 was the year when superhero TV got super innovative, a trend reflected by the five series – four of which were in their debut seasons – that rose to the top of the heap in this category. Legion, one of the most daring superhero series of the decade, ended its three-season run in typically mindf—ing fashion; The Boys won critics over with twists, swears, and a meta take on the genre; Doom Patrol gave us equal parts weirdness and heart (and DC Universe a hit); and the Michael B. Jordan-produced Raising Dion offered a new kind of hero in a story told with remarkable ambition. And then there was Damaon Lindelof's Watchmen, which nuked the competition (squidded?) with a thrilling and relevant extension of Alan Moore's story and some of the most jaw-dropping episodes of TV this year.
The order of the rank below reflects the Adjusted Score as of December 31, 2019. Scores might change over time.
Critics Consensus:
Bold and bristling,
Watchmen
isn't always easy viewing, but by adding new layers of cultural context and a host of complex characters it expertly builds on its source material to create an impressive identity of its own.
Synopsis:
Damon Lindelof (The Leftovers, Lost) creates a modern-day re-imagining of Alan Moore's groundbreaking graphic novel about masked vigilantes....
[More]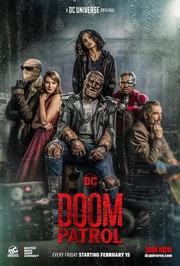 Critics Consensus:
DC Universe finds breakout material in this iteration of
Doom Patrol
thanks to a fully committed cast and the writing's faith in weirdness.
Synopsis:
A re-imagining of one of DC's most beloved group of outcast Super Heroes: Robotman, Negative Man, Elasti-Girl and Crazy Jane,...
[More]
Critics Consensus:
In its final season,
Legion
remains a singular piece of visually arresting, mind-bending television that never fails to surprise.
Synopsis:
"Legion" focuses on "David Haller," a troubled young man who was diagnosed with schizophrenia as a child. Shuffled from one...
[More]
Critics Consensus:
Though viewers' mileage may vary,
The Boys
' violent delights and willingness to engage in heavy, relevant themes are sure to please those looking for a new group of antiheroes to root for.
Synopsis:
A fun and irreverent take on what happens when superheroes abuse their superpowers rather than use them for good. It's...
[More]
Critics Consensus:
While its family drama and superhero aspirations don't quite come together, compelling performances and a sense of wonder keep
Raising Dion
afloat and suggest that with a little more guidance it could become something great.
Synopsis:
Raising Dion follows the story of a woman named Nicole (Alisha Wainwright), who raises her son Dion (newcomer Ja'Siah Young)...
[More]