When Tom Hooper's Cats debuted in theaters back in December, critical response to the film was swift and savage (it currently sits at 20% on the Tomatometer), which wasn't a surprise to anyone paying attention to the internet chatter following the release of the film's first trailer. But once the initial hubbub died down, it seemed like audiences were content to move on. There were much more important things to worry about, after all.
However, when shelter-in-place orders began to go into effect across the country during the first few weeks of March, people everywhere scrambled to find something to watch at home, and it just so happened that Cats entered the digital market on March 17. Thanks to the musings of Seth Rogen, who live-tweeted while watching the film, and another writer who received information about a potential "butthole cut" of the movie, Cats blew up again, and we now have a collection of officially licensed clips that help illustrate what made it so fascinating to so many people. Check out all 10 of the clips below, and let us know in the comments what you thought about the movie!
---
The One That Doesn't Tell Us What Jellicles Are
If you're looking for any clues as to what exactly a "Jellicle Cat" is, your best bet would be this musical number, appropriately titled "Jellicle Songs for Jellicle Cats." We're not saying it will necessarily clarify anything for you, as the song sets up even more questions than it answers, but it's apparently sufficient for Francesca Hayward's Victoria, who seems content to take phrases like "Jellicles can and Jellicles do" at face value.
---
The Rebel Wilson Scene That's As Wild As You've Heard
It's the clip you never you knew you needed to see until you saw it and couldn't figure out if it was a good idea that you did or not, but you're glad you got it over with anyway. Rebel Wilson's Jennyanydots, a Gumbie Cat, attempts to explain what it is she does that makes her a Gumbie Cat. In the meantime, she sashays around an oversized kitchen, unzips her fur coat to reveal another more bedazzled one underneath, and devours a few cockroaches with human faces. You know, Gumbie Cat things.
---
The One Where Jason Derulo Does a British Accent
This is Jason Derulo's big song, which, like pretty much all of the others, serves to shed some light on who his character is. And, like pretty much all of the others, you don't learn a whole lot, except maybe that Rum Tum Tugger will do basically the opposite of what you want him to. Oh, and Derulo can pull off a somewhat halfway decent British accent.
---
The One Where James Corden Eats Trash
James Corden spends most of his number demonstrating why his dumpster connoisseur Bustopher Jones is, as the song explains, so fat. He's also one of the few cats who wears human clothes, though he eventually sheds his tux and top hat to go prancing through the garbage, like every true gentleman does.
---
The One That Takes Place in a Giant House
Mungojerrie and Rumpleteazer are a pair of delinquent cats who have developed a reputation for petty theft and general chaos, or so they claim. The most notable thing about this clip is arguably the production design, which takes center stage as Mungo, Rumple, and Victoria do somersaults on oversized bedroom furniture, slide down bannisters, and crawl around on a giant dinner table. It actually looks kind of fun.
---
The One Where Ian McKellen Gets Meta
Ian McKellen musters all of the world-weariness he can to sing the song of Gus, an old theater cat reminiscing on his past accomplishments, and of course, he makes it easy to believe that all the other cats would sit around in awe as he tells his stories. He also gets to sing the shockingly self-aware line, "The theater is certainly not what it was," and he sells it without a hint of irony. In other words, Ian McKellen is incredible no matter how furry he is, and no one else could have played Gus.
---
The One with Tap Dancing
Steven McRae makes the most of his appearance here as Skimbleshanks, the Railway Cat, tap dancing his way through train cars and across the tracks. The song that accompanies him is predictably meaningless, but as a showcase for his abilities, it's pretty great.
---
The One With Taylor Swift and Nude Idris Elba
Oh, that's right. Taylor Swift is in this movie. Her British accent is decidedly less effective than Jason Derulo's, but when you've got magical catnip and nude cat Idris Elba to distract viewers, no one is likely to notice.
---
The One With Magic and Awkward Nuzzles
This is the first of the clips in which we actually hear Dame Judi Dench's voice, as she sings the praises of Laurie Davidson's Mr. Mistoffelees, a magician cat with a penchant for awkward neck nuzzles and nose kisses. He also shoots playing cards out of his top hat and flowers out of his sleeves. Because he's magic.
---
The One With Jennifer Hudson's Snot
Cats culminates in this moment, the iconic song that has been covered and parodied countless times. Jennifer Hudson belts it out with the requisite emotion, and it's shot with an air of reverence, but the computer effects and the copious upper-lip snot are admittedly a little distracting. It's the big finale the movie deserves.
---
Cats is available to own now on FandangoNOW, Amazon, Google, iTunes, and Vudu.
#1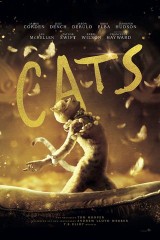 Critics Consensus:
Despite its fur-midable cast, this
Cats
adaptation is a clawful mistake that will leave most viewers begging to be put out of their mew-sery.
Synopsis:
A tribe of cats must decide yearly which one will ascend to the Heaviside Layer and come back to a...
[More]
Thumbnail image by Universal Pictures