The first trailer for next summer's Wonder Woman 1984 is finally here and, frankly, it's about time. Originally scheduled for release last month, the movie was held to a summer 2020 release, indicating a great deal of confidence in the film. And judging from the trailer, we can see why. In the trailer we learn that Diana (Gal Gadot) comes to the United States in the early part of the 1980s, but that mogul Maxwell Lord (Pedro Pascal) and Barbara Minerva (Kristen Wiig) have other designs for Wonder Woman's time there.
And beyond the quality of filmmaking teased in the trailer – that moment with the bullet in the White House looks incredible! – we gleaned a few interesting takeaways from the trailer and what it means for the film. Let's take a look at what we learned.
---
1. Diana and Cheetah Begin As Friends… But It Won't Last
(Photo by © Warner Bros.)
The pleasant conversation between Diana and Barbara overlooking the Washington D.C. skyline certainly sounds friendly. And it seems the film will open with Wonder Woman and her classic adversary, Cheetah, as friends. Although, it is possible this is a big ruse on Barbara's part. In DC Comics's lore, she was an archeologist pathologically obsessed with owning the Lasso of Truth. Her first attempt to obtain it was by becoming Diana's friend. But the Lasso forced her to tell Diana the truth, which turned out to be a deeper wound than the Amazon had experienced before.
At the same time, the glimpses of Wiig in the trailer recall earlier versions of the Cheetah, namely the Golden Age's Priscilla Rich, a debutante with a split personality. She first became Cheetah after Diana upstaged her more self-important persona at a charity event. The Cheetah, a new person formed to process the rage, took control and vowed to end Diana's life. Thanks to wacky comic-book hi-jinks, Barbara would end Rich's life before Rich was completely eliminated from reality – the name remaining as one of Barbara's aliases.
From the dowdy Barbara glimpsed at the top of the trailer to her wowzer fashion statement around the 1:28 mark, it is clear the film version of the Cheetah will experience several transformations. But it remains to be seen if this is of her own accord or something beyond her understanding.
---
2. Maxwell Lord Wants A Better Tomorrow, And His Scheme May Involve Infomercials
(Photo by © Warner Bros.)
Rich industrialist Maxwell Lord is re-framed here as an early pioneer of the infomercial. But from the pitch we see in the trailer, his product is less a Ron Popeil-style gadget than a fully-realized American Dream. Over the years, Max has pulled off a number of schemes – including a corporatized Justice League – but they all ended when Diana snapped his neck. Both hero and villain since his 1987 introduction, Max's final evil days overshadow his more heroic years. Of course, any perception we have of him as a hero may be down to his telepathic suggestion.
The trailer implies he will be an out-and-out villain, what with him saying he will "take what I want in return" and the shot of him holding a sinister-looking crystal. Also, considering the 1984 setting, a mogul like Maxwell Lord can only be the villain – right?
What we do not see, though, is the real scope of his plan or how he will use those infomercials to obtain it. Maybe he's found a way to embed telepathic commands in them? His directive to imagine "everything you ever wanted" may be a clue. And it will likely lead to the chaos near the Capitol.
---
3. It's Definitely Steve Trevor And He's The Fish-Out-Of-Water This Time
(Photo by © Warner Bros.)
Right before the trailer's debut at CCXP, director Patty Jenkins said the story could not be told without Steve Trevor. So, we're excepting Diana's embrace of him in the middle of the trailer as proof that this is, indeed, the real Steve Trevor who died in 1919 magically returned.
But perhaps more interesting is the trailer's stinger, in which Steve mistakes a modern trash can for a piece of modern art. Between that and the fanny pack, it's clear Steve will take Diana's place as the fish-out-of-water in Wonder Woman 1984. It is a fitting reversal and a chance to highlight all those goofy 1980s advancements like digital watches and frozen yogurt. It might be the most obvious scene to reprise, but Steve almost has to tell a fro-yo vender "You must be very proud" at some point during the film.
Also, Steve's "the world needs you" line late in the trailer suggests we may loose him again well before the end of the film.
---
4. Diana Does Some Old-School Superheroics at the Mall
(Photo by © Warner Bros.)
Sure, Diana may have completed a traditional rescue in Justice League, and her actions in the first film are quite heroic, but the trailer offers a glimpse of Diana's crime-stopping abilities as she disarms two would-be thieves at a mall. The brief shots of the scene – which include her jumping into the center-court atrium and smashing pistols with her bare hands – look like the sort of DC heroics we expect in films like Wonder Woman 1984, even if crime takes a back-seat to New Gods, old gods, and would-be tyrants.
But we couldn't help but notice the seemingly odd inclusion of Diana using her tiara to smash several security cameras. It seems the film will still play with the idea – established in Batman v Superman: Dawn of Justice – that Diana was incognito from the end of World War I to Doomsday's attack on Metropolis. How she can possibly keep herself secret with that costume and the very public events glimpses in the Wonder Woman 1984 trailer is a questions we cannot wait to see answered.
---
5. Full. Armored. Diana.
(Photo by © Warner Bros.)
We've know about Diana's armor since an earlier poster for the film was released. But the trailer gives us the full view of Diana's incredible Golden Eagle Armor. Based on a design by Kingdom Come artist Alex Ross, it originally appeared as Diana's final costume in that story's bleak future. But it is such an impressive design, it eventually found its way into mainstream DC Comics continuity. It's appearance, though, always suggests this is Diana's true battle garb – a suit of armor meant for war.
Of course, war has a particular meaning to Diana as the God of War is her uncle. Okay, at least in some stories, Ares is her uncle. And that leaves a big question mark in the world of the Wonder Woman films. Did Ares (played by David Thewlis in Wonder Woman) survive or has someone else taken his place as the God of War? The lighting-heavy skies seen at 2:00 certainly echo Ares's effect on the atmosphere during the first film's climax, but it is also possible his seat in the Pantheon is still vacant.
And, as it happens, Diana took her uncle's seat in recent DC Comics storylines …
It could also just be the gear she needs to take on Max and Cheetah during the final confrontation. Or maybe it's in the film just because it looks cool – with the wings or without.
---
Bonus: "Blue Monday"
(Photo by © Warner Bros.)
New Order's classic 1983 single "Blue Monday" isn't just a random piece of music chosen for the trailer. It also appears to be the official theme of the film's early publicity. The song cemented the group's transition from a post-punk act to a dance band. Curiously, its life began as a track the band could automate on their synthesizers and leave the stage in lieu of an actual encore. In the year since, it has become their encore song, but they remain on stage to play it.
The song's association with the film's early marketing efforts – and the great symphonic rendition used in the trailer – suggests it may be a key element of the film itself. But considering New Order lyricist Bernard Sumner writes inscrutable words and, sometimes, portentous-sounding filler to accompany the more important music, "Blue Monday" may not be an easily deciphered clue.
Although, we can guess key lines like "And still I find it so hard/To say what I need to say" could reflect Barbara's state of mind. Alternatively, "Blue Monday" is just the sound of the 1980s in seven minutes and 29 seconds – provided you're listening to the original 12'' release.
---
Like this? Subscribe to our newsletter and get more features, news, and guides in your inbox every week.
#1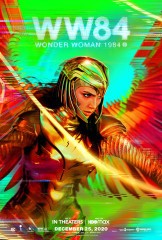 Critics Consensus:
Wonder Woman 1984
struggles with sequel overload, but still offers enough vibrant escapism to satisfy fans of the franchise and its classic central character.
Synopsis:
Diana Prince lives quietly among mortals in the vibrant, sleek 1980s -- an era of excess driven by the pursuit...
[More]