Early reviews of The Defenders on Netflix seem to confirm the streaming giant's Marvel-adaptation dominance — outside of Disney's blockbuster film franchise, of course. With an early 80% Tomatometer score on 10 reviews, the superhero ensemble series that brings together Daredevil (Charlie Cox), Jessica Jones (Krysten Ritter), Luke Cage (Mike Colter), and Iron Fist (Finn Jones) is on a path to Certified Fresh status.
---
Early Reactions
FRESH
David Betancourt, Washington Post
"The coming together of the streaming service's four superhero shows — each with varying styles on how to be a hero — works in part because of how they focus on why such a get-together shouldn't work at all."
Alexander Zalben, TV Guide
"Where Avengers was epic spectacle on a global scale, Defenders is far more concerned with the characters. It's a slow burn, not an explosion. For some fans coming in expecting fireworks immediately, this might seem to be a detriment; but I'd argue that's where the Netflix model excels."
---
ROTTEN
Kelly Lawler, USA Today
"Daredevil, Jessica Jones, Luke Cage and even Iron Fist deserve better. And it's gratifying to remember that three of them will likely have better series to return to once they finish this mission. There's no shame in admitting defeat, even for superheroes. Some acts are just better off going solo."
Alan Sepinwall, Uproxx
"It would be nice if at some point, both show and team could justify their existence as something more than a package Marvel put together years ago in the hopes everything would work out."
---
Keep checking Marvel's The Defenders season 1 page on Rotten Tomatoes for more reviews.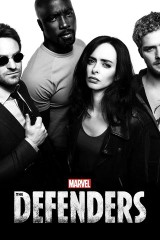 Critics Consensus:
Marvel's The Defenders
further develops well-known characters in an action-packed arc whose payoff packs more than enough of a punch to offset its flaws.