After a year of anticipation and speculation, Avengers: Endgame is finally here to answer nearly all the questions raised in the time since Thanos (Josh Brolin) snapped his fingers and extinguished half of all life across the cosmos. But in answering those questions – including how the Avengers reversed the Snap – it unleashed a set of shocking changes to the Marvel Cinematic Universe's status quo. So let's take a look at some of the film's big surprises and what they might portend for the MCU going into 2020 and beyond.
SPOILER WARNING: Big, unwieldy spoilers follow from here, so be wary.
---
"Five Years Later": Whoa, the Entire MCU Just Did a Time Jump?
Perhaps the biggest shock of the film was not a certain, almost inevitable death, but its jump forward five years. We knew some sort of time jump was in the offing for a while – in fact, we were using Black Widow's changing hair color in more recent trailers and previews to mark the progression of time – but a five-year jump changes more than just the actor playing Cassie Lang (welcome to the Marvel phenomenon, Emma Fuhrmann). And since the team made no attempt to erase those years, they are a permanent fixture of the MCU going forward.
One key element of maintaining the Snap as a historical event is the emotional fallout from all the reunions. Everyone who survived the Snap lives with five years of grief while those who returned following Hulk's (Mark Ruffalo) reverse snap must reconcile the lost time. Think about people who were able to move on and start new lives in the gulf of years and the devastating heartbreak of those returning souls discovering they were literally left for dead.
(Photo by @ Walt Disney Studios Motion Pictures, @ Marvel Studios)
The five-year gap will definitely fuel some upcoming Marvel films. The plot of Black Panther 2, for example, has to concern T'Challa (Chadwick Boseman) reclaiming the throne. Did M'Baku (Winston Duke) claim it in his absence? Or did Ramonda (Angela Bassett) preemptively take control of Wakanda while grieving the loss of all of her children? And how readily will the country accept T'Challa's return? Considering his comic book counterpart loses the crown with some regularity, a transition back to T'Challa's leadership will not be as tranquil as that beautiful nighttime scene of the country toward the conclusion of Endgame.
Meanwhile, Captain Marvel fans will note the complete lack of concern for Carol's (Brie Larson) Earthbound family throughout Endgame. Did something happen to the Rambeaus long before the Infinity Saga even began?
This summer's Spider-Man: Far From Home will have to address the inconvenient truth that its entire cast was seemingly snapped out of existence the whole time. As we see at the conclusion of Endgame, Ned (Jacob Batalon) is still in high school alongside Peter (Tom Holland), and unless the Far From Home trailers we've seen are entire fabrications to conceal Endgame's five-year twist, MJ (Zendaya), Flash Thompson (Tony Revolori), Betty (Angourie Rice), and seemingly even Aunt May (Marisa Tomei) collectively lost that time. With Marvel Studios president Kevin Feige now saying the film is the last Phase 3 film after telling us for years that it would the first taste of Phase 4, it must act in part as an Endgame epilogue and confront the fact that almost all of its characters are a half-decade out of step. Maybe it will even prove to strengthen their bonds as they acclimatize to this new era together.
(Photo by @ Walt Disney Studios Motion Pictures, @ Marvel Studios)
The time jump also means new film series like Shang-Chi and The Eternals take place on an Earth where everyone experienced a monumental loss. It is something the really cannot ignore as a feature of this shared fictional setting.
---
Smart Hulk And "Lebowski Thor": Could One Lead the Avengers, the Other the Guardians?
The five-year gap also resolved Hulk's storyline from Thor: Ragnarok with an idea Hulk fans have been waiting decades to see on the screen: Smart Hulk, otherwise known as "Professor Hulk." When Endgame circles back to the character after the doomed mission to the garden world, Bruce is permanently huge and permanently green, but in full command of his intelligence and strength. He and Hulk finally integrated into a single consciousness and the result is seemingly a respected public figure. This version of the Incredible Hulk has appeared off and on in Marvel Comics throughout the years, with writer Peter David's 1990s run a memorable time for the smarter Hulk. But in the MCU, it makes further Hulk appearances far more interesting. He gets to continue with the humor of a more contented Hulk, to be sure, but imagine an Avengers led by this strong and smart Bruce Banner. Since some version of the team will form despite their losses, Hulk may prove to be the best person to direct it – a plot thread which could weave its way through a number of upcoming films. Maybe even a solo Hulk film if Marvel and Universal can ever come to an accord on the matter.
(Photo by @ Walt Disney Studios Motion Pictures, @ Marvel Studios)
One person decidedly not suited to leadership is Thor Odinson (Chris Hemsworth). But at least he acknowledges that in regard to New Asgard – handing the throne to Valkyrie (Tessa Thompson). With his beer gut and love of video games, he is definitely prepared to be a Guardian, though. And it seems his final moments in the film indicate a big role for Thor in Guardians of the Galaxy Vol. 3. Presuming that film takes place after Endgame and not in the span of years between Guardians of the Galaxy Vol. 2 and Infinity War, the theme of leadership could be a strong thread as Thor and Peter Quill (Chris Pratt) jockey for command of the team. Why does he seek out a leadership role in that group as almost a reflex action while fleeing the throne of Asgard? Maybe Vol 3. will address that before a potential fourth Thor feature.
---
What those Heartbreaking Goodbyes Mean for Black Widow and Disney+, and Is It Really Over for Tony?
At the end of Endgame, the death toll across the two later Avengers films includes Tony Stark (Robert Downey Jr.), Black Widow (Scarlett Johannson), Vision (Paul Bettany), Loki (Tom Hiddleston), Gamora (Zoe Saldana), and Heimdall (Idris Elba). For the moment, we're going to set aside Thanos and his army as casualties to focus on the heroes (and Loki) because most of them presumably have futures in the MCU.
Yes, even Tony Stark.
(Photo by @ Walt Disney Studios Motion Pictures, @ Marvel Studios)
In the short term, Black Widow is set to appear in her own feature film within the next few years. And just about every line between Nat and Clint (Jeremy Renner) in Endgame suggests Hawkeye will be along for that ride. Consequently, our early guess that the film will be a prequel focusing on her recruitment by S.H.I.E.L.D. seems more and more likely. Unless, in some bizarre twist, it will also feature Clint trying to rescue her from her fate. As it will be a Phase 4 film, it has to tie to something in the present-day story. Nat's Endgame death makes Black Widow all the more exciting because we now have this question: how does it fit into the post-Infinity Saga tapestry?
Similarly, the continued end states for Vision and Loki would seemingly impact their upcoming Disney+ limited series. Will they be set in the Infinity Saga era or define new places for them in Phase 4? Considering Elizabeth Olsen's recent tease that WandaVision will see the characters in a "1950s" setting, it is easy to image the program will take its cue from Tom King and Gabriel Hernandez Walta's phenomenal 2017 Vision series and see Wanda (Olsen) recreate the android for an anachronistic, domestic life. But considering that series ends with all of Vision's dreams broken or on fire, we imagine Wanda's dream life will end in similar flames.
(Photo by @ Walt Disney Studios Motion Pictures, @ Marvel Studios)
Loki, on the other hand, presents a more interesting case. While the MCU version we met in the first Thor picture is still dead, the one who escaped with the Tesseract in the middle of Endgame is presumably out in the wild and is the one we will see in the forthcoming Loki series, which is reportedly set to feature the the God of Mischief creating trouble across history. This version of the character is still a villain lacking the emotional growth of the character we saw in Thor: Ragnarok and Infinity War. If he does prove to be the focus of the limited series, it will certainly be more interesting. And considering audiences forgive him for a lot of heinous acts, the program could even attempt to test their gracious attitudes toward the charming trickster.
And while not a death, we imagine Steve Rogers' (Chris Evans) ultimate Endgame state will precipitate a title change for Disney+'s Falcon and the Winter Solider to something more succinct, like Captain America.
Oh, and Tony? Let's just assume we'll see him again in 2028 for the 20th Anniversary Marvel Studios film, resurrected to counter whatever threat the collective heroes are facing in that moment.
---
Time Is Immutable, Except When It Isn't: Time Travel Just Changed Everything
With all its joking criticism of Back to the Future, Endgame seemingly sides with the notion that time is an immutable series of events, and changes to the past will create a new timeline while the time-traveler causing those changes returns to their original, unchanged present.
OK, yeah, that's confusing. To simplify: Loki's Endgame escape does not change Thor's experiences with him in Thor: The Dark World, Ragnarok, or Infinity War because time cannot be altered. The escaped Loki in Endgame is part of one of those tangent realities the Ancient One (Tilda Swinton) warned Hulk about. This is why Tony could unmake the Thanos from 2014 without erasing the events of Guardians of the Galaxy or any of the subsequent films. All of it still happened. This is also why Nebula could shoot her past self without it affecting her present-day form.
(Photo by @ Walt Disney Studios Motion Pictures, @ Marvel Studios)
If you can wrap your head around the notion of an unchangeable past, Endgame's rules about time travel are simple enough. Certainly simpler than the temporal mechanics of film and television series like The Terminator, The Flash, DC's Legends of Tomorrow, Doctor Who, or even various X-Men stories across comics, television, and film.
And then we get to Endgame's closing moments, with an aged Steve Rogers, who clearly took the slow path back to his friends after dropping off the Infinity Stones in their original places in time. If time is immutable, then he gets to live his life with Peggy (Hayley Atwell) without altering the timeline. Like Loki, he creates another tangent reality. But his very appearance to hand off his shield and identity to Sam Wilson (Anthony Mackie) means the timeline is not as secure as Hulk, Tony, or even the Ancient One assumed it to be. Unless, of course, he found a way to use Loki's Tesseract (in combination with the Time Stone) to cross timelines.
But it seems more likely that Scott Lang (Paul Rudd) was right all along and the rules from Back to the Future are in play (it's no accident the team breaks all of them across the plot of Endgame). Back in Marvel Comics, time travel only ever delays the inevitable. The dark reality from "Days of Future Past" always threatens to reappear in the X-Men's future while Cable's many attempts to prevent Apocalypse's reign some centuries from now only leads to some other character taking the External's place in that grim future. But in almost all cases, time travel does indeed alter the timeline.
(Photo by @ Walt Disney Studios Motion Pictures, @ Marvel Studios)
The older Steve's presence in Endgame indicates that time in the MCU is also malleable. To borrow a line from The Flash, the timeline can be changed and that may prove to be as big of a threat as the Infinity Stones themselves – especially as all you need is some Pym Particles and a little know-how to invade the past and alter history. And even if time is solid, those tangent realities the Ancient One feared could pose some threat in Phase 4.
---
No Stinger Scenes? Like, Forever?
Now this one was a big shock for anyone who was ready for just a little bit more MCU after 183 minutes: Endgame features no mid-credit or post-credit stinger scenes, a first for a Marvel Studios picture. Considering the stinger scene's proliferation across other studios, it is possible Marvel will drop them entirely from here on out. It would be a bold move and make all our Phase 4 speculations wilder, because Marvel would not be teasing the Next Big Thing as soon as its current release ends. Imagine an Ant-Man without that Captain America: Civil War moment or Thor: Ragnarok without the cut to Thanos's massive ship. And even without the Next Big Thing to tease, post-credit stingers offer a nice final thought – like the shawarma scene at the end of Marvel's Avengers or Captain America's speech about patience after the Spider-Man: Homecoming's credits.
In some ways, it's fitting, then, that Spider-Man: Far From Home will answer this meta-cliffhanger. If it features a stinger, then we know the practice is here to stay in Phase 4. And, presumably, that stinger will itself be the first few moments of that new phase.
---
Avengers: Endgame is in theaters everywhere (but you already knew that)
#1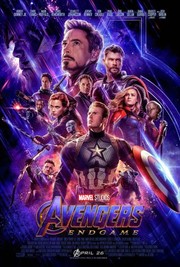 Critics Consensus:
Exciting, entertaining, and emotionally impactful, Avengers: Endgame does whatever it takes to deliver a satisfying finale to Marvel's epic Infinity Saga.
Synopsis:
The grave course of events set in motion by Thanos that wiped out half the universe and fractured the Avengers...
[More]
---
Like this? Subscribe to our newsletter and get more features, news, and guides in your inbox every week.