(Photo by Courtesy of A24)
When Rotten Tomatoes spoke with Sterling K. Brown recently, the Emmy-winning actor's latest project Frozen II had just opened to record numbers at the box office. When we congratulated him on the success, Brown laughed and told us, "Thank you very much, man… I think it was all because of me!" The brag was in jest – Brown's relatively minor role as Lieutenant Mattias probably isn't the reason Frozen II is going to clear $1 billion worldwide – but we'd have forgiven him if it wasn't. The This Is Us star has plenty of reasons to boast right now: The NBC series in which he plays Randall Pearson is still one of the best-rating dramas on television; he will feature in the third season of Amazon Prime Video's The Marvelous Mrs. Maisel this December; and his production company, Indian Meadows, is developing a slew of projects, including action flick Shadow Force, in which Brown co-stars with Kerry Washington.
Then there's Waves, writer-director Trey Edward Shults's acclaimed follow-up to It Comes At Night. The role of Ronald is a swing against type for Brown: the tough, uncompromising patriarch of a middle-class African American family that's upended by a tragedy. We see him pushing his high school star-wrestler son Tyler (Kelvin Harrison Jr.) to breaking point, training side-by-side with him in the family gym, equal parts motivator, tormenter, and competitor; and we see him struggling to connect with the women in the family, his daughter Emily (Taylor Russell) and wife Catharine (Renée Elise Goldsberry). As the film expands into more theaters, we asked Brown what draws him to father roles, what he learned from his young co-stars, and how he pays tribute to his own dad on screen.
The following interview contains minor spoilers for Waves.
---
Joel Meares for Rotten Tomatoes: Ronald, your character in Waves, is the latest in a line of quite different fathers that you've played in recent years, from N'Jobu in Black Panther to Randall in This Is Us. Is there something that's drawing you to father characters at the moment?
Sterling K. Brown: Well, yes and no. First of all, I'm just interested in good characters. But I will say that dads in particular, as I enter into my early-to-mid–forties, I have a particularly strong calling in my life in that my dad was 45 when he passed away, and I'm 43-years-old right now. I just feel his presence in and around my life very strongly. And I think things happen for a reason. These roles have sort of come at this particular time in my life because I think – I don't know – the universe sees that I'm particularly accessible to them. And it's sort of my way of paying homage to a man who instilled in me, with only 10 years, a lifetime full of love. So wherever he's watching, I hope that he's enjoying the multiple depictions, some of which are akin to him, most of which are only glancing. But he was a lovely man, and I think, yeah, that's part of the reason why these dads are so present right now.
(Photo by Courtesy of A24)
Is there anything in the Ronald character that particularly connects with your father or the way that you are as a father yourself?
Brown: I would say no. My dad was a very sensitive soul the whole time that he was in my life. He wasn't a practitioner of tough love; as a matter of fact, the opposite. My mom would often say that my dad spoiled me, and then when he passed away, it was her job to try to make sure that I was unspoiled. He would just lavish me with hugs and kisses, and, like, we kissed on the lips. And he was a really beautiful man in that way where there were no issues with how masculinity was supposed to be expressed. He just expressed his love as purely as he wanted to, and it was received in kind.
I would say that Ronald is more akin to an uncle of mine, who was a military man who could be very severe and austere with his children. And his children had a really complicated relationship with him. Everything that he did was from a place of love, wanting to see his children excel to be excellent, but he could often take the air out of the room and leave things feeling kind of chilly. It was interesting for me to step into the shoes of Ronald because I was able to find a greater deal of understanding for him than I probably had for him when he was alive. And to recognize that for Ronald in particular, when you lose a member of your family – like the way Ronald lost his wife early on and was left to parent these two children by himself for a period of time before Catharine came into his life – you recognize just how precious and how fragile family can be, and it makes you hold on that much tighter.
Unfortunately for him, that grasp can also feel somewhat suffocating to the person who is the receiver of that grasp, and you have to make sure that you leave room for your children to be able to have a real dialogue with you. So that every conversation is not just you telling them what to do, telling them how thankful they should be, telling them what their journey through life is supposed to be. If you can't also hear from them what they're actually going through, then when the rubber hits the road, s–t hits the fan, when it all starts to go south, how can you trust that they're going to be comfortable sharing the bad stuff with you?
(Photo by Courtesy of A24)
Those communication lines are explored in a particularly beautiful scene late in the film, where Ronald is talking by the water with his daughter Emily. What struck me is that this isn't just a scene about a dad finally listening to his kid, which we've seen a lot of, but admitting that because he never opened up a dialogue, he's lonely – he says he has no one to talk about the tragedy that hit the family. It's heartbreaking to see the position his stoicism has put him in.  
Brown: Yeah, it is, man. And like in most cases, necessity is the mother of invention. He, his daughter, his wife, find themselves dealing with this crisis, losing their son; maybe not to a physical death but to a life of imprisonment, and it's sent them all reeling. And the only person who he can truly talk to, who will talk to him, right now, who understands what they're going through, is his daughter. As much as it is about him wanting his daughter to share herself with him, he also feels the need to share himself with someone. Somebody was saying to me earlier today, "Yeah, he's able to show weakness." And I try not to put that word on it, because I feel like there's a certain judgment with "weakness," but sharing his vulnerability is what he's able to do, and there is strength in vulnerability. Being a man doesn't negate the ability to be vulnerable. It doesn't mean that you are being weak. It just means that you're being open if you want people to be open with you.
Taylor Russell is incredible in that scene – and she's just been nominated for an Independent Spirit Award for Waves. And Kelvin was nominated, too, for Luce. I'm sure the two took a lot away from working with you, but I'm wondering what you took away from working with these talented young actors.
Brown: I think I probably got more from them than they did from me. Kel has a certain fearlessness, even in his taking the project on. I don't know if, 18 years ago, I would've had the same level of confidence to know that I could step into this role, play it authentically, and not be villainized in the process – not be adding a negative portrayal of young African American males to an already fraught environment in which people are looking to us as being less than, to be demonized, et cetera. I've heard him speak about this, and he says, "Well, I know that I'm a good person, and I know that this is being played by me. So even when he does something wrong, I believe that people will be able to see the goodness in me." Anytime I feel like I should shy away from something because I'm worried about a negative depiction, I will come back to my conversations with Kelvin and his stepping into Tyler as an example of, like, maybe not so fast. There's potential for something beautiful in the damage to this human being.
And I think from Taylor, I really applaud how she was not afraid to be small. What I mean is that, like, she gave herself a wonderful trajectory of blossoming into somewhat of the savior of this family, right? Someone who was able to save themselves and save her family. She was so quiet and so tiny, but once love came into her life, once she started to explore her own feelings of her relationship with her brother, she took up more and more space. I think it takes a great level of confidence as a performer to start in such a tiny way, but to give yourself a place to go to. I think it's a really wonderful arc that she helped create with Trey for her character in the film.
Trey had a very specific vision for this film. You've spoken about the script having embedded audio cues, and there are color schemes for different sections of the film. What was it like working with a director who had what seems to be a very specific aesthetic and audio-visual experience in mind?
Brown: You would think that someone who is as specific as Trey is, who had the aspect ratios crafted and the shifting ratios throughout the course of the film, you would think that they would be somewhat of a taskmaster. Where it's like, "No, it's got to be like this. It's got to look like this," blah blah blah blah blah. But he gave little to no direction on set. One, I think he trusted his casting and the people he chose to inhabit these roles. And then two, I don't think filmmaking for him is so much of crafting performance. It's more about standing out of the way of your actors and giving them the space to own the characters for themselves. So he would just let the camera roll.
It was a lot of scenes played in one [shot]. The scene between Catharine and Ronald in the bedroom is one shot, with the camera floating between the two of them, and he probably shot it three times and he's like, "I got it." And Renée and I looked at each other, like, "You sure, man?" He's like, "Yeah, yeah, moving on." We're like, "OK." It's almost like you forget that the camera's even in the room. It becomes a fly on the wall, and it's just capturing this slice of life. I think the beauty of his filmmaking is that he has implicit trust in his performers, and that the camera's going to capture what he needs in order to tell his story.
(Photo by Monica Lek, Courtesy of A24)
You shot this film by flying red eyes down to Florida, while shooting This Is Us, and you did Frozen and many other projects while doing TV, too. At this point in your career, are you just like, "I'm taking all of these opportunities and I'm not resting on the series." What's driving you right now?
Brown: I think that's part of it. I think that 10, 12 years ago or what have you, if you became known for a popular television series or whatnot, then most people only wanted to see you play that character. It could become something that you become known as Randall. And the idea of being able to do anything outside of Randall was nothing anybody wanted to see. And so while I'm able to take advantage of opportunities to show a diversity of character, it's always much more pleasing to be recognized for a body of work than it is for one character. Because number one, I am not the character. I mean, the character comes from me, but he's not the totality of me. And so while I can, while opportunities are being presented that are diverse and that show different aspects of my personality, I want to be able to step into them so that people see me as an actor and not as one particular character.
I want to finish with a Rotten Tomatoes-specific question. You were in a movie that this year became the number one video game adaptation of all time, according to the Tomatometer. Angry Birds 2 actually knocked off previous number one, Ryan Reynolds in Detective Pikachu…
Brown: Nice, nice!
And number two was Dwayne Johnson in Rampage. So, just wondering if you have any words for the guys you knocked down the list? 
Brown: Eat it! Eat my shorts, man! [Laughing] Freaking Pikachu and that monkey can both eat it. No, just kidding. Listen. That's an interesting way to be in the same company as The Rock and frigging Deadpool, but if I can beat them in any way, I'll start there and see what else. Maybe one day me and The Rock will have an arm-wrestling competition and I can do something.
Well if he's seen Waves, he might be worried.
Brown: He might. He might be, yeah. I'm coming for you, Dwayne.
#1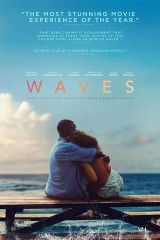 Critics Consensus:
An up-close look at one family's emotional ups and downs,
Waves
captures complicated dynamics with tenderness and grace.
Synopsis:
The epic emotional journey of a suburban African American family as they navigate love, forgiveness and coming together in the...
[More]
---
Like this? Subscribe to our newsletter and get more features, news, and guides in your inbox every week.