In episode 3 of The Walking Dead season 10, The Whisperers have Alexandria on edge, and when Negan (Jeffrey Dean Morgan) and Aaron (Ross Marquand) have a private moment, the anxiety spills over. "If you don't protect what belongs to you, then sooner or later, it belongs to someone else," Negan instructs Aaron, who takes offense at the schooling from a murderer. Is Negan suggesting Eric's death was Aaron's fault? He gets in Negan's face to tell him exactly what he thinks of that "lesson," but Negan's backup arrives before the tiff can come to blows.
About the Episode: The threat of the Whisperers return leads to paranoia sweeping over Alexandria. In the meantime, Carol (Melissa McBride) battles with the need for revenge.
About the Series: Based on the comic book series written by Robert Kirkman and published by Image Comics, The Walking Dead tells the story of the months and years after a zombie apocalypse and follows a group of survivors who travel in search of a safe and secure home. The series also stars Norman Reedus and Danai Gurira.
The Walking Dead episode "Ghosts" airs on Sunday, October 20 at 10/9C on AMC.
---
Like this? Subscribe to our newsletter and get more features, news, and guides in your inbox every week.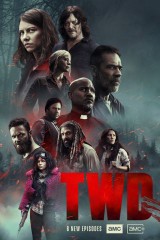 Critics Consensus:
A few changes in front of and behind the camera allow
TWD
create space for compelling new stories and some seriously scary new adversaries.