The Office creator Greg Daniels and star Steve Carell reunite this month for Netflix's new big-budget workplace comedy, Space Force. In the series – a parody of the newly announced fourth branch of the military that Daniels describes as a "funny Apollo 13" – Carell plays General Mark R. Naird, tasked with leading the team that will put U.S. boots on the moon by 2024. Just as in The Office, the team he leads is a mixed – but always hilarious – bag that includes skeptical scientist Dr. Adrian Mallory (John Malkovich) and a social media expert played by Ben Schwartz. Ahead of the series premiere on Netflix, Rotten Tomatoes Correspondent Naz Perez connected with Daniels, Malkovich, Schwartz and co-stars Lisa Kudrow, Diana Silvers, Jimmy O. Yang, and Tawny Newsome to talk working with comedy "crème de la crème" Carell, the epic "chimpanzee episode," the show's surprisingly tender moments, and trying to make Malkovich break.
Space Force Season 1 premieres on Netflix May 29, 2020.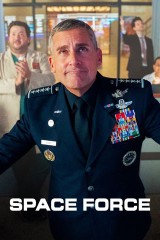 Critics Consensus:
An all-star cast and blockbuster-worthy special effects aren't enough to keep
Space Force
's uneven blend of earnestness and satire from spinning quickly out of comedic orbit.