This weekend at the movies, we've got a royal cub (The Lion King, featuring the voices of Donald Glover and Beyoncé Knowles-Carter). What are the critics saying?
---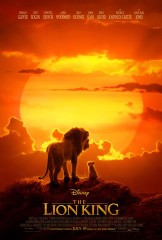 We've already gotten two of Disney's live-action remakes of animated films from their canon — namely Dumbo back in March and Aladdin in May — but this week's The Lion King was always the most anticipated of the bunch. Director Jon Favreau took on similar material when he helmed 2016's The Jungle Book, which was both a critical and commercial success, so it made sense to tap him for another talking-animal movie with one less human in it. Multi-hyphenate talent Donald Glover takes on the role of adult Simba, while Beyoncé plays Nala, with Chiwetel Ejiofor as Scar, Billy Eichner as Timon, Seth Rogen as Pumbaa, and returning as the voice of Mufasa, James Earl Jones. Unfortunately, the critics haven't all been on board for this return trip to the African wilderness. While most are quick to praise the technical craft that has gone into bringing the characters to life, many feel that it's a double-edged sword, since the photorealistic nature of the animals necessarily limits their expressiveness. In addition, this new version of the story is essentially a shot-for-shot remake of the original that offers precious few new elements, which several critics found disappointing. With all of that in mind, overall reception to the film will largely hinge on whether audiences were hoping to see a new interpretation of the classic story or content to see the same tale retold, but with admittedly mind-blowing visuals. Either way, The Lion King is all but guaranteed to rule the box office this weekend, so Hakuna Matata to that.
---
Also Opening This Week In Limited Release
---
Like this? Subscribe to our newsletter and get more features, news, and guides in your inbox every week.