Join us weekly as Rotten Tomatoes reports on what's opening, expanding, and coming to the specialty box office. From promising releases from new voices to experimental efforts from storied filmmakers – or perhaps the next indie darling to go the distance for end-of-year accolades – we will break it all down for you here each week in Fresh Indie Finds. 
---
This week at the specialty box office, we find an Oscar-worthy biopic about an iconic and tragic classic film star, a genre mashup from the brilliant mind behind the Certified Fresh favorite 13 Assassins, a based-on-actual-events absurdist farce about inept police work, and an adventure tale about an evangelist superstar on the run. In our indie trailers section, we have a thrilling new trailer from Adam Sandler and Good Time directing duo the Safdie brothers, and Jesse Pinkman and Aaron Paul are back with the first full-length trailer for the feature-film continuation of the award-winning series Breaking Bad.
---
Opening This Weekend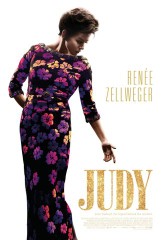 Renée Zellweger is riding high in her first musical since her Oscar-winning performance in Chicago. The Bridget Jones star recently re-emerged after a self-imposed hiatus and has been dominating the awards conversation since Judy debuted at the Telluride Film Festival earlier this month. Zelleweger vanishes into her role as Judy Garland in the film, which focuses primarily on the tragic star's final days and an ill-conceived comeback tour in London. From the voice to the mannerisms, nothing is out of place in this intimate portrait of the American icon. Joey Magidson of Hollywood News raved, "This is Renée's show, through and through. She's terrific in the role and you almost instantly forget you're watching her. Zellweger inhabits Garland perfectly."

Playing California, New York, Texas, Tennessee, Florida, Texas, Colorado, and most major markets this weekend; expanding to more cities on October 4. 
---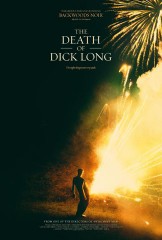 A wild night goes from bad to worse in this Deliverance-meets-Burn After Reading farce set in the Deep South. Friends Zeke and Earl are enjoying a normal night in backwoods Alabama, playing with their bandmate Dick Long. After a freak accident kills Dick, what follows is a series of events that no one could have seen coming. Soon Dick's widow, Zeke's wife, and the Sherrif are posing questions neither Zeke nor Earl want to answer for fear they might go to jail. In a case where the cover-up is far worse than the crime, the hapless duo are forced into increasingly ridiculous scenarios that will have you cracking up at their ineptitude. Over the next few frantic days, they have to lie, cheat, or steal their way to a better outcome, and it never works. Packed with cringeworthy comedy, it is a fitting follow-up from half of the team behind the equally ridiculously yet thoroughly enjoyable Swiss Army Man.

Playing New York, Los Angeles, Washington DC, Phoenix, Minneapolis, Omaha, Springfield (MO) Raleigh, Kansas City, and major markets in Texas this weekend; Available on VOD on October 8. 
---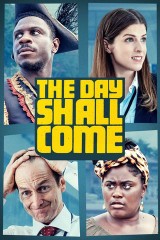 Christopher Morris' The Day Shall Come hilariously skewers modern-day police work and inept criminals for all they're worth. Based on declassified FBI files, the film follows a poor and guileless Miami preacher who is only a threat to bore his five parishioners — that is, until the feds suddenly take an interest. For a flailing police investigation tasked with identifying targets by any means necessary, what's the harder prospect? Finding a terrorist, or just creating one? It's a side-splittingly funny examination of government surveillance programs, but between the laughs, you can't help but feel a pang of pity for the real-life individuals the film brings to light and mourn our pitiful justice system. "What starts out as an abrasive satire about US federal agents trying to make up their quota of neutralized homeland security risks ends as something unexpectedly profound and sad," writes Wendy Ide for Screen International.

Playing New York, Los Angeles, Chicago, Cleveland, Kansas City, Austin, Seattle, Salt Lake City, Washington DC, Denver, Boston, Louisville, Philadelphia and other major markets this weekend; expanding to more screens on October 4. 
---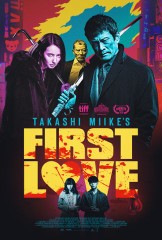 First Love is the type of film that dares you to try and define it. Just when you're sure you're watching an action flick, the movie shifts to broad comedy, then to pulse-racing thriller, before it finally builds toward its finish as a heartfelt rom-com. With the type of stylish aesthetic and whip-smart dialogue that would make a Tarantino-fanatic tip their hat, Takashi Miike continues to prove why he's such a legendary filmmaker in Japanese cinema. "First Love might start as a hard-boiled piece of pulp fiction, but it isn't long before it softens into a violent, hilarious, and violently hilarious madcap comedy," says David Ehrlich of Indiewire.

Playing New York & Los Angeles this weekend; expanding to limited screens on October 4.
---
Fresh and Still in Theaters
Spotlight Pick!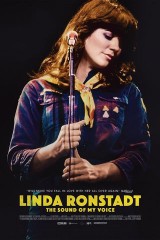 Our spotlight pick of the week, Linda Ronstadt: The Sound of My Voice, expanded to over 200 screens, and after an enviable per-screen average, it adds another 60 screens. Linda Ronstadt has been an icon for decades; her voice, ambition, and creativity have given us some of the most famous recordings of modern music. This documentary examines her life, from her humble beginnings singing Mexican canciónes with her family to the 1970s and early 1980s, when she became the first artist to top the Pop, Country, and R&B charts simultaneously. Ronstadt's career came to an abrupt halt when a Parkinson's disease diagnosis robbed her of her singing career and the world of one of the best voices ever to perform. A.O. Scott of The New York Times said of Ronstadt, "She shows herself to be one of its indispensable interpreters, as a vocalist and also as a thinker — covering a sprawling landscape with elegance, passion, and insight."

Playing limited screens this weekend; expanding to more screens on October 4. 
---
Along with…
---
New Indie Trailers
Uncut Gems (2019) 91%
Adam Sandler is a fast-talking New York jeweler who's betting he can win big, despite the fact he already owes everyone, in this frenetic trailer from the Safdie brothers – the directing duo behind Good Time.
---
Clemency (2019) 92%
Alfre Woodard plays a beleaguered prison warden who struggles to find meaning after presiding over countless executions in this trailer from a Sundance award-winner.
---
El Camino: A Breaking Bad Movie (2019) 92%  
Aaron Paul returns as Jesse Pinkman in this surprise trailer of the first Breaking Bad feature film continuation, El Camino.
---
Like this? Subscribe to our newsletter and get more features, news, and guides in your inbox every week.