Join us weekly as Rotten Tomatoes reports on what's opening, expanding, and coming to the specialty box office. From promising releases from new voices to experimental efforts from storied filmmakers – or perhaps the next indie darling to go the distance for end-of-year accolades – we will break it all down for you here each week in Fresh Indie Finds. 
---
This week at the specialty box office, we have new offerings from Cynthia Erivo, Ethan Hawke, and Martin Scorsese. Erivo's take on Civil War icon Harriet Tubman joins Ethan Hawke in a new indie tale about an ex-con and an abandoned baby, while Scorsese's long-awaited Jimmy Hoffa gangster epic starring Al Pacino, Robert De Niro, Joe Pesci, and Harvey Keitel – all together for the first time ever – opens a theatrical run before it drops on Netflix. In our spotlight section, we highlight the per-screen-average winning film from last week's three-way showcase featuring The Lighthouse, Parasite, and Jojo Rabbit. And finally, in our indie trailer section, we have new clips featuring Vin Diesel, Sterling K. Brown, and a foreign language Oscar hopeful some are dubbing a modern-day Parisian Do The Right Thing. 
---
Opening This Weekend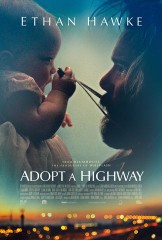 Logan Marshall-Green follows up his 2018 appearance in the violent, fast-paced action flick Upgrade with his directorial debut, an understated drama starring SXSW darling Ethan Hawke. In Adopt a Highway, Hawke plays Russ Millings, an ex-con who is paroled after a 21-year prison sentence and suddenly finds purpose and meaning after he rescues an abandoned infant from a dumpster. As an instant parent navigating the perils of a world he no longer recognizes, Hawke is moving and heartfelt in Marshall-Green's first-time effort as both writer and director. Matt Donato of Slashfilm called the film "as naked, vulnerable, and warmly fulfilling a directorial debut as you can ask for."

Playing Los Angeles, New York, Boston, Cleveland, Dallas, Miami, Detroit, Houston, Minneapolis, Orlando, Seattle, Tampa; and available on VOD November 1.
---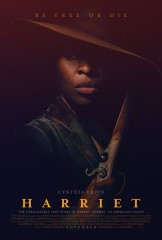 Tony-winner Cynthia Erivo makes her lead actress feature debut in Kasi Lemmons' biopic about the most celebrated member of the underground railroad, Harriet Tubman. The former slave escaped to freedom and then returned several times to free over 300 runaways without a single person lost, and the British-born actress is earning raves for her quiet, moving performance. It's one that stands slightly above the film itself, as Loren King of Newport This Week notes Erivo is "the main reason to see Harriet, a solid, well-crafted film that aims more for education than innovation."
---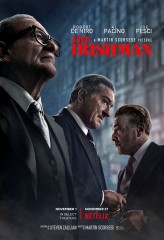 Lastly, we hesitate to call a $200 million Martin Scorsese epic produced by the biggest streaming studio around an "indie" film, but it is only getting a limited release in theaters before it hits Netflix, so if you wanted to see it on the big screen, now you know it's happening this weekend. Scorsese made headlines recently with his thoughts on superheroes and cinema, with everyone from Jon Favreau to James Gunn weighing in on the Oscar-winning director's assertion that Marvel movies are more akin to theme parks. But the public brouhaha over that hasn't affected The Irishman's chances to become a major player come Oscar time. Stars Robert De Niro, Al Pacino, and Joe Pesci, as well as the GoodFellas director himself, all look poised for deep runs this awards season, and with the use of new technology not unlike what we've seen in the MCU or Ang Lee's Gemini Man, The Irishman has positioned itself for multiple nominations across the board. "A masterpiece. Scorsese's most ambitious work to date [and] one of his very best. Believe the hype," writes Joey Magidson of Hollywood News.

Playing New York and Los Angeles; available on Netflix on November 27.
---
Fresh and Still in Theaters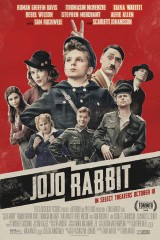 Out of our three spotlight picks from last week (The Lighthouse, Parasite, Jojo Rabbit), the anti-hate satire from Taika Waititi earned the highest per-screen-average of the weekend in fewer than 50 markets. When we chatted with the Thor: Ragnarok director, he told us his satire was the perfect antidote to the re-emergence of Nazi ideology. Though critical reaction to the film has been slightly less enthusiastic, audiences have nothing but praise for Waititi, his hilarious script, and the dynamic cast. Set in Germany at the end of World War II, the film follows Jojo, a 10-year-old fan of the Führer who discovers his mother is hiding a teenaged Jewish girl in the attic. Jojo must then decide what to do next: Will he choose to side with his mother or with his best friend and father-figure, an imaginary version of Nazi leader Adolf Hitler, played by Waititi? The winner of the 2019 Audience Award at the Toronto International Film Festival, this absurdist anti-hate satire is a timely skewering of blind ideology as well as a surprisingly feel-good family film with standout performances from Sam Rockwell, Scarlett Johansson, Leave No Trace star Thomasin McKenzie, and newcomer Roman Griffin Davis in the title role. It's a coming-of-age story that Marc Savlov of the Austin Chronicle writes is "unlike any other, filled with the director's trademark heart and a soul-stirring argument against the ever-ready darkness of unswerving, 'patriotic' nationalism."

Playing New York and Los Angeles; expanding to wide release on November 8.
---
Along with…
---
New Indie Trailers
Waves (2019) 84% 
The second trailer for It Comes at Night Director Trey Edward Shults' third effort, a complex love story and family drama set in Miami Florida, starring Sterling K. Brown, Kelvin Harrison Jr., Lucas Hedges, and newcomer Taylor Russell.
---
Little Joe (2019) 67%
A new trailer for this sci-fi thriller starring Ben Whishaw about a genetically modified plant that is transformed into a modern-day Frankenstein's Monster meets Audrey II (Little Shop of Horrors).
---
Les misérables (2019) 88%  
A new trailer for Les Misérables, a socio-thriller inspired by the 2005 Paris riots set in the outer suburb of Montfermeil, where Victor Hugo famously set sections of his eponymous novel.
---
Bloodshot (2020) 31%
Vin Diesel stars in this action thriller about an artificially enhanced soldier who's brought back from the dead to avenge his wife's killer — or at least that's what he's been told.
---
Like this? Subscribe to our newsletter and get more features, news, and guides in your inbox every week.