Join us weekly as Rotten Tomatoes reports on what's opening, expanding, and coming to the specialty box office. From promising releases from new voices to experimental efforts from storied filmmakers – or perhaps the next indie darling to go the distance for end-of-year accolades – we will break it all down for you here each week in Fresh Indie Finds. 
---
This week at the specialty box office, we have an exciting new feature from the director of It Comes At Night, a couple of insightful documentaries, and a gripping political procedural from the man who penned The Informant!. In our spotlight section, Shia LaBeouf is back after his screenwriting debut earned a glowing reception, and in our indie trailer section, we have a new clip from filmmaker Jennifer Reeder.
---
Opening This Weekend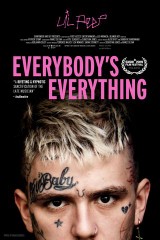 Genre-bending musician Lil Peep's music is difficult to categorize. Uniquely blending punk, emo, and trap, he was poised to revolutionize the music industry when his life was tragically cut short. Executive produced by Terrence Malick, Everybody's Everything digs deep into Lil Peep's upbringing and how, at the height of his fame, he tried to be all things to all people. The film features behind-the-scenes videos, live performances, and interviews with those closest to the artist, who died tragically of a drug overdose at 21 years of age. "The juxtaposition between Peep at home as a kid, and a not-much-older Peep cast out in front of the world, is both fascinating and heartbreaking," writes Dan Caffrey of the Consequence of Sound. 

Playing New York, Los Angeles, Houston, Seattle, Phoenix, Tucson, Columbus OH, Birmingham, Knoxville, Portland, Orlando, Denver, Oklahoma City, Indianapolis, Tampa, Atlanta, & Dallas-Ft. Worth this weekend; expanding to limited screens on November 22.
---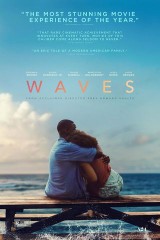 Waves, the deeply personal, semi-autobiographical third feature from indie darling director Trey Edwards Shults, hits theaters this weekend. Starring an indie fave, a network TV superstar, a Hamilton alum, and an exciting newcomer, this stylized "love story" follows a young wrestler who battles familial pressures and the burdens of minority exceptionalism. Critics are lauding outstanding performances from Sterling K. Brown, Kelvin Harrison Jr., Renée Elise Goldsberry, and newcomer Taylor Russell, and the inventive narrative is set to make – yeah, we're gonna say it – waves this awards season. "A stunning achievement," writes Joey Magidson of Hollywood News adding,  "Shults' filmmaking, the score from [Trent] Reznor and [Atticus] Ross, as well as the performances by Brown, Harrison Jr., [Lucas] Hedges, and Russell are exemplary."

Playing New York and Los Angeles this weekend; expanding to more screens on November 22.
---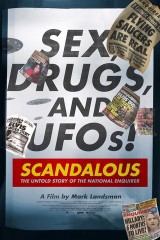 Scandalous: The Untold Story of the National Enquirer should be consumed en masse, given the current climate of the media landscape, but it's a meal that may prove to be an acquired taste. Chronicling the creation and rise to prominence of the notorious tabloid magazine, National Enquirer, documentary filmmaker Mark Landsman takes an unflinching look at how the paper's popularity once, and still, shapes modern politics and journalistic practices. Former staffers detail how what went on behind the scenes was even more outlandish than what made the front page of the magazine, a sometimes hero and frequent villain in the national conversation. "A fascinating and essential examination of the media we consume and what consumes us," writes Karen Peterson of Awards Circuit. 

Playing New York and Los Angeles, Miami, Washington DC, Lafayette, Austin, Sante Fe, Albuquerque, Denver Columbus, Birmingham, Seattle, San Fransico,  Minneapolis, & Boston this weekend. 
---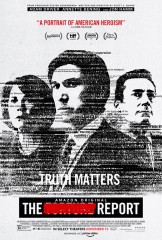 Fresh off Martin Scorsese dubbing him the "greatest actor of his generation," and just days away from his worldwide media tour for the final chapter of the Skywalker saga, Star Wars: The Rise of Skywalker (in which he plays villain Kylo Ren), Adam Driver also has two Oscar-caliber performances set to hit theaters soon. One of them, The Report, hits theaters this week, and it was a big hit with critics when it premiered at Sundance earlier this year. From director Scott Z. Burns, The Report is the fictionalized retelling of how the 9/11 "Torture Report" was commissioned and eventually released to the American public, similar to other journalistic procedurals like All The President's Men and Spotlight. Neil Pond of Parade Magzine, calls it "A crackling political intrigue thriller, about big issues that matter, made out of real-life characters and events from the not-so-distant past."

Playing New York, Los Angeles, Santa Fe, Austin, Baltimore, Boston, Chicago, Cincinnati, Columbus, Dallas, Fort Worth, Denver,  Houston, Indianapolis, Louisville, Philadelphia, Portland, Salt Lake City, San Diego, San Francisco, Seattle, Washington DC, Miami, and other select markets  this weekend.
---
Fresh and Still in Theaters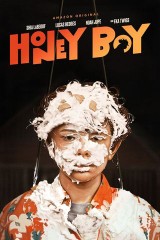 SPOTLIGHT PICK!

Last weekend, Shia LaBeouf's tale about his traumatic upbringing at the hands of his alcoholic father crashed into the specialty box office with sold-out shows, a $75,000 per-screen average, and over $300,000 in receipts. That's right, Shia is back on the Indie Fresh List as our spotlight pick! Earlier this year, the Transformers star charmed his way back into our hearts with The Peanut Butter Falcon, playing a lovable drifter who accompanies a man with Down syndrome on a riverboat to fulfill his wrestling dreams. Last week, audiences finally got a glimpse at Honey Boy, his semi-autobiographical drama about his time as a child star and his tumultuous relationship with his father. In a screenplay he wrote as part of court-mandated therapy, LaBeouf plays his own troubled father, while Noah Jupe and Lucas Hedges play the fictionalized versions of the actor as a boy and young adult, respectively. Director Alma Har'el makes her narrative film debut here, and her music video and documentary roots served her well for this based-on-true-events tale. "Raw, uncompromising, and yet wholly non-judgemental, Honey Boy is a cinematic memoir for the ages," writes Carmen Paddock from One Room With A View.

Playing New York and Los Angeles this weekend; expanding to San Francisco and Washington, D.C. on November 15.
---
Along with…
---
New Indie Trailers
Shooting the Mafia (2019) 78%
A surprising new documentary about mafia crime photographer Letizia Battaglia.
---
Knives and Skin (2019) 70%
Jennifer Reeder's disturbing high school horror tale about a girl's strange and sudden disappearance.
---
Like this? Subscribe to our newsletter and get more features, news, and guides in your inbox every week.