Join us weekly as Rotten Tomatoes reports on what's indie features are streaming. From promising releases by new voices to experimental efforts from storied filmmakers – or perhaps the next indie darling to go the distance for end-of-year accolades – we will break it all down for you here each week.
---
For the foreseeable future, the specialty box office and all theatrical releases will be on hold as we all make efforts to socially distance ourselves and reduce the spread of the COVID-19 coronavirus. With that in mind, we have reshaped our Indie Fresh List to reflect the specialty box office releases that are newly available on streaming services and VOD. This week in our Fresh picks we have a father-son road trip drama, a sci-fi thriller about a mysterious radio message, and a modern-day love story. In our Spotlight section, we have the final installment of Rob Brydon and Steve Coogan's comedy travel series, along with an interview with Brydon.
---
Streaming This Weekend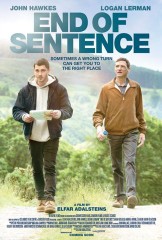 Early this year, Logan Lerman made a triumphant return with the hit Amazon series Hunters, and this week he has a quiet new drama about grief and forgiveness that reminds us why he is such a dynamic young actor. In End of Sentence, he plays Sean, a fresh-out-of-prison young man who accompanies his estranged father (John Hawkes) on a road trip to scatter his mother's ashes in a remote part of Ireland. Sean and his father attempt to repair their fractured relationship, have unexpected adventures, and meet colorful characters along the way. "Even the most stoic filmgoers would be hard-pressed not to be deeply touched by this story of an estranged father and son traversing a path of forgiveness and respect," writes Louisa Moore of Screen Zealots.

Available to rent or buy May 29 on FandangoNOW, Vudu, and iTunes.
---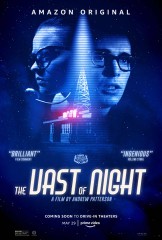 A precocious switchboard operator and her local DJ stumble upon a strange audio transmission that sets off a flurry of questions and odd occurrences in their small town. Teaming up to solve the mystery of the sounds they hear through the radio, the pair eventually discover that they have uncovered a long-forgotten legend in their hometown. "The Vast of Night is that rare gift of a film where all the elements combine in perfect harmony, a timely reminder that a great genre film doesn't need to transcend genre as much as it needs to deeply love, respect and understand it," writes Alexandra Heller-Nicholas of AWFJ Women on Film.

Available to rent or buy on May 29 on Amazon.
---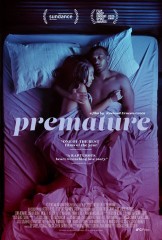 Rashaad Ernesto Green's poetic love story about a teen falling desperately in love with a music producer is available now to rent or buy. In her last summer in Harlem before heading to an out-of-state college, high schooler Ayanna begins a reluctant love affair with the handsome musician Isaiah, who quickly prompts her to re-evaluate her plans. Chronicled by the poetry she writes (the film was co-written by poet and lead Zora Howard) during the narrative, each step of their relationship treats the audience to vivid descriptions of her desire, heartbreak, and despair. Lauren Humphries-Brooks of Citizen Dame calls Premature "an intense and lyrical film, as much in love with the images of Harlem as it is with the music that Isaiah produces and the poetry Ayanna writes."

Available to rent or buy on Vudu, Amazon, Google Play, and iTunes.
---
Available Now on VOD – Spotlight Pick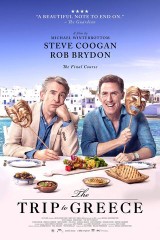 The newly Certifed Fresh final installment of the beloved Trip series is the perfect film to check out if you've been fantasizing about dream vacations you could hopefully take soon. The film stars Rob Brydon and Steve Coogan, who travel to all the idyllic locations of the Greek isles for this final feature. Led by their captivating arguments, history lessons, enviable restaurant outings, and local adventures, the simple concept has lost nothing after four films, four seasons of television, and countless locations. The patter between Coogan and Brydon, framed by director Michael Winterbottom's intimate lens, "is so unforced and natural and not just because this is their fourth go-round. They make you feel as if they are personally connected and enjoy each other's company," writes Bob Bloom of Journal and Courier. We recently sat down with star Rob Brydon to chat about the end of the series and what he has been watching.

Jacqueline Coley for Rotten Tomatoes: There is obviously a recipe for these films. Is there something you figured out on the first one that still is a huge part of the production process today? 

Rob Brydon: Not really, although I know Michael [Winterbottom] is keen that we don't get too cozy, that we come to some antagonism. Left to us, as the series has progressed, we'd be happy to sit there, looking at the view and chatting about our gardens and health concerns.

Rotten Tomatoes: Do you think travel films like this thrive in the current environment, like fantasy viewing of (previously) ordinary activities? 

Brydon: I'm hoping that the current situation makes TTTG even more appealing. It's the most beautiful to look at of the four films, and with the lockdown, two handsome middle-aged men traveling freely around stunning locations has a new, rather science-fiction quality to it.

Rotten Tomatoes: What is on your personal Indie Fresh List?

Brydon: I'm not up on new Indie Fresh things, I'm afraid. I don't suppose Wes Anderson counts, does he? I love his stuff.

Rotten Tomatoes: Who's been the most interesting person you have met while filming?

Brydon: Steve Coogan. A fascinating man. I do hope he's OK.

The Trip to Greece is available to stream now on IFC Film Unlimited and available to rent or buy on Vudu, Amazon, iTunes, and Google Play.
---
Along with…
---
Thumbnail images by Amazon Studios, Gravitas Ventures, IFC Films.