(Photo by Chuck Zlotnick. ©Marvel Studios 2021. All Rights Reserved.)
Although The Falcon and the Winter Soldier behaves very much like a movie, its fifth episode proves why it had to be a television series — a film could never stop for an hour for the characters to do some serious introspection. And yet, that is exactly what we get as last week's climactic event leads not to escalation, but a pause with some surprising ruminations both geopolitical and personal. But does it all lead back to Isiah Bradley's (Carl Lumbly) assertion that "they'll never let a Black man be Captain America and even if they did, no self-respecting Black man would ever want to be"?
Let's dive into the truths on display this week and if it means Sam (Anthony Mackie) can really adopt the shield as his own.
---
Spoiler alert: The following reveals details of The Falcon and the Winter Soldier episode 5, "Truth." Stop here if you have not watched the episode.
---
---
The Truth of Isiah Bradley
While the nature of the GRC has allowed the series up until this moment to make some valid criticisms of American foreign policy, invoking more of Robert Morales and Kyle Baker The Truth: Red, White & Black — a comic book series we discussed back in episode 2 — the program can no longer shy away from its criticisms of the country and its treatment of Black people. Isiah's experience in the Super Soldier equivalent of the Tuskegee Experiment, his mention of the 332nd Fighter Group, and the absolute torture he was put through for decades speaks to true horrors in our history. Just look at various news stories from this week to see how the cruelty continues. His bitterness is absolutely justified.
It is also something Marvel, as a corporate entity, could not avoid once Sam had Cap's shield in his possession. Sure, the Marvel Cinematic Universe might seem more tolerant and diverse, but it is still a cousin to our reality. For the series to be compelling and, potentially, enlightening, it had to confront what it means for Sam to become Captain America.
---
(Photo by Chuck Zlotnick. ©Marvel Studios 2021. All Rights Reserved.)
Thus, Isiah comes to represent the criticism Sam will face from his own community. How is he going to accept the iconography of a nation that so often brutalizes his people? Unlike the Union Jack's (partial) rehabilitation as a symbol of camp, the U.S. flag continues to be a serious image with a serious message behind it. And for Isiah, that message is clear: you are not welcome here. In terms of the show, though, these issues are rooted in Isiah's lived experience and allow for the image of Steve Rodgers (Chris Evans) to still be good even as criminal acts are perpetrated in its shadow. At the same time, it is still amazing that a major corporation like Disney would put some of Isiah's statements out there.
Also, after a lot of soul-searching, Sam is on the precipice of refuting Isiah's assertion that "no self-respecting Black man" would ever want to take up the shield. It's a level of nuance we appreciate even if we still suspect the shield's best destiny might be a return to Wakanda — the vibranium used to make it was not exactly a gift, after all.
---
The Truth of John Walker
(Photo by Marvel Studios)
For a moment, we're going to show John Walker (Wyatt Russell) some sympathy, as he is right about one thing: the government made him that way. Sure, taking the serum and killing someone in public — to say nothing of attempting to murder Sam — were all his choices, but he was trained for the brutality of war. To borrow a phrase from another famous franchise, he is a blunt instrument.
At the same time, Walker is a liar. If we're trying to keep the nuance of the situation, the lie about getting justice for Lemar (Clé Bennett) is an effort on Walker's part to maintain some semblance of sanity. And, we imagine, it is akin to the rationalization soldiers go through when thinking back on their actions in combat. But in spreading the lie to Lemar's family, it becomes something other than a necessary coping mechanism. Now, it is part of the reason he feels justified to carry on as "Captain America."
---
(Photo by Marvel Studios)
It is a choice to continue down a dark path and reflects more of the flaws in Walker as a candidate for the job in the first place. It also underscores the wisdom of Dr. Erskine (Stanley Tucci) in choosing Steve, and it illustrates just how unprepared the human species is for the Super Soldier Serum. It amplifies the darker aspects of the soul until there is nothing left. Steve's immunity to that was his real superpower.
But, we suppose, this is another sympathy we can extend to Walker. The people who chose him to replace Steve were unwilling to see how the qualities of a good and honorable soldier could break under the stress of playing at Captain America. And by putting him in a situation where the serum would be irresistible, they are as culpable as he is in what happened. Although, they can easily find cover now that he's chosen such a dangerous path.
---
Don't Call Her "Val"


We expect Walker's next move will be underwritten by our surprise guest this week: Contessa Valentina Allegra de la Fontaine (Julia Louis-Dreyfus). Although she gave John and his wife a blank business card, there are few things we know about her from the comics: she was an agent of S.H.I.E.L.D. — Agent 14, in fact — a sleeper for a group called Leviathan, and a member of Hydra.
That level of duplicitous could mean any number of things going forward from a resurgence of S.H.I.E.L.D. to the introduction of the Commission on Superhuman Activities, a group Walker worked for during his time as Captain America in he comics. Her zeal to recruit Walker would lean us toward the Commission as new elements are definitely welcome in the MCU's increasingly complicated world stage. See also, the Flag Smasher's refrain getting used in the exact same manner as "Hail Hydra" during the attack on the GRC council. But we're just as ready to be wrong about her designs for John.
Another interesting aspect of Val's comic book backstory includes an episode in which she helped Nick Fury dismantle S.H.I.E.L.D. The two also had a romantic relationship. As always, it is important to keep Fury's schemes in mind during any Marvel Studios adventure, so it is possible Walker might be useful to him despite the obvious dangers in retaining a mentally unstable Super Soldier.
Also, we're glad her appearance proved to be a genuine surprise both in terms of casting and the Marvel character used.
---
Rebuilding and Soul-Searching

(Photo by Chuck Zlotnick. ©Marvel Studios 2021. All Rights Reserved.)
Although the episode explores dark themes in a way a film never could, it still operates on basic screenwriting structure — this is the characters at their lowest point. Sam is utterly rattled by Isiah's take on the world (who wouldn't be?) and takes refuge at Sarah's (Adepero Oduye) house. He also finally determines to take care of their parents' boat. And though it may not happen as swiftly as a film or as glibly as a Marvel Studios feature, this is the moment Sam begins to turn the corner on the question which has troubled him all along: Can he take up the shield?
Interesting, then, that we first see him deal with the personal problem from the first episode. Also interesting: He resolves it by calling upon the powers of family and community. It was probably something he could've done all along, but maybe he needed to hit a psychological low before he could make that step.
---
(Photo by Marvel Studios)
That is solid storytelling structure, after all. But it also pivots the episode away from its bleak messages to underscore that some change can happen. After the last few years, it is hard to see such things as possible, but sometimes all you have to do is repair a boat to alter the tides. It seems to be enough for Sam and Bucky (Sebastian Stan), who both finally start to do some actual healing, soul-searching, and communicating thanks to the project. Sure, they still won't admit to their bond without seven layers of irony, but they are more than guys with a long-gone friend in common now.
Just look at how Sam gets to the true heart of Bucky's problem. His method of atonement is flawed because he is not being of service to those he's wronged. We hope that means we'll get to see him admit to Yori (Ken Takemoto) what happened to his son and, following Sam's suggestion, help Yori in some way. It may not be the full absolution Bucky wants, but it will be a start and maybe the half-steps of redemption are what the characters on this show really need.
Although, now that we've suggested Karli (Erin Kellyman) inadvertently recreated Hydra, we're not sure what sort of reconciliation will work for her or the reason she started her war in the first place.
---
Power Broker Watch: Episode 5 Edition
(Photo by Eli Adé. ©Marvel Studios 2021. All Rights Reserved.)
Sharon (Emily VanCamp) busted Batroc (Georges St-Pierre) out of prison and hired him for another job. We then subsequently see him delivering gear to Karli in New York. It all looks like evidence indicating Sharon is the Power Broker except for one thing: Why would she hire Batroc to help the Flag Smashers? Is it long game plan to put Karli in a weakened state and get revenge?
Well, we're assuming Sharon is the Power Broker for the moment because her phone call with Batroc sure felt like two villains hashing out an agreement. Also, would Sharon help to free a vengeance-on-Sam-fueled Batroc unless she definitely broke bad? Then again, even if she has gone rogue, that still doesn't mean she's the Power Broker and all of this could be a scheme of her own to neutralize the Flag Smasher threat. But then why do that if it is going to put Karli at risk of Power Broker retaliation?
The evidence is still lacking either way. And with the Contessa's arrival on the scene, a new face emerges as a potential Power Broker. Her interest in Walker may be limited to the serum in his blood.
---
Zemo on the Raft
(Photo by Chuck Zlotnick. ©Marvel Studios 2021. All Rights Reserved.)
Finally, we're surprised Zemo (Daniel Brühl) surrendered to Ayo (Florence Kasumba) so easily. The temptation here is to assume some long game; the Raft — the superhuman prison established in Captain America: Civil War — is a better place to form a team of supervillains, after all. But Zemo's scheming has been fairly minor throughout the events of this series. He just wanted to destroy the serum and visit the Sokovia memorial. Is accepting life imprisonment something he can do? He is still an aristocrat and incarceration is not something they weather easily.
The Falcon and the Winter Soldier series finale premieres on Friday, April 23 on Disney+.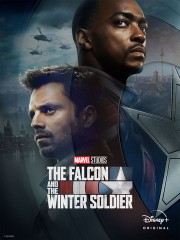 Critics Consensus: With epic fight scenes and emotional moments galore, "Truth" fully lives up to the show's potential – while finally letting Sam grow into his.
---