It's more than a little surprising to learn that, of all the Coen brothers' 18 features, Blood Simple is their second-highest rated movie on the Tomatometer. Critically bested only by True Grit (96%), the debut from writing-directing-producing-editing juggernauts Joel and Ethan Coen is Certified Fresh at 94%, beating Best Picture winner No Country for Old Men (93%) and titles that are more synonymous with their tough-to-pin-down, oddball sensibility, whether it's cult fave The Big Lebowski (82%), dark suburban meditation A Serious Man (90%), high-octane quotable comedy Raising Arizona (91%), or the decidedly un-mainstream thriller that somehow still managed to become mainstream, Fargo (93%). This is by no means a dig at Blood Simple. It's just that the taut neo-noir likely isn't the first title brought up when you're told "I love the Coen brothers" at a party.
Shot in 1982, Blood Simple weaves a worst-case-scenario about illicit lovers played by John Getz and Frances McDormand hiding in plain sight from McDormand's pugnacious bar-owner husband (Dan Hedaya), while a shady and chatty PI under Hedaya's employ (M. Emmet Walsh) plays the angles. In typical Coen brothers fashion, the plot twists and turns, and things fall apart, and it's all laid out with a measured, confident visual style that's clever but never too showy. To mark its 35th anniversary, let's take a look at how Blood Simple offered us glimpses of the greatness to come from Hollywood's most original filmmaking duo.
---
The Distinct Dialogue
Nobody writes like these guys, and that was pretty clear from the get-go. While Blood Simple's script has the earmarks of a classic noir — the title nods to detective novelist extraordinaire Dashiell Hammet's Red Harvest — the Coens screw with the form, tossing in their own brand of verbal playfulness, like the now-classic Coen-ism of different characters repeating phrases. Take the opening exchange between Getz and McDormand, with Getz repeating he "ain't no marriage counselor." It's echoed later, during an icy moment when Hedaya asks Getz, "What are you, a f–kin' marriage counselor?" The Coens would go on to use the move a bunch in their follow-up, Raising Arizona ("He's a little outlaw"), Fargo ("Twin Cities"), and perhaps, most famously, The Big Lebowski, another PI movie of sorts ("This aggression will not stand"). Their inclinations to have fun with verbal ticks and regional American accents and, in the case of M. Emmet Walsh, embarrassing bursts of  laughter, is on display in Blood Simple, too, as is a now-familiar way for them to open a film: with a grizzled narrator speaking quasi-philosophically. That's just how they would later kick off No Country for Old Men (also over shots of barren Texas landscapes), The Big Lebowski, and The Man Who Wasn't There.
---
The Collaborators
(Photo by USA Films)
Frances McDormand, who went on to marry Joel Coen, made her onscreen debut in Blood Simple and has since left an indelible mark on the Coen universe in — deep breath — Raising Arizona, Miller's Crossing, Barton Fink, The Hudsucker Proxy, Fargo (for which she earned a Best Actress Oscar), The Man Who Wasn't There, Burn After Reading, and Hail, Caesar!. In an interview about her first role, McDormand explains that her pal Holly Hunter was offered the part, but turned it down to act on Broadway. (As The Atlantic's Christopher Orr points out in his deep dive into the Coens' filmography, Hunter, who would go on to co-star in Raising Arizona, does sort of appear in the film, though it's via an answering machine message.) M. Emmet Walsh, too, returns in said sophomore effort as a cackling co-worker. Blood Simple also marks the first in a long line of collaborations — 16 to date — with the composer Carter Burwell, as well as cinematographer Barry Sonnenfeld, who acted as DP on Raising Arizona and Miller's Crossing before becoming a sought-after director in his own right with Get Shorty and Men in Black. Both, like the Coens, were in their 20s during the filming of Blood Simple. Fun fact: Editor Roderick Jaynes — a nom de plume for the Coens — also makes his debut here. Way to go, Roderick.
---
The Style
Not unlike Wes Anderson or Paul Thomas Anderson's debuts a decade later (Bottle Rocket and Hard Eight, respectively), Blood Simple features some Coen brothers hallmarks, though it's hardly the film you'd single out to explain them to the uninitiated. (Interestingly, all three — sorry, four — filmmakers' followups put them on the pop culture map with intoxicating aesthetics that aspiring directors would ape.) Yet those traces are there — the facial shadows, the shaky-cam that runs throughout Raising Arizona, the driving shot on a desolate road that's in a bunch of their features, the emanating light (from under doors, in particular) used to such thrilling effect in No Country for Old Men. Beyond the visuals, there's a nifty homage to Blood Simple in Fargo — both have characters moving a body on the side of the road while a car fast approaches at night — and narratively, no one in Blood Simple has any idea what the other is up to, a misunderstanding they'd explore often in the years to come, most heavily in Burn After Reading.
---
The Wicked Sense of Humor
On paper, there's nothing funny about jamming someone in a wood chipper (Fargo), shooting them when they've got a dopey smile plastered on their face (Burn After Reading), or biting off their ear (The Big Lebowski). Of course there's not. But when it suits their vision, the Coens have an uncanny knack for rendering hyper-violent moments into something absurd, even oddly humorous. At the end of Blood Simple — spoiler alert — McDormand stabs through Walsh's hand, leaving it impaled on a windowsill and him trapped in an adjacent room, firing shots blindly through drywall, hoping to strike McDormand. It's tense, but Walsh's struggle — up until now, he's been very much in charge — in this insane, almost slasher movie-like situation is more than a bit amusing. When his fate is set — it's not good — Blood Simple fades to black, hitting us with the film's soundtrack mantra, the upbeat soul classic  "It's the Same Old Song" by the Four Tops, a delicious juxtaposition.
---
The Indie Spirit
(Photo by (c) USA Films courtesy Everett Collection)
The Coens spent a year trying to secure the $1.5-mil they needed to make Blood Simple, showing potential investors a homemade trailer to pique financial interests. While on set in Austin, apparently not everyone was convinced this peculiar, low-budget project by two young first-timers was aboveboard: M. Emmet Walsh says he wouldn't take their $700 check, presumably fearing it'd bounce, and demanded cash instead. While the Coens' stock has skyrocketed in the decades since (they are now among the few who can work with anyone they want and make virtually any movie they want), the peculiarity that critics loved about Blood Simple hasn't waned. To this day, there's an outsider, even defiant originality that runs throughout their films, and we'd be completely shocked if that ever changes.
---
Blood Simple was released on January 18, 1985.
#1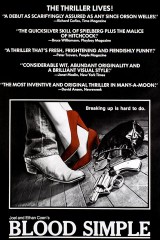 Critics Consensus:
Brutally violent and shockingly funny in equal measure,
Blood Simple
offers early evidence of the Coen brothers' twisted sensibilities and filmmaking ingenuity.
Synopsis:
"Blood Simple" was the first feature film from Joel and Ethan Coen. This is the newly restored and re-edited director's...
[More]
Like this? Subscribe to our newsletter and get more features, news, and guides in your inbox every week.