Before the filmmakers applied "digital fur technology" to turn them into credible felines, the cast members of Tom Hooper's Cats had to go to "cat school" to learn how to move like the Jellicles at the center of the big-budget musical. Ahead of the movie's release, Rotten Tomatoes editor Jacqueline Coley sat down with stars Francesca Hayward, Jennifer Hudson, Dame Judi Dench, Laurie Davidson, Robbie Fairchild, Rebel Wilson, and Jason Derulo to talk about getting those cat moves just right, as well as to share their favorite movie musicals and the yet-to-be-made movie musicals they want to see happen – stat. Check out the full interview above.
---
Cats is in theaters now. 
#1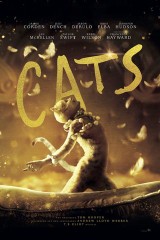 Critics Consensus:
Despite its fur-midable cast, this
Cats
adaptation is a clawful mistake that will leave most viewers begging to be put out of their mew-sery.
Synopsis:
A tribe of cats must decide yearly which one will ascend to the Heaviside Layer and come back to a...
[More]
---
Like this? Subscribe to our newsletter and get more features, news, and guides in your inbox every week.