Not to be confused with the Disney+ movie of the same name, DC's Stargirl series is here to shake up the superhero genre with a big dose of fun.
The TV show, which is inspired by the Geoff Johns–created comic series Stars & S.T.R.I.P.E., tells the tale of the Justice Society of America's demise and the subsequent rise of a young new hero. That hero is Courtney Whitmore (Brec Bassinger), who goes from innocent yet lively high school teenager to a spry, acrobatic, staff-wielding vigilante-in-training. The series kicks off with Courtney's family moving from Los Angeles to Blue Valley, Nebraska; her mother Barbara (Amy Smart) and new stepfather, Pat (Luke Wilson) are looking to start a new life in this small town. But it's not long before Courtney discovers her stepdad is not who he seems. 
After discovering some peculiar items in the basement — and becoming acquainted with the late Starman's (Joel McHale) Cosmic Staff — the teenager learns Pat was once known as S.T.R.I.P.E., superhero sidekick to the JSA. As you'd expect, Courtney quickly embraces her new role as budding superhero, with Pat's reluctant guidance, and takes on the mission of upholding justice in the face of old foes, while inspiring the rise of an entirely new generation of heroes. 
Stargirl is the first series partnership between DC Universe and the CW, and every episode will premiere on the streamer before hitting the network a day later. This all makes sense given the involvement of Arrowverse mastermind, Greg Berlanti; the events that went down in The Crisis on Infinite Earths crossover resulted in the creation of a new Earth-2, which helped spawn this show. And in this realm, the legacy of the Justice Society of America lives on.
It's worth noting that Johns (Titans, Wonder Woman, Doom Patrol) not only gets a co-creator credit here, but he also writes a number of episodes. Given the personal connection Johns has to the story — the comic was inspired by his sister Courtney who died in the 1996 TWA Flight 800 disaster — we're surely in for an emotional rollercoaster.
"She's the first character I ever wrote in comic books and created her in my very first comic book," Johns told EW. "She was inspired by my late sister, so it means a lot to me personally to have come off the page and onto the screen like this, and to work with the crew and the cast that I did. It was amazing."
So, how is the new series? Here's what the critics are saying about Stargirl.
---
(Photo by © 2020 The CW Network, LLC. All Rights Reserved.)
---
Newcomer Brec Bassinger is perfect as Stargirl
Bassinger is an inarguable star. She makes the show; it's a performance where you can track the character's progression from fish-out-of-water to bonafide hero just from the way Bassinger carries herself. — Vinnie Mancuso, Collider
Brec Bassinger dazzles as our lead, and with the entire show on her shoulders, she proves to be a very capable lead actress. — Ferdosa Abdi, Geeks of Color
…the actress embodies the Courtney Whitmore from the source material more often than not, showing her sweet and fun side away from those irritable family moments. — Kyle Wilson, Lamplight Review
---
(Photo by Jace Downs/The CW)
---
Luke Wilson shines as Stargirl's superhero sidekick stepdad
The real standout, however, is Luke Wilson as the put-upon Pat. While Wilson has worked steadily for over two decades, he's been somewhat under the radar since his early-2000s heyday. But he shines in Stargirl, perfectly balancing Pat's roles as awkward new stepfather, exasperated elder, and superhero sidekick, making for a thoroughly appealing character. — Cynthia Vinney, CBR
Wilson, by the way, is an absolute gift to this show. He sells every single line, even the most far fetched ridiculous ones. — Grace Randolph, Beyond the Trailer
---
---
The action sequences and special effects are surprisingly strong
If you are or have ever been a fan of the Arrow-verse, then Stargirl will be right up your alley. However, it will be that little bit sweeter thanks to the big budget attached to the show – allowing it to be very visually pleasing in hand with some great action-packed set pieces. Stargirl is a must-watch for any DC Fan. — Alex Page, Discussing Film
The amazing action-packed opening sequence completely blew me away in size and cinematic scope – it might just be the best thing DC has ever done on the small screen. The visual effects are particularly impressive and on par with Swamp Thing, with a number of powers, including the cosmic staff, wonderfully brought to life. — Nicola Austin, We Have a Hulk
So how does Stargirl compare to the likes of Supergirl and The Flash? Budget-wise, the special effects are a slight step up from what Arrowverse fans might be used to. Courtney's gymnastic skills are put to great effect here as she flips around baddies using her cosmic staff. Props must be given to that extremely impressive prop too, which genuinely feels like a character in its own right thanks to some fun visual quirks. — David Opie, Digital Spy
---
(Photo by © 2020 The CW Network, LLC. All Rights Reserved.)
---
It's a fun, family-friendly throwback to DC's Golden Age
Time and again when watching DC's Stargirl — especially the first couple of episodes, out of the five I screened — it very much evoked the Walt Disney films of "old," namely the ones in which college student Kurt Russell was accidentally bestowed with one power (invisibility) or another (supersmarts), and rightly geeked out. — Matt Webb Mitovich, TV Line
It's big, epic, and cartoonish in a very fun way. — Alex Cranz, I09
There's something nostalgic and purely fun about DC's Stargirl that makes it nearly irresistible. The series has a reverence and love for a simpler time, yet still firmly plants itself in the modern with a similar, but more guarded sense of optimism. — Kyle Wilson, Lamplight Review
---
Stargirl premieres Monday, May 18, on DC Universe and Tuesday, May 19, at 8 pm ET/PT on the CW.
Thumbnail: Smallz & Raskind/The CW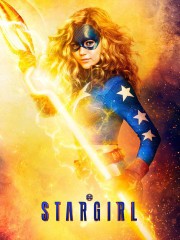 Critics Consensus:
A stellar series perfect for anyone looking for a little hope,
Stargirl
is delightful fun the whole family can enjoy.