Bringing back
Patrick Stewart
to his iconic role as former captain and now retired admiral Jean-Luc Picard was no easy feat,
Star Trek: Picard
producers
Alex Kurtzman
,
Akiva Goldsman
,
Michael Chabon
, and
Heather Kadin
told Rotten Tomatoes recently. The classically-trained actor adamantly and very publicly had no interest in rehashing the beloved
Star Trek: The Next Generation
character.
"It was wildly public that he was not interested in ever coming back ever, ever, ever," Goldman related. "But we felt that if we went and sat with him, he would come back. And we went and sat with him, and he said, 'No.'"
But they sent him a 35-page script by Chabon anyway.
"None of which is in the show," Goldsman revealed.
Series showrunner Chabon added: "None of that. It was a completely different story. But what it shared with what we ended up making was a perspective on the character of Jean-Luc Picard that was serious, and mature, and about a man who is at a later stage of his life, reckoning with his past, and the things that he's done and things he hasn't done, and trying to decide what's next for him. We were just trying to show Patrick: 'You can trust us. We get it. We get that you don't want to come back and be on the bridge of the Enterprise and have the crew and all that. You want to do something different. Here's something different.'"
Evidently, the work of the Chabon — author of Wonder Boys, The Yiddish Policemen's Union, Moonglow, and Pulitzer Prize-winning The Amazing Adventures of Kavalier and Clay — held sway.
---
Star Trek newcomers joining Stewart include Isa Briones as the mysterious Dahj, Michelle Hurd as former Starfleet Officer Raffi Musiker, Alison Pill as Dr. Agnes Jurati, Harry Treadaway as Narek, Evan Evagora as Elnor,  and Santiago Cabrera as pilot Chris Rios. Star Trek vets returning: Star Trek: The Next Generation's Brent Spiner reprises his role as Data, Marina Sirtis returns as Deanna Troi, Jonathan Frakes is William Riker and again steps behind the camera to direct, and Jonathan Del Arco returns as Hugh, while Star Trek: Voyager's Jeri Ryan appears as Seven of Nine.
Season 1 has just taken flight on CBS All Access and quickly scored a Certified Fresh designation based on reviews. Critics have been given a look at three episodes of the series. Here's what they're saying about Star Trek: Picard.
---
DOES IT HONOR THE FRANCHISE?
(Photo by Netflix)
So unlike any other Trek property and deeply ensconced in the mythology of Gene Roddenberry's creation which makes it one of the most distinct Star Trek stories ever to be told on screen. —Alex Maidy, JoBlo's Movie Emporium
Extending a fiercely loved chapter in the "Star Trek" mythology means a director, practically speaking, cannot win with everyone…These first three episodes have been shrewdly tailored to fit Picard's elder-statesman status, now that he's a forcibly retired lion in winter, forced by his conscience and sense of duty to take on an authorized, this-time-it's-personal mission. —Michael Phillips, Chicago Tribune
Despite the cameos and Easter eggs, Picard never feels like nostalgia for its own sake. The creative team… have clearly given a lot of thought to the idea of an elderly Picard. —Alan Sepinwall, Rolling Stone
Thankfully for "Trek" devotees, casual fans and curious subscribers alike, "Picard" is a delight. —Kelly Lawler, USA Today
Regret is a powerful motivator, and Jean-Luc's list of regrets is nearly as long as his list of accomplishments, but Picard is more opening salvo than it is a requiem for a starship captain. —Danette Chavez, AV Club
Picard isn't above moments of nostalgia (one scene in particular is packed with Easter eggs) but it also features a firm commitment to moving the franchise forward not just in time, but in what kind of stories Trek is capable of telling. —Liz Shannon Miller, Paste Magazine
"A bold and exciting addition to the franchise, featuring a compelling central mystery that will undoubtedly keep you gripped each week." —Nicola Austin, We Have a Hulk
---
DOES PATRICK STEWART DELIVER?
(Photo by Netflix)
It's a freight train performance from one of our great Shakespearean actors… There are moments you're not quite sure if it's Star Trek you're watching or a high concept take on King Lear. —Ed Power, Daily Telegraph (UK)
It gives me no joy to say this, but: Stewart gave a more interesting performance in 2019's Charlie's Angels. —Darren Franich, Entertainment Weekly
Stewart is as charming and naturally charismatic as ever, but the general level of the performances around him is significantly higher. —Mike Hale, New York Times
[Stewart] has a unique ability to dial into his roles without completely disappearing, carrying the audience's earned investment from role to role, whether he's suffering through an awkward trip to the toilet or sipping tea among the stars. —Ben Travers, indieWire
The cast is marvelous, starting with Stewart, the finest actor ever to wear a Starfleet uniform. His aging and conflicted Picard is an endlessly intriguing revival of the character. He not only keeps you involved but also engaged. —Mark Dawidziak, Cleveland Plain Dealer
---
READ ALSO: Patrick Stewart and the Star Trek: Picard Crew on Why the World Needs Jean-Luc Now More Than Ever
---
HOW'S THE PRODUCTION OVERALL?
(Photo by Netflix)
Smart, well-crafted, layered – verging on over-layered. —Verne Gay, Newsday
It's pretty shallow as a dramatic and thematic construct, but it is recognizably contemporary in its preoccupation with diversity and the mistake of excluding those whose traits and faiths are not fully understood. —John Doyle, Globe and Mail
One hopes that this fits-and-starts opener will give way to smoother storytelling to come, now that twenty years of narrative Band-Aids have been yanked off. —Andrew Todd, Birth.Movies.Death.
For their part, the writing team have found the perfect reason for Picard to get back to saving the galaxy. —Richard Edwards, SFX Magazine
Right now, Star Trek: Picard feels like a cadet pretending to be a captain, and only time will tell whether the series can … transform itself into something more exciting. —Andrew Bloom, The Spool
It takes a while to fully gel, and some fans might start to get impatient, but I'm happy to report that Picard does eventually set up an intriguing mission that's worthy of its lead character. —Dave Nemetz, TV Line
---
WHAT ABOUT THE PACING?
(Photo by Netflix)
If there's a problem with this gripping first episode it's that it has to squeeze a lot of exposition into an hour in ways that sometimes threaten to crowd into space that could be devoted to exploring what the events it recounts mean to Picard. —Keith Phipps, New York Magazine/Vulture
But it moves within three hours to a place that promises as much excitement and movement as there already has been insight into its beaten-down protagonist, a show that suggests it'll be worth sticking around for. —Daniel D'Addario, Variety
The viewers most likely to get impatient are also those most likely to be so happy simply to have Jean-Luc back on their screen that they're willing to allow the show some indulgence. —Dan Fienberg, Hollywood Reporter
It's clear right away though that Picard is also about so much more. It's a TV series with the narrative mindset of a movie, and a Star Trek story that's committed to shining a light into dark places that we haven't explored before. —Adam Rosenberg, Mashable
While I wish it didn't take three full episodes of heavy exposition to get the fabled Next Generation captain, later admiral, into space, the crew of rogue fellow travelers he assembles over the first few weeks is promising. —Matt Roush, TV Insider
---
FINAL VERDICT?
(Photo by Netflix)
Does anyone want a bitter and brutal Star Trek, full of murder-sorrow flashbacks, swoopy-kinetic fights, and all-encompassing paranoia? So much of Trek since 2009 strains to resemble the dumbest version of cool. You always sense the hand of some savvy-pitchman producer trying hard to make everything that was once endearingly nerdy look swole as hell. Picard has flashes of eccentricity, and any science-fiction show with a Miguel de Unamuno shoutout demands a quantum of hope. But for now, this is another disappointing Star Trek. Should we give it a chance? My advice: Disengage. —Darren Franich, Entertainment Weekly
Anyone with an ounce of romance in them should feel that thrill. —Robert Lloyd, Los Angeles Times
Against all odds Star Trek: Picard has started strong as both a loving tribute to something we once loved, and an artful exploration of something completely new. —Joshua Tyler, Giant Freakin Robot
One of the most highly anticipated new shows of the year… is simultaneously exciting and calmly beautiful, tantalizing and satisfying. —Diana Keng, TV Fanatic
Picard dares audiences to avoid wallowing in despair or nostalgia, and asks them to take action to build a world that's even better than anyone could have imagined. —Samantha Nelson, Polygon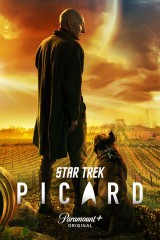 Critics Consensus:
Anchored by the incomparable Patrick Stewart,
Picard
departs from standard Starfleet protocol with a slower, serialized story, but like all great
Star Trek
it tackles timely themes with grace and makes for an exciting push further into the final frontier.
---