Space Force marks the highly-anticipated reunion of The Office alums Greg Daniels and Steve Carell. Carell, who co-created the series with Daniels, plays four-star General Mark R. Naird, who leads the newly-minted sixth branch of the U.S. Armed Services — a concept directly inspired by Donald Trump's very-real announcement to have American boots back on the moon by 2024. John Malkovich's Dr. Adrian Mallory is Naird's unlikely partner, offering unwelcome scientific insight during every step of the mission. According to the first reviews of the series, the timely comedy struggles to connect with audiences and many of the jokes fall flat, but the show's two leads deliver the goods in bringing their characters to life.
Here's what critics are saying about Season 1 of Space Force:
---
Steve Carell and John Malkovich have strong comedic chemistry
But where the show really strikes a chord is in the more heartfelt, charming moments – particularly between Carrell's regimented veteran Naird and Malkovich's stubborn head scientist Dr. Adrian Mallory. —Nicola Austin, We Have a Hulk
Carell remains likable and charismatic, even if his gravelly voice as Mark sounds a bit forced, and he and Malkovich (underrated for his comedic abilities) have entertaining chemistry. — Josh Bell, CBR
And the show comes to life most when we get to watch Carell and Malkovich go head-to-head as military determination clashes with scientific limitations. — Nola Ojomu, Metro
Together, Carell and Malkovich forge a charismatic pair that could carry even more episodes than they already do, while Malkovich's Dr. Mallory could certainly stand for more development on his own. — Ben Travers, IndieWire
Carell and Malkovich make a great comedic duo! — Grace Randolph, Beyond the Trailer
---
(Photo by Aaron Epstein/Netflix)
Carell does his best to distance himself from Michael Scott
Carell is good playing Naird as a straight-laced military man, who rigidly adheres to his principles even when they make him utterly depressed. After a long day on the job, he's a good dad, who makes time to help his daughter with her math homework.— Jonathan W. Hickman, The Newnan Times-Herald
Mark Naird isn't exactly Michael Scott 2.0. He has a wife, Maggie (Lisa Kudrow in a part-time role), a teenage daughter, Erin (Diana Silvers), and is more aggressive and confident than Michael ever was. He's a plausibly orthodox military man; when Maggie complains that he's too rigid in his thinking, he insists, "I can be flexible if I'm ordered to be." But the way Naird stalks through most of the episodes as a defiantly ignorant, periodically bigoted a–hole feels unfortunately very reminiscent of that first Office season when Michael was unbearable. — Alan Sepinwall, Rolling Stone
Carrell plays General Mark R. Naird like a puffed-up, military-issue Michael Scott — complete with earnest love for his workmates and an inability to recognise the error of his ways until it's too late. —Brian Lloyd, entertainment.ie
---
Unfortunately, the jokes fail to connect 
But it might be easier to listen to than most of the jokes. Space Force is inexplicably unfunny, a black hole for laughter, with stretches of bombs lasting minutes, not just because the gags rarely work, but because there aren't that many jokes in the first place. It feels like the first draft of a comedy before the jokes were put in. — Tim Surette, TV Guide
The jokes themselves are also scarce, and when they do show up, they can be painfully all over the place. — Sean Price, The Spool
Daniels and Carell have failed to give their series any discernible point of view, delivering instead an innocuous and startlingly unfunny sitcom about military bureaucracy. — Kristen Baldwin, EW
Put a different way, for Space Force to work, Carell and Daniels — as capable a pair of satirists as we have (see The Office) — would need to come with their humorous focus and targets incredibly well honed. Through the first season, despite fitful highlights, that just isn't there. — Daniel Fienberg, THR
Here's a comedy for people either desperate for new Office content, or who still find "covfefe" funny. —Blake Goble, Consequence of Sound
---
(Photo by Aaron Epstein/Netflix)
Political satire or surreal comedy — the show struggles to find its tone
At certain points it feels like biting satire, others complete farce. Sometimes the show is super silly and surreal, and other times it feels like a straight comedy. That inconsistent tone makes it so that you never know what you're watching or what you'll get from scene to scene, episode to episode. — Michael Walsh, Nerdist
The series, of course, isn't going to come without having some contemporary references. On the political side, there are clear-as-day references to Senator Chuck Schumer and House Speaker Nancy Pelosi and Congresswoman Alexandria Ocasio-Ortez. Though for whatever reason, the Schumer-esque character is a congressman rather than a senator. Instead of AOC, we have AYC (Ginger Gonzaga) aka Angry Young Congresswoman.— Danielle Solzman, Solzy at the Movies
Admittedly, the parodies are a little too on-the-nose at times, removing the suspension of reality some might expect while they put on a movie or TV series. Even then, that's something that speaks volumes to the world we live in, rather than to the quality of the programming itself. — Adam Barnhardt, Comic Book
Its pieces of political satire are both too literal (as when a young liberal congresswoman named "Anabela Ysidro-Campos," played by Ginger Gonzaga, gives Space Force's hell in a hearing that evokes an SNL cold open) and too dated (Mark's annoying communications manager, played by Ben Schwartz, is "Tony Scarapiducci," or more colloquially, "F— Tony" as in "F—Jerry," I guess?). — Caroline Framke, Variety
---
The ensemble cast is spectacular
And their team is ensemble gold: Don Lake as Naird's overly eager-to-please assistant, Jimmy O. Yang (Silicon Valley) as Mallory's unflappable No. 2 and Ben Schwartz (Parks and Recreation) as the smarmiest of media managers. […] Maybe the best reason to enlist in Space Force: the posthumous performance of Fred Willard in one of his last TV roles as Naird's lovingly befuddled dad, a grace note for an earnestly amusing show that isn't afraid to wear its heart on its star-spangled sleeve. — Matt Roush, TV Insider
Ben Schwartz , whom many will remember for his cheeky Jean-Ralphio in Parks and Recreation, is still a comic relief at all times. — Mikel Zorrilla, Espinof
Oh, and every single time the Armed Forces 4-Star Generals meet, you are sure to be giggling in your seat. It is comprised of greats like Jane Lynch and Patrick Warburton and the dry humor is basically a masterpiece. Trust me. Whenever they showed the room, I knew it was about to be a hilarious scene.

I have to mention others like Tawny Newsome, Fred Willard (RIP), and Jimmy O. Yang. Each of them bring their own elements to the show. You know you have a good show on your hands when the supporting characters make you laugh just as hard as the main characters. In fact, Steve Carell almost plays the straight man in this one — almost. — Tessa Smith, Mama's Geeky
Space Force holds an incredible cast, with the likes of Ben Schwartz (now of Sonic the Hedgehog fame) and Lisa Kudrow, and even the late Fred Willard contributing to its star-studded comedic roster. — Andrew Dex, Starburst
---
(Photo by Aaron Epstein/Netflix)
With a little finessing, Space Force could blossom into something great
This is one show that is easy to binge-watch and should be renewed for a second season at a minimum, if not longer. Netflix and Carrell have another hit on their hands that is enjoyable and entertaining, especially if they keep Malkovich as part of the cast. —Allison Skornick-Rose, Flick Direct
Still, Space Force comes at a time when audiences could use a bit of laughter and self-care. Mostly, the comedy is harmless and skates by on the charm of its ensemble cast (Don Lake deserves a shout-out for playing assistant Brad). Even if it doesn't quite achieve the astronomical heights suggested by its wacky premise, there's enough fuel in the tank to help the inaugural season coast on fumes. —Nate Adams, The Only Critic
Space Force maximizes the absurdity, turning this patently terrible situation into one in which laughter comes as a kind of release valve from a huge, churning sea of frustration.
In other words, the series is rather well-suited to the current moment. —Sonia Saraiya, Vanity Fair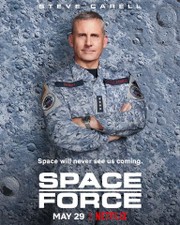 Critics Consensus:
An all-star cast and blockbuster-worthy special effects aren't enough to keep
Space Force
's uneven blend of earnestness and satire from spinning quickly out of comedic orbit.
---