Before he won an Academy Award with Parasite, director Bong Joon-ho made the politically-charged sci-fi thriller Snowpiercer, which followed a non-stop bullet train filled with the last remnants of humanity as the rest of the planet got turned into an uninhabitable icy wasteland. The result was a widely celebrated film starring Chris Evans, so it's not surprising that we'd get a TV adaptation.
The first season of TNT's version of Snowpiercer adds a murder mystery on top of the sci-fi tale of class warfare from the movie and the graphic novels by Jacques Lob and Jean-Marc Rochette. The show takes place seven years after the world became a frozen wasteland and the perpetually moving train started going around the globe with the last 3,000 survivors aboard. Andre Layton (Daveed Diggs) is the world's last homicide detective, the de facto leader of the low-class tail-section of the train and the person tasked with solving a murder so the people at the front of the train can keep him in check before he goes and starts a revolution. The person that hires him? Melanie Cavill (Jennifer Connelly), the voice of the train and the right-hand woman of the train's builder, the mysterious Mr. Wilford.
Does the series live up to the original movie? Here's what critics are saying about Snowpiercer season 1:
---
JENNIFER CONNELLY SHINES AS A COMPLICATED FIGURE
(Photo by TNT)
Playing someone more human than Tilda Swinton did in the film, Connelly nicely juggles Melanie's icy, passengers-facing facade with the MIT and Yale grad's warmer private life.
– Matt Webb Mitovich, TV Line
As the co-lead, Connelly's Melanie is compelling in a way that is subtly genius, and will probably provoke discourse and political parallels as audiences watch the series. While her character could easily serve as a sort of patron saint for white feminism, her nuances and flaws are peeled back in a fascinating way as the season goes along.
– Jenna Anderson, ComicBook.com
The Academy Award winner for A Beautiful Mind is magnificent playing this many-faceted woman. She can be warm and welcoming, commanding and authoritarian or simply menacing in a matter of instants. It's a role that proves, once again, that TV tends to reward established actresses with opportunities hardly found in movies.
– Patricia Puentes, CNET
---
THERE'S A MURDER-MYSTERY PLOT, AND IT'S KINDA DULL
(Photo by Justina Mintz/TNT)
Snowpiercer the TV show is a murder mystery — and not an intriguing one by any means — for a large part of its first season, with revolution on the back burner until Layton can figure out who's trying out for an arc on Criminal Minds by hacking people to pieces.
– Tim Surette, TV Guide
Though Season 1 does revolve around the same tail section rebellion as the film, it takes a half-season detour when Layton, a former homicide detective, gets escorted up-train to solve a grisly execution. For about four episodes, "Snowpiercer" veers way too close to becoming a TNT police procedural, a la "Murder on the Polar Express."
– Ben Travers, IndieWire
It takes the same core concept and expands on it, replacing inexplicable mystery with dull exposition. Some of that was probably necessary in order to sustain an ongoing series, but it misses the point of adapting such strange, singular source material.
– Josh Bell, CBR
---
EVERYTHING LOOKS MORE SPACIOUS IN THE SERIES
(Photo by Justina Mintz/TNT)
Snowpiercer definitely captures the aesthetic established in the film, albeit in a largely less-surreal way. The set designs and costumes are an authentic blend of grounded and avant-garde, again contributing to the feeling that the train is truly lived-in. The cinematography also actively helps the series feel less claustrophobic than it could be, which is a blessing for those who are hoping to spend 10 hours with the series.
– Jenna Anderson, ComicBook.com
As episodes further explore the train, giant stages, generous lighting, and plenty of wide shots give the impression of more room than there could possibly be, while illustrating admirable production design, vivid costuming, and skillful world-building of its own. This isn't Bong's "Snowpiercer," it's TNT's.
– Ben Travers, IndieWire
Visually, TV's Snowpiercer is not as claustrophobic as the big-screen version; the individual sets all seem to be as narrow or spacious as they need to be, though always within a certain amount of reason (especially if you are able to buy into the notion of a 1,001-car train).
– Matt Webb Mitovich, TV Line
---
THERE IS PLENTY OF BLOODY ACTION
(Photo by Justina Mintz/TNT)
The action scenes are efficiently staged, if a little jarring as they are dropped in. There are violent riots, battles between the rebels and the security force, and a stunt in which an unlikely crew member makes a repair while hanging upside down under the train in protective gear that looks like a space suit.
– Caryn James, BBC
What will really keep the audience returning to Snowpiercer week after week are the widely varied action sequences, which will either glue the viewers to the edge of their seats or have them leaping up and shouting at their televisions as the tensions mount.
– Michael Ahr, Den of Geek
---
UNLIKE THE MOVIE, IT'S WEIRDLY OPTIMISTIC
(Photo by Justina Mintz/TNT)
In direct opposition to the film, the show Snowpiercer tries to make humanity thrive on one narrow, icy railroad, hurtling toward the future.
– Sonia Saraiya, Vanity Fair
It bakes in a very earnest sense of hope and optimism. It's clear that many within Snowpiercer are mourning the world that no longer exists, while also hoping that their "new normal" can be rebuilt into something greater and ideologically better.
– Jenna Anderson, ComicBook.com
---
WILL IT PLEASE FANS OF BONG'S FILM?
(Photo by Radius-TWC)
It's a clearly inferior version of something that was already great and never needed to be revisited again. But even without taking the film's existence into consideration, it lacks a certain edge that's needed to stand out.
– Tim Surette, TV Guide
If the movie ever left you wanting to dive deeper into the various train sections, or learn more about the how of sustaining a society aboard a perpetually moving vehicle, the series (which is already renewed for Season 2) promises to answer such questions.
– Matt Webb Mitovich, TVLine
It doesn't stay with you the way that Bong's Snowpiercer did, but where the film was so eager to tear through the train to root out the truth, the show savors the details of life onboard, dissecting personal compromises and minor rebellions.
– Sonia Saraiya, Vanity Fair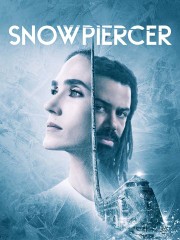 Critics Consensus:
Snowpiercer
takes a different route with its source material, crafting an ambitious sci-fi mystery with style to spare, but with little of the subversive bite of Bong Joon-ho's theatrical adaptation.
---