(Photo by Pop TV)
Uncertain times call for some certainties in life, like the heartfelt goodness of a show like One Day at a Time and the exuberance and luminosity of one of its stars, Rita Moreno (pictured above, center). The multi-talented Emmy-, Grammy-, Oscar-, and Tony Award–winning performer has graced stages and screens for decades, and still, she keeps audiences laughing — most recently as Lydia, a Cuban grandmother living with her daughter and her two kids in Los Angeles. Her performance has made One Day at a Time viewers cry more than a few times during some of the series' most touching episodes. But it has also left them crying with laughter. Even in these serious moments, Moreno can break the tension without breaking character by cracking a wry smile or with her impeccable comic timing.
The Oscar winner almost lost the chance to play Lydia again for the show's fourth season when its original streaming home Netflix pulled the plug following season 3. Fortunately, in a story full of tearful ups and downs, very like one of its episodes, One Day at a Time found a new home on Pop TV, and the new season premieres on March 24.
Moreno told Rotten Tomatoes about the rollercoaster ride leading up to the season 4 premiere, behind-the-scenes details about Lydia's show-stopping entrances, and how the show will go on without its live studio audience in light of the coronavirus crisis.
---
Monica Castillo for Rotten Tomatoes: What went through your mind when you first heard the news that there would not be a fourth season of One Day at a Time at Netflix?
Rita Moreno: I speak for everyone when I say we were heartbroken. I, personally, intuited that it was not going to happen. I don't know why. I just had a feeling it wasn't going to happen. Somehow, Netflix obviously wasn't happy with us or the results of our show. It's not as though everybody was running over to the set to tell us how much they loved us. That's how things happen, and that's the nature of Netflix – they keep everything a secret with respect to ratings and such. They keep you up in the air. I just had a feeling that it was not going to happen.
I thought that was the end of it, but I forgot to count on Sony, because Sony from the very, very beginning has absolutely loved our show, from the very first reading at the table years ago. They loved the concept, they loved the comedy and they absolutely adored the cast. They saw it and they were right – we have this incredible rapport! And that was there from the get-go, and that was very unusual. Sometimes, people in series grow into their characters more and there's a chemistry that develops over time. We had that chemistry from the moment we opened our mouths!
After the news broke about the series cancellation, fans banded together online and called for its return. What was your reaction to hearing the fan reactions?
Moreno: I was very, very touched. I believe in the public. If they really love something, they will fight for the thing that they love, and that's sure as hell what they did. I was amazed that aside from Sony trying very hard to take the series elsewhere, I think [showrunner] Gloria Calderon-Kellett did a huge job of goosing our fans. She's a determined woman, and it shows.
And what was your reaction to the news that you would play Lydia again?
Moreno: Oh, we were delighted! We were thrilled. It was marvelous. I couldn't actually believe that we had this family again.
When we last saw Lydia, she was in Cuba. Are we going to see any of that in the new season?
Moreno: Oh, you're going to see that. That happens in the third – I guess, the fourth one. It is beautiful and it is very, very touching. You're gonna love it. And it's funny! We never fail to be funny. Not everyone can accomplish that so smoothly as our writers do. Some shows try to do that and they're clumsy at it. It's like the jokes come, then the sad part comes, and then the jokes come again. It takes an enormous amount of skill to glide easily back into the humorous part.
---
(Photo by Nicole Wilder/POP TV.)
One of Lydia's signatures on the show is her grand entrances. What's the story behind them?
Moreno: That's one of the best things that happened to that character, that damn curtain. And the funny thing is, I didn't think it would work. Just goes to show how much I know. I thought it would just be a flourish, but then the audience, from the first time I did it, went crazy. They literally went bananas, cheering, and carrying on. They had to cut some of that down because it just took too long. It's one of the greatest gifts I've gotten on this show.
Whose idea was it?
Moreno: Oh, it had to be Gloria's because she's Cuban. I just can't imagine anyone else coming up with that. She has that Cuban flare. We understand each other in that overly dramatic, theatrical way.
Where there any challenges moving the show from a streaming platform to a cable channel with a set time limit?
Moreno: What happens is sometimes the laughs are huge, and they take up a lot of time. Here's something that's so unusual. We didn't have a laugh track until now [for coronavirus precautions]. We had an audience, and we'd have to cut that down because that took up so much time and now we only have 22 minutes. So this happens rather often until now because we'll no longer have audiences, which is going to be tough. Well, I'll take some of that back. The writer's room comes down and provides the laughter, except after five or six takes, what was very funny on take one isn't so funny on the fifth take.
What are some of your favorite moments playing Lydia?
Moreno: One of my favorites is one where I barely spoke, that was the episode where Lydia has a stroke and is unconscious in the hospital. It's a wonderful, beautifully written episode. It's one of those episodes that had a very strong through-line. A lot of shows don't have that. It's not necessarily the nature of a sitcom to have something like that. It was beautifully done. I also loved one from the first season where Lupita (Justina Machado) says something about how she's not so sure she believes in the Almighty, and her mom Lydia gets very, very upset about that. I just thought, my God, how wonderful is it to do this kind of television where you don't have to worry about subject matter? Where someone can say, "I'm not sure I believe in God." And the other one says, "You better believe because my prayers saved you were in Iraq." The subject was heavy, but extremely funny when it had to be. I think it's one of Justina's favorites, too.
What are some of your hopes for Lydia in the future?
Moreno: I would love it if she gets into ultra-local politics. She has such a big mouth, and she can get in so much trouble. You know, the kind of politics where the trash isn't being picked up enough, and we have to do something about it. Nothing heavy. I would just love it if she going into trouble because she opens her mouth and says things she shouldn't, not realizing that in politics you don't open your big mouth every time you want to.
I saw you were also on the One Day at a Time TikTok account. What was that experience like?
Moreno: You know, I still don't know what the hell that is. It's so bizarre. They said, "Here's what you do," and I said, "OK." Everybody seems to watch TikTok. It's weird.
With so much uncertainty going on, what's it like to be a part of a show that offers its audience some comfort?
Moreno: It's wonderful, and [the show] provides many wonderful things. It provides warmth, it provides humor, it provides very serious and profound issues. It's perfect in its own way. It's absolutely a perfect show.
One Day at a Time season 4 premieres on March 24 at 9:31 p.m. on Pop TV.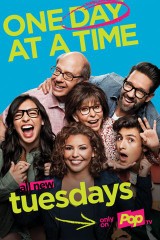 Synopsis:
This comedy-drama is inspired by Norman Lear's 1975 series of the same name. This time around, the series follows the...
[More]