Ramy Youssef is on the come-up. The 29-year-old burst onto the scene in 2019 with his semi-autobiographical series, Ramy — the first season of which is Certified Fresh at 97% on the Tomatometer. The story follows Ramy Hassan (played by Youssef), an Egyptian man struggling to find his identity as he straddles a line between religious traditions and cultural expectations and the promise of the millennial American dream.
With season 2 right around the corner and the addition of Academy Award and Emmy-winner Mahershala Ali to the cast, it's clear to Youssef that this little show of his is about to get a lot more eyes on it. Which is all a part of Youssef's plan.
Since Ramy premiered to Hulu, Youssef signed an overall development deal with A24, shot a stand-up comedy special for HBO, and won the Golden Globe Award for lead performance in a comedy (beating heavy-hitters like Michael Douglas and Bill Hader).
---
(Photo by Craig Blankenhorn/Hulu)
"The show was almost like putting out a bat signal like, 'Hey, who's around?'" Ramy told Rotten Tomatoes. "[Mahershala] saw it and called me and was just like, 'It's so cool to see a practicing Muslim in Hollywood. I've been one for like 20 years, and I've never seen anything that even comes close to showing it in an earnest way.'"
For decades, Hollywood has regularly perpetuated a Muslim stereotype rooted in fear. As much as audiences flocked to the terrorist battles of 24's Jack Bauer or Homeland's Carrie Mathison, there wasn't much room for human stories from the highly misunderstood culture to take shape. With Ramy, Youssef wanted to humanize things, by, as he puts it, "not just wanting to separate yourself from the faith or not just making fun of it, but kind of really focusing on the struggle in a genuine way."
According to Youssef, it didn't take much convincing to get the Moonlight alum to join the show: "It kind of turned into being like, 'Let me know if you need anything.' And then I was like, 'Well, do you want to be in it?' And he was like, 'Sure, I'll do an episode or two.' And then that kind of quickly became most of the season."
---
---
In the first season, we were introduced to a Ramy who was very much yearning to step into his higher self, while continually being pulled into the trappings and desires of his lower one. In the finale, our hero journeyed to Egypt, looking to connect with his cultural roots. But as the saying goes, "one step forward, two steps back." Just as he thought he was on the right path, a death in the family knocked Ramy off track and he ended up making a terrible decision: He fell in love with his cousin, and then he had sex with her.
As you'd expect, the fallout of this choice puts Ramy right back into his funk. When Ali's Sheikh enters his life, he brings a sense of guidance that will hopefully put Ramy back on the righteous path. "I think a character like Sheikh Ali is an embodiment of that and I really wanted that for the show," Youssef says. "I think we have a lot of people struggling with that and I really wanted to show somebody who was transformed by the faith. Transformation is really what Ramy is looking for."
---
(Photo by Hasan Amin/Hulu)
Youssef's quick to point out the many types of Muslims that exist throughout the world: African, South Asian, and Middle Eastern, to name a few. According to Youssef, having Ali stepping into the role of the Sufi Sheikh was "a very American thing."
"Historically, Black people have been the first Muslims in this country; the first big Muslim presence and, kind of, have the longest link here," he said. "And so it's interesting to have that here when you have, within other Muslim communities like Arab ones or South Asian ones, a lot of anti-Blackness. It was just this idea that someone like him would be carrying what Ramy wanted. It felt like something I was really excited to have for our audience."
Demystifying the general public's perception of Muslims in America is a big goal to achieve, and Youssef's quick to admit he's not trying to create a public service announcement with his series. However, as the show continues to explore the world through his experiences, and that of the members of his family, he's hoping the story will continue to connect on a human level with viewers, no matter their race, religion, or gender.
---
(Photo by Craig Blankenhorn/Hulu)
"We try not to take sides or positions, and more-so just complicate the conversation, because I think it's really hard for a comedy to be instructive or a comedy to be, you know, kind of telling people what to think or what's right," he says. "Rounding out conversations that sometimes are a little too one dimensional, that really is the goal of the show."
As for authenticity, Youssef wants to remind viewers that he's just one type of Muslim and while his show is working to represent the culture and religion as a whole, this story is specific to his experience.
"I think audiences are kind of in an unfair situation because there's so little content that speaks to anything even close to what they're going through," he says. "So I think a show like mine has a lot of, you know, expectations on it. But that really comes out of scarcity, as opposed to entertainment value. I'm very sympathetic to that. And so all I hope is that people can really see the humanity in these characters, see the conversations that we're trying to complicate, and that we kind of bring some more depth to things. Hopefully."
Ramy season 2 premieres on Hulu on Friday, May 29, 2020.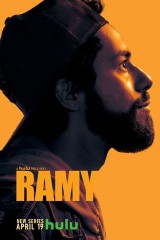 Synopsis:
Ramy Hassan is a first-generation Egyptian-American who is on a spiritual journey in his politically divided New Jersey neighborhood. He...
[More]