In 2019, Rotten Tomatoes turns 21, and to mark the occasion we're celebrating with a series of features that look back at the brightest moments on screen of the past two decades – and one year – and the things that have us excited for the future.
The Marvel Cinematic Universe has redefined the way viewers approach big budget, tentpole releases. Smartly adapting a philosophy which worked well in the comics, it created a living, breathing world for its inhabitants to populate, meet up, and fight common enemies in. It also created an unprecedented sense of momentum by constantly teasing the Next Big Thing – a tactic also borrowed from Marvel Comics' event storylines crossing into various titles like X-Men and Thor. While the MCU may have only existed for roughly half of Rotten Tomatoes lifespan, it has created its fare share of memorable moments across 21 films – soon to be 22 with this week's release of Avengers: Endgame. With that in mind, we present the 21 MCU moments we can never forget.
Of course, narrowing down the list to just 21 was a challenge – there have been, after all, 21 films in the MCU so far, most of which are filled with dozens of memorable moments. We tried to choose those that were not just memorable, but which also showed how the MCU was working differently than other franchises – surprise twists and scenes that pushed the universe in different directions – and we tried to share the love among the different titles. Sacrifices had to be made: How could we not include Thor's extraordinary arrival in Wakanda? Or Okoye's wig-snatching excellence? Or Gamora's heartbreaking moment in Infinity War? That's what the comments section is for: so have at us down there, and let us know what moments you think should have made the list.
Spoiler Warning: Key plot details about nearly every MCU movie follow. So, if you don't wanna know what happened, don't read on. 
---
21. Peter Discovers Liz's Father Is The Vulture in Spider-Man: Homecoming

(2017)

92%
In a film brimming with great moments for both Spider-Man and Peter Parker (both Tom Holland), the moment Peter arrives for his date with Liz (Laura Harrier) only to discover The Vulture (Michael Keaton) is her father is probably our favorite. It is the most unexpected revelation in the film and gives it a whole new energy as Peter and Spidey's storylines collide, leaving the viewers with a sense anything could happen from that point forward.
---
20. Agent Coulson Takes One For The Team in Marvel's the Avengers

(2012)

91%
(Photo by Zade Rosenthal/©Walt Disney Studios Motion Pictures/courtesy Everett Collection)
The impact of this moment may be dulled now that Coulson (Clark Gregg) has been leading S.H.I.E.L.D. on television for the last five years, but it was the most heart-wrenching reversal in the Marvel Cinematic Universe's first team-up movie. Without his sacrifice, the Avengers never would've got their act together. So though he ultimately survived, the films still honor his encounter with Loki by keeping his second life secret from the team.
---
19. Carol Takes Full Possession Of Her Powers in Captain Marvel

(2019)

79%
(Photo by @ Walt Disney Studios Motion Pictures)
In a film that reverses the traditional superhero origin arc, Carol (Brie Larson) discovers the power was within her all along. Casting off the limiter tech the Kree told her was the source of her abilities, she literately ignites with power. For anyone who grew up told their innate skills were personality flaws, the moment resonates and sets Carol apart as one of the mightiest – if not the mightiest – Avenger.
---
(Photo by ©Walt Disney Studios Motion Pictures/courtesy Everett Collection)
Marvel knew they had a winner in this scene, and it featured heavily in the trailers. While the fight is one of the most accomplished in any of the Marvel movies, it continues to resonate because Steve Rogers (Chris Evans) gave the Hydra agents a choice. For all the impressive battle choreography we've seen, the scene is still about Steve's inherent sense of goodness and fair play. Well, and that he can survive a multi-story fall.
---
17. "I'm Mary Poppins, Y'all!": Yondu Becomes A Guardian in Guardians of the Galaxy Vol. 2

(2017)

85%
(Photo by @ Walt Disney Studios Motion Pictures)
Yondu (Michael Rooker) was always a charismatic character, but he wasn't really a Guardian until this ultimate quip toward the end of Vol. 2. Utilizing some of that powerful Disney corporate synergy, it also marks the moment the character chose a side and fully committed to defending Peter Quill (Chris Pratt). Combined with his presence in the big Guardian group shot a few moments later and some thoughtful words with Peter, it makes his death all the more bittersweet.
---
16. Valkyrie Swaggers – And Staggers – Into Fans' Hearts in Thor: Ragnarok

(2017)

93%
(Photo by @ Walt Disney Studios Motion Pictures, @ Marvel)
Few people get to make an entrance like Valkyrie (Tessa Thompson). Long separated from her Asgardian sisters following their climatic battle with Hela (Cate Blanchett), she finds herself part of Sakaar's strange society. And she survives with an unusual swagger which set plenty of fans' hearts aflutter. When she steps off of her ship, tipsy and fierce at once, she's approachable, flawed, strong, and freakin' awesome. No wonder she's joining the Endgame.
---
(Photo by @ Walt Disney Studios Motion Pictures, @ Marvel)
While the first Guardians was filled with unexpectedly endearing moments, none were more unexpected than Baby Groot jamming to The Jackson 5's "I Want You Back." In fact, it was so unexpected, Disney failed to produce a line of Baby Groot merchandise timed with the film's premiere, leaving resourceful fans and Etsy shops to initially fill the gap. It is a testament to the sort of magic Marvel and its creative partners can pull off and the best emblem of the way Guardians resonated with viewers.
---
14. Doctor Strange Outsmarts Dormammu in Doctor Strange

(2016)

89%
(Photo by @ Walt Disney Studios Motion Pictures, @ Marvel)
If there is one long-standing criticism of Marvel movies, it is their habit of pitting the heroes against dark mirror versions of themselves – particularly in their origin movies. Doctor Strange confronted this critique by having Stephen Strange (Benedict Cumberbatch) lock his ultimate adversary – the trans-dimensional death cloud Dormammu – in a time loop and bargaining with the entity to spare the Earth. That clever and innovative resolution is one we never stop citing as an MCU highlight.
---
13. T'Challa Fails Killmonger's Challenge At The Waterfall in Black Panther

(2018)

96%
(Photo by Matt Kennedy /© Marvel / © Walt Disney Studios Motion Pictures)
Black Panther is something of a romp in its first half. Like other Marvel films, it is filled with quips, good-natured ribbing, and a really fun car chase. But then comes this moment when everything turns. Killmonger (Michael B. Jordan) trounces T'Challa (Chadwick Boseman) and asks the crowd watching on, "Is this your king?" It is both an indictment of our enjoyment of the king's superhero antics and of his rule, taking the film in a new direction.
---
12. Luis Tells A Story in Ant-Man

(2015)

83%
(Photo by @ Walt Disney Studios Motion Pictures, @ Marvel)
Luis (Michael Peña) is a neo-cubist kind of guy. It is that sort of detail which makes Luis's tendency to tell long-winded stories a delight. Between Peña's ability to deliver the dialogue and actors like Anthony Mackie and Stan Lee learning to copy his cadence in expertly shot quick-cut flashbacks accompanying his stories, it is no wonder fans would like to see him recap the entire MCU from Iron Man to Infinity War.
---
(Photo by @ Walt Disney Studios Motion Pictures, @ Marvel)
Pick your moment: The Hulk (Mark Ruffalo) punching Thor after they defeat the Chitauri ship. The Hulk turning Loki into a rag doll as he smacks him into the Stark Tower floor. The Hulk fighting Fenris on, over, and below the remains of the Bifrost. Even Loki's panic when he realizes Sakaar's champion is the Hulk. Sure, they are all punchlines – literally in some cases – but they all honor the character's immense strength in ways no movie devoted to the Hulk by himself ever quite accomplished.
---
(Photo by Gabriel Olsen/Getty Images)
While all of the late Stan Lee's cameos are memorable, we chose to single out this goofball Vol. 2 moment because it gives all of his scenes a context. Lee's appearances – like the Hugh Hefner analogue in Iron Man, the postal worker looking for "Tony Stank" in Captain America: Civil War, and the school bus driver in Avengers: Infinity War – are all manifestations of a Watcher – cosmic entities who literally watch events unfold across the universe without interfering. It gives each jokey walk-on an added meaning and heartwarming meaning.
---
9. Okoye, Scarlet Witch, and Black Widow Team Up in Avengers: Infinity War

(2018)

85%
(Photo by @ Walt Disney Studios Motion Pictures, @ Marvel)
In terms of iconic and surprising team-ups, we often think of key male combos like Thor and Rocket, but Infinity War features a killer battle between Proxima Midnight (Carrie Coon) and the combined might of Okoye (Danai Gurira), Scarlet Witch (Elizabeth Olsen), and Black Widow (Scarlett Johansson). All fight fiercely, but it's Nat's declaration "she's not alone" when Proxima first threatens Wanda that keeps this epic Wakanda battle in our minds.
---
(Photo by @ Walt Disney Studios Motion Pictures, @ Marvel)
A good Marvel team-up generally sees the heroes fight among themselves before joining forces against a common foe. And in the larger MCU Infinity Saga, this is that moment. Filled with amazing action, great jokes, and Peter Parker's debut as the MCU Spider-Man, it is the most memorable Marvel fight yet committed to screen. Sure, it brings the movie to a halt, but it is worth it just to see Peter inadvertently age-shame the rest of the Avengers.
---
(Photo by @ Walt Disney Studios Motion Pictures, @ Marvel)
Few mid-credit stingers have a lasting impact like Thanos's (Josh Brolin) first MCU appearance. Initially there to "court Death," his smile was the first indication that Marvel Studios would seriously attempt a long-term event storyline. It was such an unusual idea, many expected him to be the villain in the second Avengers movie. But his smile also created a sense of momentum which ultimately made Infinity War the most anticipated of Avengers stories. (Until Endgame, of course.) Note: The above image shows Thanos in Guardians, not The Avengers.
---
(Photo by @ Walt Disney Studios Motion Pictures, @ Marvel)
The MCU heroes are not big on catchphrases, but if Steve has one, it is "I could do this all day." As seen in The First Avenger, it is his response to a bully who would like nothing more than to see the 98-pound Steve yield in a New York alley. It is also his response to the Red Skull's (Hugo Weaving) taunting some time later, proving Steve will never bend to a bully. Sadly, the line took on a new meaning in Civil War, when he used it against friend Tony Stark (Robert Downey Jr.), who was now, in his eyes, the bully.
---
5. "Bury Me In The Ocean": Killmonger's Final Request in Black Panther

(2018)

96%
(Photo by )
Black Panther eventually turns Killmonger into a dark mirror version of T'Challa – which, as we've mentioned, is a well-worn MCU trope – but it does it in the service of something so powerful, raw, and genuinely startling for any film that it deserves special recognition. A defeated Killmonger refuses aid, but makes one request: "Bury me in the ocean with my ancestors that jumped from the ships, because they knew death was better than bondage." That statement, and the history bursting from it, leaves all who hear it shaken to their core.
---
4. "Mr. Stark, I Don't Feel So Good": Peter Parker Turns To Dust in Avengers: Infinity War

(2018)

85%
(Photo by © Marvel / © Walt Disney Studios Motion Pictures)
Every loss in Infinity War hits people differently, but none captured the collective feels of fans quite like Peter's final moment with Tony. It all begins with that line just above, and some fans have theorized that his spider-sense gave him early warning about his own demise, making the scene all the more wrenching upon second viewing. Additionally, it is the ultimate expression of Tony's failure. He spent whole movies trying to save the world in general and Peter in particular. Even when Peter inevitably returns, we expect this scene will always make people cry.
---
3. "I'm Here To Talk To You About The Avengers Initiative": Nick Fury Makes His Debut in Iron Man

(2008)

94%
(Photo by © Marvel / © Walt Disney Studios Motion Pictures)
Earlier, we mentioned Marvel Studios' facility with generating interest in the Next Big Thing. And this is how it began: with Samuel L. Jackson making a 30-second cameo for those who thought to sit through Iron Man's end credits. His few lines of dialogue proved to be a mission statement no one would expect – or believe – would lead to a sprawling portfolio of film franchises.
---
2. "I Am Iron Man": Tony Stark Reveals His Identity in Iron Man

(2008)

94%
(Photo by © Marvel / © Walt Disney Studios Motion Pictures)
But before that larger world could exist, Iron Man had to score the goal by doing something no other marquee cinematic superhero had ever done before: reveal himself to the world. While the films of their Distinguished Competition made duality and secret identities key plot points, Marvel tossed it all aside after one film. It was a bold choice at the time, but now it seems so natural that we sometimes forget to refer to Tony, Steve, or Nat by their superhero code names. Engendering that sort of familiarity makes this a key moment in MCU history.
---
And yet, if there is one most memorable and most defining moment, it is the pan across a destroyed New York street revealing the Avengers assembled for the first time in common purpose. The entire film – and the five films preceding it – lead up to this moment in which six superheroes (three of whom already starred in their own films) shared the screen and proved this crazy idea of an interconnected lattice work of film franchises could work. It also helps that it is a kick-ass shot uniting the film's key theme with all of the expectations outside of the narrative. The Avengers can work together, and so can all these stars and different interests. We wouldn't be at Endgame without this memorable moment.
---
#1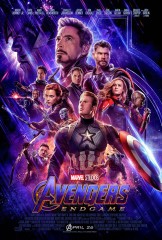 Critics Consensus:
Exciting, entertaining, and emotionally impactful,
Avengers: Endgame
does whatever it takes to deliver a satisfying finale to Marvel's epic Infinity Saga.
Synopsis:
Adrift in space with no food or water, Tony Stark sends a message to Pepper Potts as his oxygen supply...
[More]