Like many of its '90s sci-fi/action peers, Demolition Man, rides a razor's edge between comedy and action. Where others like Judge Dredd, Barb Wire, and Tank Girl stumbled, Demolition Man succeeded by the sheer charisma of its three leads, its full-comedy vision of the future, and a smart chunk of satire straight out of Aldous Huxley's Brave New World. Ultimately, it has a lot to say and has a ton of fun saying it.
Some 25 years after its release – it opened in the U.S. on October 8, 1993 – the the film has achieved a kind of soft cult status. (Enough so that Taco Bell and Warner Bros. teamed up for a pop-up 25th birthday celebration at Comic Con back in July.) Here are five of the reasons it's worth taking the film out of the freezer, and revisiting San Angeles.
---
SYLVESTER STALLONE AND WESLEY SNIPES
(Photo by © Warner Bros. )
In the crime-ridden hellscape of 1996, only one man has the guts to face the worst criminal of all time. That's Los Angeles Sergeant John Spartan (Sylvester Stallone), a tough-as-nails, take-no-prisoners cop who always gets the job done. The criminal in question is Simon Phoenix (Wesley Snipes), cartoonishly murderous bad guy with a capital B. When Spartan inadvertently gets some hostages killed while apprehending Phoenix, both men are cryogenically frozen only to be awoken 36 years later in the crime-free utopia of San Angeles, 2032.
Stallone was no stranger to tough-guy cop roles (and two years later he would tell us, "I am the law!"), but he cranks his performance here up to 11, deepening his snarl, adding swagger to his gait, deriding a future that wants to yank his leash even harder than the past did. Most surprising is Stallone's comic timing, projecting mockery and irritation at a world-gone-soft. Hard to blame a guy who can't figure out the three shells.
It's nothing compared to Snipes' madcap performance, though. As if director Marco Brambilla told him "go nuts" before every take, Snipes is a giddy homicidal maniac, leering, quipping, bouncing, dancing, cackling, and giving impromptu martial-arts demonstrations as he sees fit. There isn't a bit of scenery he doesn't chew the hell out of.
---
SANDRA BULLOCK'S BREAKOUT PERFORMANCE
(Photo by © Warner Bros. )
Equally impressive is Sandra Bullock's star-making performance as Lieutenant Lenina Huxley, one of San Angeles' unfailingly polite police officers. Bullock's joviality is epidemic-level infectious, and she has a screen presence and charisma that matches – and occasionally outshines – Stallone's performance. The next year she would bring these same qualities to Speed.
In some ways, both characters are fish out of water. Spartan might be a violent brute in a too-peaceful world, but Huxley is a cop who longs for action who, when she gets it, often struggles and fails – whether it be while grappling with "murder/death/kills" in her jurisdiction or dealing with genuine human connections like physical love.
---
A Totally Bizarre (and sometimes convincing) Vision of the Future
(Photo by © Warner Bros.)
The Fifth Element is wild, sure, but its vision of 2263 isn't that far-fetched if you think about it. McDonald's still around. Frenetic pop stars are on the air 24/7. Compare that to Demolition Man – set only 39 years in the future upon its release. It's a time when…
Taco Bell has won "the franchise wars" and is the only restaurant in town.
Toilet paper has been completely replaced by the three shells, which nobody will explain how to use.
Cussing is punished with police citations – which are incidentally good TP replacements.
Arnold Schwarzenegger became president (OK, that's a bit closer to home).
That's a helluva lot of change in only 39 years, but not all of the changes are punchlines.
Prisoners are subject to hypnotic suggestion.
Love, sex, and procreation are heavily restricted by the government.
Corporations have monopolistic rule on society.
People are ostracized for the slightest display of incivility.
OK, so maybe not too far from reality then.
---
It has something to say (cribbed heavily from Huxley)
(Photo by @ Warner Bros.)
It's no mistake that Bullock's character is a Brave New World reference (Lenina is a major character from the book and Aldous Huxley was the writer). In that famous novel, everyone has a clearly defined place in their utopian society from the time of their "decanting" (no one is born anymore – that's barbaric, you see). The trouble with that is even utopias contain haves and have-nots, and that disparity is enormous.
Demolition Man is no different. Want to live your life freely? Want to cuss, smoke, drink, have sex, and whatever else? Hope you're ready to live on ratburgers in abject poverty in the sewers. Spartan and Phoenix may come from a dystopian version of the '90s, but San Angeles' 2032 utopia is just as hellish thanks to its sheer level of oppression.
---
IT'S GOT A GREAT LITTLE MORAL
(Photo by © Warner Bros.)
As with most works about utopias, from Brave New World to The Giver, Demolition Man settles on the idea that the answer is balance. It's easy to give in to fear and allow creeping restrictions in our lives. We can mistake things that constrain us as things that make us safer and freer, but there is always a cost. Human nature simply wasn't meant to be repressed. It was meant to express itself in all its awkward and chaotic beauty.
Spartan recognizes this in his arc, as he goes from from unhinged, violent cop to balanced member of society who uplifts the repressed and ostracized. Huxley discovers the opposite, as she unburdens herself of San Angeles' restrictions and embraces life to the fullest with adventure and romance. The key to life, happiness, and a healthy society is balance. And lots and lots of Taco Bell.
Demolition Man hit theaters on October 8, 1993.
But what do you think? Did this article give you a joy joy day? Think you know how to use the three shells? Sound off in the comments!
---
#1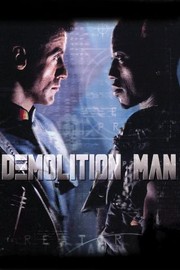 Critics Consensus:
A better-than-average sci-fi shoot-em-up with a satirical undercurrent, Demolition Man is bolstered by strong performances by Sylvester Stallone, Wesley Snipes, and Sandra Bullock.
Synopsis:
The plot of this action film begins in 1996, with Los Angeles in a violence-crazed conflagration. One of the LAPD's...
[More]