HBO's Lovecraft Country, based on Matt Ruff's 2016 novel of the same name, follows army vet Atticus Freeman (Jonathan Majors) and childhood friend Leti Lewis (Jurnee Smollett) as they travel the tumultuous roads of 1950s Jim Crow America in search of Atticus' missing father — with the added mystery that his family's birthright may exist at the end of the line.
Hailing from producing power trio Misha Green (Underground), J.J. Abrams (Lost), and Jordan Peele (Get Out), the series, which premieres to HBO on August 16 at 9 p.m. ET/PT, once again finds the network delving into genre territory to explore the demons of America's racist past while parading a cavalcade of classic horror and science fiction tropes before the viewer. The result is a show that's as terrifying and dramatic as it is bloody good fun to watch.
Lovecraft Country is a production-budget upgrade for Green and Smollett who previously both found themselves in strong lead positions with Underground — Green stepped into her first-ever role as showrunner, and Smollett carried the Underground Railroad–inspired WGN series as its star. Their creative reunion is a force to be reckoned with here, further bolstered by an epic effects budget and riveting performances by Smollett and Majors along with their supporting cast: Emmy-winner Courtney B. Vance (The People v. O.J. Simpson: American Crime Story) as Uncle George, Michael Kenneth Williams (The Wire) as Atticus' father Montrose, Aunjanue Ellis (If Beale Street Could Talk) as Hippolyta Black, Wunmi Mosaku (Luther) as Leti's estranged sister Ruby, and Abbey Lee Kershaw (Mad Max: Fury Road), and Jordan Patrick Smith (Vikings) as sinister members of the mysterious Braithwhite clan.
Is the new horror series a hit? Season 1 is currently Certified Fresh at 100% on the Tomatometer. Here's what critics are saying about season 1 of Lovecraft Country:
---
How Are the Performances?
(Photo by HBO)
The real star of the show is Jurnee Smollett's Letitia Lewis. A Black woman in a main protagonist role, she's a strong woman, silenced in a world full of men. As she says in the scene with Uncle George, "The name's not girl, it's Letitia f**kin' Lewis." Her strength and courage save the menfolk again and again. — Nikki Onafuye, Digital Spy
Majors, who broke through with his role in 2018's The Last Black Man in San Francisco, is mesmerizing as shy yet resilient Atticus. His energy and personality perfectly harmonize with Smollett's Leti, who's very brave, passionate, and incredibly fierce. With the actress' performance of Black Canary in Birds of Prey and Letitia's portrayal in Lovecraft Country, this is definitely her year – as she rightfully deserves. Both Atticus and Letitia make a powerful, magnetizing duo that fights everything supernatural while battling real-life demons who want to see them fail. — Zofia Wijaszka, Awards Watch
From top to the bottom, Lovecraft Country has an absolutely phenomenal ensemble cast, but special praise has to go to leads Jonathan Majors and Jurnee Smollett…a powerhouse duo who anchor Lovecraft Country in the most masterful of ways, and names such as Michael Kenneth Williams, Wunmi Mosaku, Aunjanue Ellis, and Abbey Lee are all likewise fantastic when given their time in the spotlight. — Andrew Pollard, Starburst
---
Monsters Abound, but Racism Is the Ultimate Big Bad
(Photo by Eli Joshua Ade/HBO)
Lovecraft Country is brilliant just based upon premise and promise alone, and it delivers on this mashup of horror & sci-fi with racism. But despite the monsters that loom large over everything…it's very true that white supremacy is the biggest terror. —Trey Mangum, Shadow and Act
"Lovecraft Country" wrangles with vicious examples of Black inequality and white cruelty, on the books and off. There are the monsters these characters know — law enforcers who threaten lynching in "sundown" counties, or white Chicagoans resisting Black integration on the north side, for example. There are also monsters they discover along the way, from the Lovecraft dimension. — Michael Phillips, Chicago Tribune
"Lovecraft Country" is rooted in traditions of horror, and uses that genre's tools to argue that, for Black citizens, America is not a problem to be solved but a monster to be outrun. It's a point well taken, and a case stylishly and often cleverly made. But over the course of this series' first five episodes, it remains unclear how "Lovecraft Country" will advance itself beyond the shock of monstrosities, both new and familiar. — Daniel D'Addario, Variety
Lovecraft Country as a whole is an unsubtle remixing of Lovecraft's mythos that brings his widely known, virulent racism to the fore rather than letting it be just a footnote. By blending historical facts like segregation with chthonic fiction, Lovecraft Country immediately sets itself up to be the sort of show (somewhat similar to Watchmen) that ends up teaching certain audience members some ugly truths about the past. — Charles Pulliam-Moore, i09.com
---
How's the Production Value?
(Photo by Elizabeth Morris/HBO)
Less comicky in its compositions than something like Watchmen, which also brought allegorical fantasy to the African-American experience, Lovecraft Country is either high-octane flashy or pure pragmatism in its visuals. With a joyful amount of viscera and gore, these shocks to the system never failed to leave a Tom Savini-loving grin on my face. — Jacob Oller, Paste Magazine
The series has its share of CGI monsters, from many-limbed creatures to undead spirits, but its most compelling visual scares involve the cold framing of remote manors owned by cult leaders like Samuel Braithwhite (Tony Goldwyn) and his daughter, Christina (Abbey Lee). — Jake Cole, Slant
A credit to the glitzy production design, the city's historic South Side comes alive as a vibrant summer milieu composed of retro Black-owned storefronts and neighborhood activities: kids playing stickball in the streets, children prancing in the cool spray of a fire hydrant's water. The costumes also enliven the period, an array of chic threads as colorful as the neighborhood. The frames are dynamic, relying on long tracks and immersive crane shots, and a host of extras: The moments when Tic walks through the city's streets or navigates the late-night neighborhood blues concert headlined by Ruby are portals into the past, and the generous use of extras give the neighborhood a completely lived-in feel. — Robert Daniels, The Playlist
---
Do the Heavy Horror and Sci-Fi References Work in Its Favor? 
(Photo by Elizabeth Morris/HBO)
The show features nods to 1980s adventure movies such as The Goonies, Cronenbergian body horror and classic 1930s monster movies. But while exciting and satisfying to die-hard genre fans, the series runs the risk of fragmenting itself too severely. — Brandon Katz, Observer
Subsequent episodes transition into a ghost story involving metaphors for urban segregation and white flight, and then into a cliffhanger-heavy adventure yarn that examines the colonialist roots of exploration in a way National Treasure or Goonies did not. — Daniel Fienberg, The Hollywood Reporter
In some ways, Lovecraft Country is a victim of its own ambitions. Emptying out a library's worth of pulp references and using them to spelunk the darkness of postwar American white supremacy just before the dawn of the civil rights era makes for a heady brew. But the ideas don't always play out successfully. — Chris Barsanti, PopMatters
---
Music and Media Makes the Period Piece Feel Timely
(Photo by Elizabeth Morris/HBO)
The trip starts with a driving sequence set to James Baldwin's 1965 words during a debate at Cambridge University about the unattainability of the American dream for Black people. Baldwin's voice isn't the only welcome anachronism in Lovecraft Country. The soundtrack is filled with Etta James and Nina Simone songs from the '60s, but also Rihanna, Frank Ocean and Marilyn Manson. There's a sequence of Leti at church that incorporates the sound from this 2017 Nike campaign that champions equality for the LGBTQ community. Audio from different eras helps link the present and past. —Patricia Puentes, CNET
"Lovecraft Country" has a sense of timeliness as well. When police arrive at the scene of a disturbance, the Black crowd adopts a "hands up, don't shoot" posture; taken into custody, Letitia is subjected to the sort of bruising police van ride that led to the death of Freddie Gray in Baltimore in 2015. —Robert Lloyd, Los Angeles Times
Sometimes, the soundtrack is era-specific, but get used to the likes of Cardi B or Frank Ocean or The Jeffersons theme accompanying the action — or, in a bold break from cinematic tradition, for some montages to be accompanied not by songs, but by monologues, such as an excerpt from James Baldwin's famous 1965 debate about racism with conservative pundit William F. Buckley. —Alan Sepinwall, Rolling Stone
Even with a soundtrack featuring gospel, jazz, rap, pop, poetry and metal-everything from Shirley Caesar, Etta James, and Marilyn Manson to Cardi B, Gil Scott-Heron, and Leon Bridges, Lovecraft Country manages to holistically comprise feelings of hope, love, despair, and fear into a fascinating story. Though some of the storytelling may baffle viewers unfamiliar with certain folklore (truthfully, I was a bit lost at times), all will be captivated by the multi-layered performances and immersive storytelling. —Candice Frederick, TV Guide
---
Final Thoughts?
(Photo by Elizabeth Morris/HBO)
Lovecraft Country won't be for everyone. It can be slow-moving and the nefarious cultists are generally a bland bunch… Still, there is lots of pulpy fun and some gory moments (the easily-spooked should avoid). —Ed Power, Daily Telegraph (UK)
Lovecraft Country lands in a specific time and place for both, but in a way that feels universal as much as it feels scary. It's one of the best shows HBO has made in a long, long time. —Alan Sepinwall, Rolling Stone
Spellbinding. —Chris Evangelista, Slashfilm
"Lovecraft Country" is dizzying, poetic, and terrifying. —Robert Daniels, The Playlist
Lovecraft Country season 1 premieres on HBO on Sunday, August 16.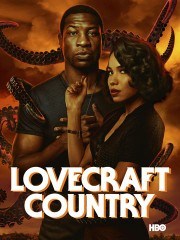 Critics Consensus:
Anchored by Jurnee Smollett-Bell and Jonathan Majors' heroic performances, Misha Green's
Lovecraft Country
is a thrilling take on Lovecraftian lore that proves the Elder Gods aren't the only thing that goes bump in the cosmos.