For almost two decades, Judd Apatow has been the king of a certain kind of American movie comedy – as he described it to Rotten Tomatoes, films about people who are stuck and whose lives are falling apart… because "life falling apart is usually funny." In movies like Knocked Up, The 40-Year-Old Virgin, and Trainwreck, the writer and director has given us some of recent cinema's funniest moments, from a chest-waxing scene that almost cost Steve Carell his nipple to an epic breakdown in the principal's office courtesy of a foul-mouthed Melissa McCarthy in This Is 40. His latest comedy, The King of Staten Island, is a semi-autobiographical feature starring and co-written by Saturday Night Live star Pete Davidson, and it packs in Apatow's signature mix of big laughs and big feels.
Ahead of the movie's release, Apatow sat down with us to break down the mechanics and stories behind some of the funniest scenes he's put on the screen – including an messy pool fight that's getting the biggest laughs from audiences who've seen his newest film.
#1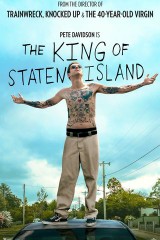 Critics Consensus:
The King of Staten Island
's uncertain tone and indulgent length blunt this coming-of-age dramedy's ability to find itself, but Pete Davidson's soulful performance holds it together.
Synopsis:
An aimless slacker dreams of becoming a tattoo artist while living with his mother and hanging out with his friends...
[More]