This week at the movies, we've got the return of a killer clown (It: Chapter Two, starring Jessica Chastain, James McAvoy, and Bill Hader). What are the critics saying?
---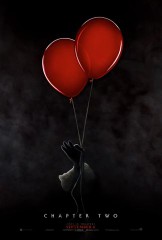 In September of 2017, the Stephen King novel adaptation It debuted to widespread critical acclaim and a number of box office records, but as fans of the book already knew, it only told half of the story. In other words, a sequel covering the other half was inevitable, and now, two years later, that conclusion has arrived. It: Chapter Two catches up with the so-called Losers Club 27 years after the events of the first film; the kids have all grown-up and, with the exception of Mike (Isaiah Mustafa), left town to move on with their lives elsewhere. However, when children begin to go missing in Derry again, the gang reunites to end the evil for good. The sequel hasn't resonated with critics the way the first installment did, with several reviews calling out the heavy use of CGI, the hefty 169-minute runtime, and the lack of truly chilling moments among the film's shortcomings. But most still found it a worthy finale, thanks largely to its impeccable casting — which includes Jessica Chastain, Bill Hader, James McAvoy, Mustafa, Jay Ryan, and James Ransone, as well as the returning younger stars, and, of course, Bill Skarsgård as Pennywise — and its efforts to recreate what made the source material so terrifying and surprisingly poignant. This one probably isn't going to break any records, but it should bring satisfying closure for most fans.
---
Also Opening This Week In Limited Release
---
Like this? Subscribe to our newsletter and get more features, news, and guides in your inbox every week.