(Photo by © Warner Brothers)
Hear Us Out is a semi-regular column in which guest contributors and editors venture forth a take that's sure to get fans talking. 
It's been 15 years since Warner Brothers' remake of House of Wax arrived in American theaters, gave slasher fans the brief thrill of seeing Paris Hilton speared through the head with a metal pipe, and quickly melted from people's memories to live in obscurity with most of the 2000s' horror output. The movie, directed by Jaume Collett-Sera – who went on to make bats–t killer-"kid" movie Orphan, a bunch of Liam Neeson action flicks, and Disney's upcoming Jungle Cruise – was largely lashed by critics (its Tomatometer is 26%) and ignored by audiences. To the extent that it comes up in conversation, it's mostly thanks to Hilton and her gory on-screen demise.
On the anniversary of its May 6, 2005 release, we think the movie – and yes, even Hilton's turn in it – deserves a second look. (And if you're anything like this writer, a third, fourth, and fifth.) The 2000s was a mostly rough time for studio horror, especially slashers. The decade had its bright spots, though they often weren't recognized as such at the time: The Strangers and the 2006 remake of The Hills Have Eyes were neither hits nor critical darlings upon release, but have taken on cult status as audiences discovered their sinister charms over the years. House of Wax is due for a similar rediscovery.
The movie is only a very loose remake of the 1953 Vincent Price film of the same name, which surely put the critics off right from the outset; there is a disfigured killer murdering people to use in wax displays, and there is a museum, but the similarities are faint-to-nonexistent from there. The 2005 House of Wax is actually more a reworking of 1979's Tourist Trap, a far less revered property. A group of road-tripping teens is divided when one of their cars runs into trouble and a couple of them go searching for help only to discover a deserted town with a very strange old museum at its center. Cue the demented murder-twins-slash-wax-artists.
It's hardly original stuff – a kinda remake of one movie and reworking of another, all stitched together with a bunch of cliches – but the execution is thrilling. Here are just five reasons why you should take the time to revisit this house, or dare enter for the first time.
---
DIRECTOR JAUME COLLETT-SERA KNOWS WHAT HE'S DOING
(Photo by © Warner Brothers)
Since House of Wax, director Collett-Sera has made a reputation for doing a whole lot with not much. His Liam Neeson films – Unknown, The Commuter, Non-Stop, Run All Night – always feel a cut above the average action programmer, and he managed to direct Orphan – yes, the one in which the kid turns out to be a 33-year-old prostitute – into near-Fresh territory (its Tomatometer is 56%). He shows his skill with elevating thin material throughout House of Wax, playing with once-tired slasher tropes like stalker cam to gleefully suspenseful ends. A scene set inside a movie theater, in which Final Girl Carly (Elisha Cuthbert) hides among wax figures, is expertly crafted nail-biting stuff. Also, Collett-Sera has a great eye for casting: the creepy truck driver we meet early on is played by Damon Herriman, who would go on to impress as Dewey Crowe in Justified and blow minds as Charles Manson in Mindhnunter. 
---
THE PRODUCTION DESIGN IS INNOVATIVE AND GENUINELY CREEPY
(Photo by © Warner Brothers)
A movie titled House of Wax lives or dies by its titular location: Audiences walk in expecting a creepy-as-hell museum made of wax – it's why they ponied up to the box office in the first place – so you sure as hell better give it to them. Collett-Sera and the production designers deliver, and then some, with not just a house of wax, but an entire town. The central museum is an inspired house of horrors, entirely made of wax, with a smooth Art Deco exterior, threatening gallery rooms inside, and a memorable warren of tunnels and dungeons below, their walls lined with wax-covered bodies for maximum freakout effect. The finale, in which the entire museum melts down like a giant candle, is wonderfully realized, with Cuthbert and co-star Chad Michael Murray sinking into soupy stairs and a soupier bed as they escape their stalker – the wax in the scene is actually peanut butter – before clawing their way out through the building's softening exterior walls.
The town of Ambrose itself is unlike the usual tiny towns that slasher victims discover on their ill-advised short cuts; it feels self-consciously Art Deco and eerily well-preserved, like a section of a theme park playing at being classic, a place that is hiding from the world rather than forgotten by it. The vibe comes courtesy of producer Joel Silver, who directed the production designers to take inspiration from the Eritrean capital of Asmara, which is known for Modernist buildings built by Italian colonizers in the 1930s.
---
IT DELIVERS MEMORABLE SLASHER AND TORTURE-PORN MOMENTS
(Photo by © Warner Brothers)
House of Wax arrived at a strange time for studio horror, and by most people's assessments, not a time particularly marked by quality output. The slasher revival kicked off by Scream in the mid-to-late 1990s had not really delivered a "revival" at all, with imitators from I Know What You Did Last Summer to Urban Legend offering such diminishing returns that audiences stopped showing interest. Meanwhile, "torture porn" had officially arrived, buzz-saws and head cages in tow: just six months after House of Wax was released, the second Saw movie opened, and a few months after that Eli Roth's Hostel took things up a notch.
Wax was one of a few mid-2000s slasher remakes with a town-of-hicks angle – The Hills Have Eyes and The Texas Chainsaw Massacre among them – that tried to straddle both genres, mixing scenes of knife-wielding maniacs chasing girls up (sometimes melty) stairs with scenes of young hot things trapped in metal contraptions and tortured. And the film managed to conjure memorable moments in both styles. We'll never forget the genuinely suspenseful sequence in which Carly, trapped underground with her lips glued shut, tries to get her brother's attention by waving a finger at him through a metal grate in the floor, only to have maniacal Bo snip it off with cutting pliers. Just as memorable: Moments later, Carly rips apart those glued-together lips to scream for help. (Cuthbert insisted the production use real glue on set – though it was a softer variety than Crazy Glue.)
Equally, torture-porn set pieces devoted to the art of turning a young tourist into a wax figure linger, with Collett-Sera sparing us no detail as Jared Padalecki's Wade is injected with a paralyzing agent, stripped of his hair, set up in a hilariously elaborate gothic device, and blasted with boiling wax.
---
PARIS HILTON DOESN'T EMBARRASS HERSELF – IN FACT, SHE'S GOOD
(Photo by © Warner Brothers)
Of course, the most memorable moment in House of Wax belongs to then ubiquitous socialite Paris Hilton, who – after a satisfying chase scene – is impaled by a metal pole thrown at her like a javelin. Warner Brothers' marketing had gone out with the slogan "See Paris Die!" and Collett-Sera made sure to fulfill the promise, keeping his camera trained on the actress as her head – or at least a prop version of it – slides down the pole. Like videos of wet sand or slime on YouTube, it's "oddly satisfying" to watch.
The thing that often gets lost in the focus on Hilton's big death scene, though, is that she's actually pretty good as Paige in the scenes that require her to do more than scream and run for her life in red lingerie. (Yes, she dies in her knickers.) Like, well, Paris Hilton herself, the character of Paige is detached and narcissistic, but there's something fascinating about her – a flatness that draws you on. She's also given a bit more story than the slasher sidekick blonde often is, and when called for it, she shows a sharp sense of humor about herself and her public persona. (Side note: Hilton was totally on board with the "See Paris die!" tagline, and even asked WB if she could make T-shirts with the slogan herself.)
---
IT'S AN UNINTENTIONAL LOVE LETTER TO THE 2000s IN THE MOST COMFORTING WAY
(Photo by © Warner Brothers)
And not just because of the Paris factor. Like the town of Ambrose itself, House of Wax is a time capsule, and watching it today is strangely comforting – especially if you're longing for the simpler days of playing Snake 2 on your NOKIA. The movie came out just before technology evolved to a level where a plot like this would strain credulity (OK, strain credulity even more than it already does): there's no smart phone GPS to instantly tell them where they're lost; no Waze to tell the secondary players how to get to the stadium and avoid the traffic jam; no quick and easy way to Google what the hell happened in this town of Ambrose; no Yelp! to discover the presumably awful reviews this museum has been getting. Instead we have old-school flip phones, wielded by the stars of some of the MOST mid-2000s TV shows: Cuthbert of 24; Padalecki of Gilmore Girls; Murray of One Tree Hill.
And velour tracksuits (guess who?). And in a glorious final flourish, My Chemical Romance over the credits. The only thing House of Wax is missing is a pair of blood-splattered UGGs.
But then it would be perfect, and imperfection is a big part of this slasher gem's charm.
House of Wax was released on May 6, 2005. Buy or rent it on FandangoNOW, Vudu, Amazon, YouTube, or iTunes. 
#1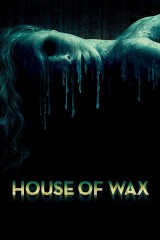 Critics Consensus:
Bearing little resemblance to the 1953 original, House of Wax is a formulaic but better-than-average teen slasher flick.
Synopsis:
A gang of college friends, including Wade (Jared Padalecki) and his girlfriend, Carly (Elisha Cuthbert), are en route to a...
[More]
---
Liked this piece? Vote for Rotten Tomatoes for Best Website (Entertainment) and Best Social (Entertainment) in the Webby Awards