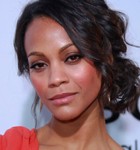 Right now, Zoe Saldana is at the center of what will likely become the two biggest contemporary science fiction series on the planet. Next year she'll reprise her role as Uhura in the sequel to J.J. Abrams' 2009 hit Star Trek, which, if successful, will continue the invigoration of the venerable franchise. And then there are the forthcoming sequels to James Cameron's all-time box-office king Avatar, in which Saldana proved the emotional and spiritual fulcrum as Pandora's fearless warrior, Neytiri. Saldana invested her character's digital exterior with a measure of soul; beneath the motion capture moved a graceful, determined performer.
In this week's Burning Palms, an indie portmanteau comprising "five stories of madness" from Los Angeles, Saldana again proves her dramatic talent as a sexual assault victim who seeks out her attacker — with unexpected consequences. "I was intrigued," she says of her segment, entitled "Man-Eater." "I was really intrigued with [director] Chris Landon, because he's so honest in terms of the arc. He wasn't afraid to expose the artistic dark side of how life can sometimes be. One thing that really interests him is the psychological journey; why people accept things, why people react in certain ways."
The performance is a game one, navigating some psychologically tricky terrain concerning rape. "The one thing that people don't talk about, that sometimes happens," Saldana explains, "is that there are women who, while they're being raped, experience orgasm; and that is the trauma that they have to deal with — forgiving yourself in that sometimes the body can operate separate from the mind, even when going through a very traumatic encounter. It's very complicated, and it never fully heals. It was that part of it that made me feel, as an actor, not only curious to play the part, but a responsibility to tell a story like this."
Saldana's tenacity — and tastes — as an actor reflect in her choice of five favorite films. The first one, in particular, was the most telling…
---
---
Burning Palms is released to select theaters this week.