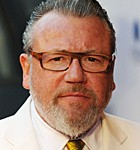 Chances are that when audiences think "tough Cockney geezer" they picture Ray Winstone, the veteran British actor whose enduring gallery of rogues has practically given him trademark on the type. From his early roles as young punks and ne'er do-wells in movies like Quadrophenia, Scum and Ladies and Gentlemen, the Fabulous Stains through his unforgettable performances in Nil by Mouth and Sexy Beast, Winstone cornered the market in British hard men — and directors like Martin Scorsese (The Departed) and Steven Spielberg (Indiana Jones and the Kingdom of the Crystal Skull) took note.
Winstone has just wrapped filming Darren Aronofsky's Noah opposite Russell Crowe, and this week he's in theaters as the lead in British hit The Sweeney — an adaptation of the iconic 1970s police show on which, coincidentally, the star landed one of his earliest roles. We had a chance to chat with Winstone recently about his all-time favorite films.
---
The Sweeney opens theatrically in select locations this week.
---