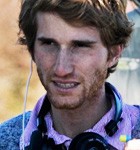 First-time writer-director director Max Winkler isn't a household name like his dad, but that may very well change in the future. The 27-year-old son of Happy Days' star and producer Henry Winkler has several buzzed-about projects in the works, including the comedy The Adventurer's Handbook, starring Jason Schwartzman, Jason Segel and Jonah Hill, the intriguingly-titled fantasy The Ornate Anatomy of Living Things, and a film he's written with Jason Reitman attached to direct, Whispers in Bedlam.
Reitman also serves as executive producer to Winkler's directorial debut released this week, the comedy-drama Ceremony, in which precocious fantasist Michael Angarano crashes a wedding to pursue his older ex, played by Uma Thurman. An impressive debut, the film exhibits the influences of Wes Anderson, Hal Ashby and Noah Baumbach — which is a good thing — and it's something that Winkler is the first to admit.
"The Squid and the Whale changed my life when I saw it," Winkler says of Baumbach's 2005 movie. "Just in how you could have these great characters and not be so easy on them all the time. The Jeff Daniels character is one of my favorite characters on film: he believes in the myth of himself rather than who he really is, and I think that's apropos for [Angarano's character]."
Winkler says he wrote the film, at Reitman's urging, from a personal place. "He's sort of the worst parts of myself," he laughs, referring to Angarano's protagonist. "It's a really honest portrayal of what you're like in that young, reckless part of your life; you feel everything almost too much, and you feel like you have the monopoly on all the world's suffering and heartbreak and pain."
The director likens his experience to that of Reitman, who also had to work in the shadow of a famous father. "I think that's one of the reasons that we probably work so hard and produce movies at a young age," he explains, "immediately trying to get past the misconception. We saw our fathers work that hard, and we wanted to get right out of the gate and make something that was particularly us."
We asked Winkler to submit his Five Favorite Films… and here they are.
---
---
Ceremony is in select theaters this week.