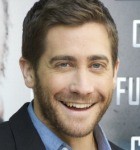 Jake Gyllenhaal pulls double duty in his new film Enemy, which hits theaters this Friday, March 14. With great movies like Donnie Darko, Brokeback Mountain, and Prisoners — in which he teamed up with Enemy director Denis Villeneuve for the first time — on his resumé, it should be no surprise that Gyllenhaal is also a fan of some great films himself.
Like many stars we interview, Gyllenhaal found it difficult to narrow down his choices; when the question was posed, he cited the play The Real Thing, saying, "It starts off with a guy talking about how he has to basically do a top ten of his favorite songs of all time. It is so hard and, it's hard to stay true to who you are and who you want to be, so let me just explain this and say that, there's no particular order. I'm going with my unconscious here, which I don't think believes in order or hierarchy." Read on to see how much he geeks-out over Josh Brolin and how sentimental an old Italian film makes him.
---
---
Enemy opens everywhere this Friday.