Daniel Brühl is a busy man. This month, the actor reprises his role as Dr. Lazslo Kreizler in The Alienist: Angel of Darkness, season 2 of the period drama that based on the second book in Caleb Carr's Kreizler series. With the TNT show and the highly anticipated Marvel Cinematic Universe series, The Falcon and The Winter Soldier, in which he'll once again be playing the villainous Helmut Zemo, Brühl finds himself back in some familiar shoes.
The details behind the Disney+ series are still a bit vague, as the project hasn't fully completed filming. One thing we do know is that Brühl will finally be donning the Baron Zemo mask, which, if we're being honest, is a super-exciting detail to whet our collective appetites.
Then there's his role in The King's Man, the origin story for and prequel film to the Kingsman series of movies. The film, from 20th Century Studios and starring Ralph Fiennes and Harris Dickinson, was originally scheduled for 2019, but Disney's takeover at Fox reportedly prompted its move to February 2020. It's release date is now September 18, 2020.
That's a lot of press junkets in one year for any actor.
The Alienist: Angel of Darkness returns to TNT next week with a two-episode premiere event, and buzz behind the Emmy-winning program's return is running high. For good reason: the tonal mashup of procedural crime drama and gritty period piece — The Alienist drops audiences smack dab in the middle of New York's Gilded Age — elevates a familiar television narrative by embellishing it with lavish costumes and historic details.
---
It's worth noting that Angel of Darkness, while technically a sequel to the first season, works as its own standalone story. Brühl's Dr. Kreizler reunites with his rag-tag investigative cohorts Sara Howard (Dakota Fanning), now running her own detective agency, and New York Times journalist John Moore (Luke Evans) as they work to solve a string of baby murders amid a backdrop of political and cultural turmoil. The themes of women's rights, police brutality, and racism create a conflicted, yet timely, story here.
Ahead of the show's return, Rotten Tomatoes spoke with Brühl about how his character has evolved since the series premiere, whether the show's disturbing subject matter gives him nightmares, how the themes explored in The Alienist: Angel of Darkness are relevant today, and if the COVID-19 shutdown delayed his work on The Falcon and The Winter Soldier.
---
(Photo by TNT)
Aaron Pruner for Rotten Tomatoes: This season focuses a lot on Sara Howard, while Kreizler is cultivating his own relationships. Has Kreizler, as a character, changed in how you interpret him since you first took on the role?
Daniel Brühl: Knowing about Sara's psychological skills, Laszlo Kreizler is eventually willing to share power and to give in and to let Sarah Howard be in charge of that new mystery and of that new case. He becomes, emotionally, a more open-minded man thanks to the friendship with Sara and John and eventually even finds a kindred spirit, someone who he finds very fascinating.
It's so interesting because my wife is an alienist in real life. And she told me that many times the most brilliant psychologists you know, become very nervous when they have to deal with, you know, their own introspection and their own inner life. So they may be brilliant in, you know, analyzing their environment, and yet, they have problems in expressing what they are going through.
The theme of child murder continues in season 2. Is it tough to separate yourself from the dark subject matter of the show?
Brühl: It didn't affect me that much when we were shooting the actual show, but watching it now gives me nightmares. I'm the father of a little boy and expecting my second baby to arrive soon. The fact that this show this time around deals more with motherhood and fatherhood, respectively, felt more universal. It was also interesting to realize how engaged my wife was when she watched the show. She said that it resonated more with her than the first season.
---
(Photo by Nelly Kiss/TNT)
This is a period piece, yet the issues explored in the series continue to feel quite timely — women's rights, sensationalism in the news, police corruption, income inequality, and racism. What message are you hoping viewers will take away from watching?
Brühl: It is very sad to see how long it takes for mankind to really make a change. It's funny how history goes in waves. I wouldn't say that it always goes in the wrong direction. Sometimes we advance, sometimes we evolve, and then, sometimes we go three steps back. So it is sadly fascinating to see that a story set in 1897 and a book written about that period that was published in the 1990s still feels so current.
And what the story tells us is that it always takes a couple of courageous liberal modern minds to make a change. Unfortunately, mankind needs to have the worst things happen in order to move on. So the eruption that, fortunately, we witness these days internationally, due to the things that happened in the U.S., gives me a bit of optimism, because that avalanche, that eruption, and that message that racism has to stop, is being heard loudly and clearly at the moment. I hope that, finally, we will change and, hopefully, carry on doing so. We always have to hope that we will learn something from history.
---
(Photo by Marvel)
It's been a busy year for you. Were your scenes in The Alienist or The Falcon and the Winter Soldier (pictured) affected by the shutdown?
Brühl: The Falcon and Winter Soldier was. I still have to go back, and hopefully, we'll be able to finish that project in Prague. We'll see how the situation is in a month or two, but that's the plan.
Surprisingly, I was able to shoot my directorial debut, which is a film [called Next Door] that I had been thinking about and writing and developing for two or three years. When we were about to start the rehearsals, the quarantine kicked in and so for a moment, I thought that this project would die. Fortunately, it didn't. We were able to shoot it in Berlin in a studio and trimmed down the crew a little bit. And so there weren't any major problems that we were facing, and I just finished it.
Have you been able to take any piece of wardrobe or prop home from The Alienist set?
Brühl: My cane with that little bird, which became a toy for my little boy. He's now using it as a sword. So I have to protect it from the night games he's playing.
What else? I think I may have taken a hat. The other stuff felt too period. I mean, it looks incredibly flashy and cool, but I think people here in Berlin would think, "What the heck happened to Daniel?"
The Alienist: Angel of Darkness premieres Sunday, July 19 at 9 p.m. on TNT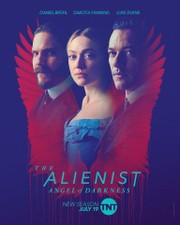 Critics Consensus:
Tense and thrilling, if not terribly distinct,
Angel of Darkness
takes
The Alienist
in a darker direction while giving the superb Dakota Fanning more time to shine.