Castle Rock presented a cornucopia of Stephen King Easter eggs to fans when the first season premiered to Hulu in October 2018. The Shawshank Redemption, Needful Things, and Stand By Me were just a few of the author's iconic works that were mined for the series — from co-creators Sam Shaw and Dustin Thomason, and executive producers J.J. Abrams and King himself.
Season 1 of the series (which is Certified Fresh at 87% on the Tomatometer with 76 reviews) followed the story of Henry Deaver (Andre Holland) who returned to his childhood home of Castle Rock, Maine after a mysterious young man (Bill Skarsgård) was found living in a cage underground, beneath Shawshank Prison. This odd discovery sparked a domino effect of terrible events throughout the town, establishing the inherent evil of the fictional town while providing a fun collection of genre nods for newbies and die-hard fans alike.
The goal here was to establish the King universe for the small-screen, adhering to the author's extensive library of work — from short stories and novellas like The Body and The Sun Dog to his more in-depth novels like The Stand and The Shining — for inspiration. New characters and narratives breathed new life into the familiar genre goodies sprinkled throughout its initial run.
With season 2, though, it seems that Castle Rock has narrowed its focus on the master of horror's work. This time around, the scope of the series will expand outside of the town's borders to the Somali community of Jerusalem's Lot — the small town featured in the vampire-themed Salem's Lot. Tim Robbins, Paul Sparks, Barkhad Abdi, and Yusra Warsama are new to the cast this season, helping to expand this new storyline.
Most notable, though, is the character of Annie Wilkes (Lizzy Caplan) — a role which won Kathy Bates the Oscar in 1991 — leading the new season. How did the young nurse become the kidnapping psychopath, who terrorizes author Paul Sheldon (James Caan) in the Rob Reiner film adaptation Misery? These new episodes allegedly will set out to answer that question.
Here's what critics are saying about season 2 of Hulu's Castle Rock:
---
(Photo by Hulu)
DOES LIZZY CAPLAN'S ANNIE WILKES HOLD UP TO BATES' OSCAR-WINNING PERFORMANCE?
Caplan is excellent as the psychologically deteriorating Annie Wilkes. She's obviously heavily influenced by Bates, but she gives a fiercely committed performance of her own. —Liam Mathews, TV Guide
Caplan, who is in the unenviable position of following Kathy Bates' Oscar-winning turn in the 1990 film Misery, does a remarkable job portraying Castle Rock's reimagined Annie. —Kristen Baldwin, EW
---
---
HOW IS THE REST OF THE CAST?
Tim Robbins returns to the geographic proximity of THE SHAWSHANK REDEMPTION but plays a man haunted by his past and trying to make amends. Barkhad Abdi gets his meatiest acting role since CAPTAIN PHILLIPS and nails it. Even Elsie Fisher shows her work in EIGHTH GRADE was no fluke as she plays the tormented daughter of Annie Wilkes. —Alex Maidy, JoBlo's Movie Emporium
Sam Shaw and Dustin Thomason are intent on putting their best foot forward from the moment go. That means making use of Caplan and Fisher, but also Tim Robbins as Pop Merrill, Paul Sparks (Boardwalk Empire) as Ace Merrill, and Barkhad Abi (Captain Philips), as a criminal family threatening to tear itself apart over the construction of a new Somali mall in Castle Rock. —Alex Maidy, JoBlo's Movie Emporium
Abdi and Warsama are both standouts in a Somali storyline that starts off intriguing and timely only to sputter a bit by the season's halfway point. —Dan Fienberg, The Hollywood Reporter
---
HOW DOES THIS NEW EPISODIC STORY COMPARE TO ONE IN SEASON 1?
Season 2 fares a bit better. The show is still far too obsessed with trying to ape producer J.J. Abrams' infamous "mystery box" formula, where only tiny bits of info are doled out in frustrating fashion. But the story is stronger overall, as is the cast of characters. —Chris Evangelista, SlashFilm
The effectiveness of not just the characters but the story itself is so strong and compelling that we don't need any other references to King and his memorable characters throughout the rest of the season, with those possible nods likely only heightening the rivetting story that we already get to witness take place. —Patrick Cavanaugh, ComicBook.com
Despite all its high drama, season two feels a little more conventional in its narrative, and that'll likely make for a more satisfying story arc, especially with all the horror-fantasy elements to come. —Cheryl Eddy, IO9
Much like Season 1, this is a Stephen King mixtape, but the tunes are much better this time around. —Mike Fugere, CBR
---
Castle Rock season 2 premieres on Wednesday, October 23 on Hulu.

---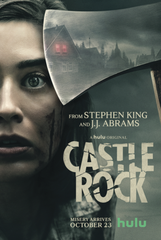 Critics Consensus:
Driven by an unsettlingly compelling Lizzy Caplan,
Castle Rock
's second chapter opens the borders of its titular town without losing any of its creeping atmosphere.
---
Like this? Subscribe to our newsletter and get more features, news, and guides in your inbox every week.