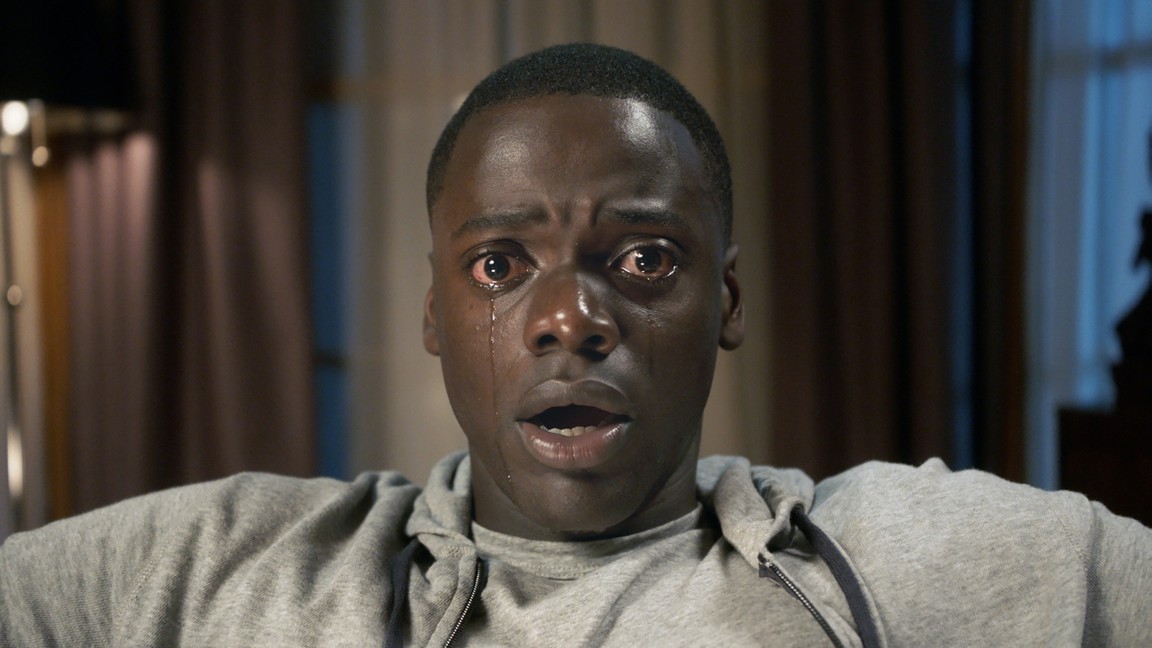 Critics and audiences were both wildly happy with the new horror film Get Out which soared to number one over the Oscar frame with a sensational $30.5M launch, according to studio estimates. Blowing past expectations, the R-rated fright flick averaged a stellar $10,976 from 2,781 locations and is showing all the signs of a bright future ahead.
Reviews were positive across the board and paying crowds polled by CinemaScore gave an A- grade which is extraordinary for the horror genre. Plus grosses went up 17% on Saturday from Friday's opening day figure which included Thursday night pre-shows. A dip would be normal. The film scored the biggest Oscar weekend opening in seven years.
Broad appeal is also helping the Universal hit. Studio data showed that the audience was split evenly between males and females and those over 25 made up 51% of the crowd. 39% were black, 36% were white, and 17% were Latino. Get Out tells of a black man meeting his white girlfriend's parents during a weekend getaway only to face surprisingly horrific circumstances. Jordan Peele, known for his comedy series Key & Peele, made his writing and directing debut here.
Get Out is the latest moneymaker for Blumhouse which also produced Split which held the number one spot for three weeks this year. In both cases, a small budget plus creative freedom were given to a talented filmmaker to come up with a scary movie with a unique concept that works. Get Out cost under $5M to produce and reaching a domestic gross of $100M can't be ruled out right now. Together, Split and Get Out were made for just $14M and are on track to deliver combined worldwide grosses of more than $400M.
Dropping to second place after a two-week run on top was the toon hit The LEGO Batman Movie which fell a reasonable 42% to an estimated $19M pushing the total up to $133M. International markets have added $93M to date giving Warner Bros. $226M worldwide with China opening this Friday.
John Wick: Chapter Two is holding up nicely for an action sequel and collected an estimated $9M, off 45%, putting Lionsgate at $74.4M. The big budget Matt Damon epic The Great Wall declined by 53% in its sophomore frame to an estimated $8.7M. Universal has grossed $34.4M from North America, a less important market for this pic, but has hit $300M worldwide so far with Japan still to come in April.
The studio scored another $100M hit this weekend with Fifty Shades Darker which crossed into nine-digit territory with its weekend take of an estimated $7.7M. Off a sharp 62%, the R-rated romance has banked $103.6M domestically and $328.3M globally. Warner Bros. followed with the comedy Fist Fight which took in an estimated $6.4M, down 48%, for $23.3M after its second round.
Oscar weekend saw audiences flock to see high profile Best Picture contenders before the big night. Hidden Figures, the top grossing of the nine nominees for the film industry's top honor, slipped only 19% to an estimated $5.9M boosting Fox's cume to $152.8M. Front-runner La La Land suffered no drop from last weekend and collected an estimated $4.6M lifting Lionsgate to $140.9M. Global stands at $369M which is the studio's best ever outside of the Hunger Games and Twilight franchises.
The profitable fright smash Split dropped 43% to an estimated $4.1M for a new sum of $130.8M for Universal. That's more than three times its opening weekend gross. The low-budget thriller has done an incredible $221.2M worldwide to date. Rounding out the top ten was Best Picture nominee Lion with an estimated $3.8M, down only 9%, and $42.8M overall for The Weinstein Co.
Two new releases opening in over 2,000 theaters each were utterly rejected by audiences and debuted outside the top ten with dismal numbers. Lionsgate had the animated offering Rock Dog which bowed to an estimated $3.7M and weak $1,781 average. Open Road saw an estimated $1.5M debut for the action title Collide and a puny $753 average. Both earned lackluster marks from critics.
The top ten films grossed an estimated $99.7M which was up 9% from last year when Deadpool stayed at number one with $31.1M in its third frame; and up 12% from 2015 when Focus opened in the top spot with $18.7M.
Get earlier box office updates and analysis by following BoxOfficeGuru.com on Twitter.