Binge Guide: 5 Things to Watch If You Love Psych
Burned through every season of the buddy comedy, plus the two acclaimed movies? Here are 5 other titles that will keep the feel-good-sleuthing vibes going.
---
TAGGED AS: Comedy, Peacock, streaming, TV
After eight mostly Fresh seasons and a 100% Fresh movie in 2017, Psych has just released another film, Psych 2: Lassie Come Home. The new movie is available on the new streaming service Peacock along with the rest of the Psych catalog. And if you're a fan of the show, or the kind of hardcore fan known as a 'Psych-O,' Rotten Tomatoes has teamed up with one of the show's stars, Dulé Hill, to bring you five other five other detective buddy-comedy titles worth checking out. Trust us, you'll be… er… psyched.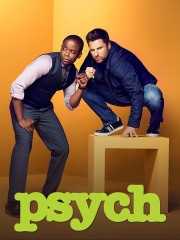 Synopsis:
Shawn Spencer happens to possess some uncanny powers of observation thanks to his father, Henry, a former police officer who...
[More]