Broadway sensation Hamilton hit Disney+ in a filmed version of the stage performance by the original cast that is currently Certified Fresh at 99%. Now that the iconic musical has re-entered the pop culture zeitgeist, it's clear that fans just can't get enough. Host Mark Ellis is here to present five other titles handpicked by Rotten Tomatoes that are totally worth checking out next, from historical dramas to upbeat, contemporary musical series.
#1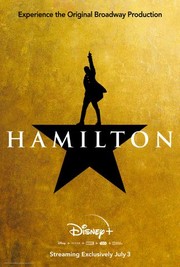 Critics Consensus:
Look around, look around at how beautifully Hamilton shines beyond Broadway - and at how marvelously Thomas Kail captures the stage show's infectious energy.
Synopsis:
An unforgettable cinematic stage performance, the filmed version of the original Broadway production of "Hamilton" combines the best elements of...
[More]
Thumbnail image by ©Disney+