Want to be one of the first people to see one of the most anticipated superhero flicks of the year? Just say the word… 
Actually, you won't need superpowers to see Shazam! before anyone else – you'll just need to head over to Fandango. The ticket seller is partnering with Warner Bros. Pictures for a series of special Early Access screenings of Shazam! on March 23.
That's right: you can see the movie two weeks before it officially opens on April 5.
For those who haven't been watching the trailers on repeat – what, is it just us? – the movie tells the story of Billy Batson (Asher Angel), a 14-year-old foster kid who discovers that with just one magic word, he can transform into the high-flying, spark-throwing superhero Shazam! (Zachary Levi).
Keen-eyed viewers will recognize Billy's/Shazam's wise-cracking, comic-book–expert sidekick Freddy Freeman from It (Jack Dylan Grazer was one of the most memorable members of that movie's "Losers' Club"), and Mark Strong as the totally evil – and brilliantly named – Dr. Thaddeus Sivana.
The latest from DC comes as the comic book giant is on something of a cinematic roll (the Fresh Aquaman completely owned the winter box office) and has plenty talent behind the camera. Shazam! is director David F. Sandberg's third film after horror hits Annabelle: Creation and Lights Out, both of which are Fresh on the Tomatometer.
If you want to be first to lay eyes on what he's conjured up, you know what to do. Get your tickets to a March 23 Early Access screening now.
---
Shazam! is showing in a series of special screenings on March 23 – buy tickets now. The movie is in theaters everywhere April 5
#1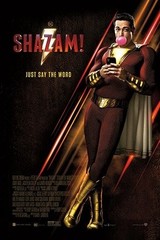 Critics Consensus:
An effortlessly entertaining blend of humor and heart,
Shazam!
is a superhero movie that never forgets the genre's real power: joyous wish fulfillment.
Synopsis:
We all have a superhero inside of us -- it just takes a bit of magic to bring it out....
[More]