You won't need future sight, x-ray vision, or cosmic stretchy arms (now that those have to do with anything) to see superhero bonanza Shazam! two weeks early – you'll just need to head over to Fandango! The ticket seller is partnering with Warner Bros. Pictures for a series of special Early Access screenings of Shazam! on March 23 and we want you in before it's too late!
That's right: using your own superpowers, like astounding theater-selecting and mighty ticket-paying,  you can see the movie two weeks before it officially opens on April 5.
For those who haven't been watching the trailers on repeat – what, is it just us? – the movie tells the story of Billy Batson (Asher Angel), a 14-year-old foster kid who discovers that with just one magic word, he can transform into the high-flying, spark-throwing superhero Shazam! (Zachary Levi).
Keen-eyed viewers will recognize Billy's/Shazam's wise-cracking, comic-book–expert sidekick Freddy Freeman from It (Jack Dylan Grazer was one of the most memorable members of that movie's "Losers' Club"), and Mark Strong as the totally evil – and brilliantly named – Dr. Thaddeus Sivana.
Wondering how the movie is doing with early buzz critics? Our social reaction article determines Shazam! just might be the hilarious and heartfelt superhero version of Big, with media corps tweets including praise like "a colorful, vibrant, vital addition to the DCEU" (Courtney Howard, Fresh Fiction), "my face hurt from smiling so much" (Dan Casey, Nerdist), and "it's the role Zachary Levi was born to play" (Eric Eisenberg, CinemaBlend).
If you want to be first to lay eyes on the next step for this exhilarating DC world, you know what to do. Just say the word… and get your tickets to a March 23 Early Access screening now.
---
Shazam! is showing in a series of special screenings on March 23 – buy tickets now. The movie is in theaters everywhere April 5
#1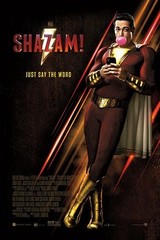 Critics Consensus:
An effortlessly entertaining blend of humor and heart,
Shazam!
is a superhero movie that never forgets the genre's real power: joyous wish fulfillment.
Synopsis:
We all have a superhero inside of us -- it just takes a bit of magic to bring it out....
[More]