Have you been reading about the incredible overseas success of How To Train Your Dragon: The Hidden World – it's already broken records in Australia and New Zealand and looks set to do the same in the U.K. – and wondering why you can't see it here, in the U.S., right now? Well calm your fire-breathing self down a minute, because we have some good news.
You can see the third How to Train Your Dragon film, which is currently Fresh at 100% on the Tomatometer based on early reviews, at a series of exclusive early-access screenings on February 2 – three weeks before the movie opens everywhere. To attend one of the exclusive early showings, just purchase your tickets through Fandango here.
The movie – which opens in theaters everywhere on February 22 – is the third installment in one of the best-reviewed animated franchises ever made (or non-animated franchises for that matter). The first How to Train Your Dragon is Certified Fresh at 98%, while the second movie, released in 2014, is Certified Fresh at 91%.
Writer-director Dean DeBlois is back on board for the third film – which sees Hiccup discovering he isn't the world's only remaining Night Fury – and early indications are that the Fresh roll will continue. Critics are saying DeBlois and his team of filmmakers have delivered a final flourish that's as thrilling as it is moving.
The new movie features the voices of series returnees Jay Baruchel, America Ferrera, Cate Blanchett, Gerard Butler, Jonah Hill, Kristen Wiig, Christopher Mintz-Plasse, Craig Ferguson, and Kit Harington, and adds Oscar® winner F. Murray Abraham to the mix.
It's said to be the last film in the series; to be among the first people to see it, buy your tickets now.
---
How to Train Your Dragon: The Hidden World is showing in a series of special screenings on February 2 – buy tickets now. The movie is in theaters everywhere February 22.
#1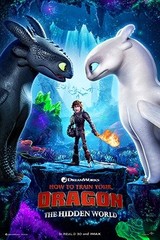 Critics Consensus:
The rare trilogy capper that really works,
How to Train Your Dragon: The Hidden World
brings its saga to a visually dazzling and emotionally affecting conclusion.
Synopsis:
When the sudden appearance of a female Light Fury coincides with the darkest threat their village has ever faced, Hiccup...
[More]