---
Best-Reviewed Movie 2019: Australia
The best-reviewed Australian film of the year was also one of the most confronting titles released into theaters anywhere in 2019. The Nightingale, director Jennifer Kent's follow-up to The Babadook, took an uncompromising look at sexual violence and the horrific treatment of Indigenous peoples in colonial Tasmania as it traced the story of a young Irish woman seeking revenge on the English soldier who killed her husband and son and left her for dead. It might have shocked those who came looking for something like The Babadook, but it impressed critics as a bold and visionary second feature.
The order of the rank below reflects the Adjusted Score as of December 31, 2019. Scores might change over time.
#1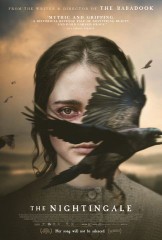 Critics Consensus:
The Nightingale
definitely isn't for all tastes, but writer-director Jennifer Kent taps into a rich vein of palpable rage to tell a war story that leaves a bruising impact.
Synopsis:
Clare, a young Irish convict, chases a British officer through the rugged Tasmanian wilderness and is bent on revenge for...
[More]